Psych Star James Roday on Why Twin Peaks, Bobby Briggs Meant So Much
Patient "PsychOs" are (so far) quietly counting down the days until Peacock's July 15 debut. Now let me be clear: we're sure that they're excited about NBCUniversal's new streaming service overall (like we're all in on a new season of A.P. Bio), but Psych 2: Lassie Come Home is probably a very major reason why that's so. ready to head to your screens on July 15. With a little more than 1-1/2 months to go (don't curse the messenger) James Roday's Shawn and Dulé Hill's Gus return, we've been getting caught up on what the cast's been up to when we stumbled on this little gem from Roday.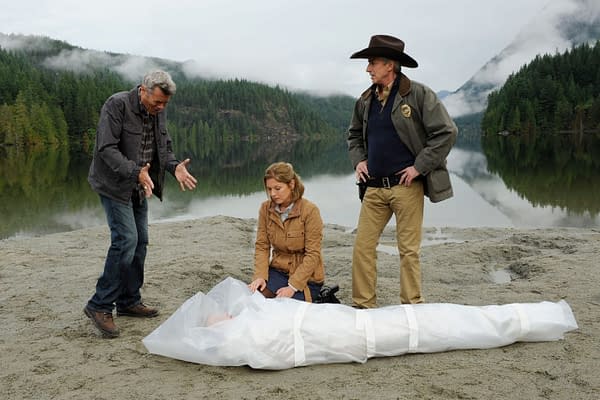 Last month, the A Million Little Things star penned an essay expressing his love and admiration for David Lynch and Mark Frost's Twin Peaks. Granted, this shouldn't come as much of a surprise to most of you considering fifth season episode "Dual Spires" was a love-letter to the ground-breaking series and featured Sheryl Lee, Sherilyn Fenn, Dana Ashbrook, Ray Wise, Robin Lively, Lenny Von Dohlen, and the late Catherine E. Coulson. What we didn't know was just how much of an influence Ashbrook's Bobby Briggs had on Roday growing up. Here's an excerpt from the essay he wrote for TV Guide where he explains what Briggs' persona meant to him, and make sure to check out the rest of thoughts (including meeting Ashbrook on set for the first time) here.
"While Twin Peaks blew me away by redefining narrative and cinematic devices, it also gave me a character I related to so fully that it became a no-brainer to wear bandanas on my head and tie my shirts around my waist. I mean, he was the quarterback with a dark side. He was brash and promiscuous, but also cried in front of his dad. He could bark and howl and throw a perfect spiral. He was my gateway into high school at the precise moment that I needed one."
Here's a Look at Peacock's Psych 2: Lassie Come Home
Psych 2: Lassie Come Home reunites the cast once again when Santa Barbara Police Chief Carlton Lassiter (Omundson) is ambushed on the job and left for dead. In a vintage Psych-style Hitchcockian nod, he begins to see impossible happenings around his recovery clinic. Shawn and Gus return to Lassie's side in Santa Barbara and are forced to navigate the personal, the professional, and possibly the supernatural. Separated from their new lives in San Francisco, our heroes find themselves unwelcome in their old stomping grounds as they secretly untangle a twisted case without the benefit of the police, their loved ones, or the quality sourdough bakeries of the Bay Area. What they uncover will change the course of their relationships forever.
Co-written with Roday, Andy Berman, and director/executive producer/Psych creator Steve Franks, Psych 2: Lassie Come Home also stars original cast members Maggie Lawson, Kirsten Nelson, and Corbin Bernsen. Joining the cast Joel McHale (Stargirl), Jimmi Simpson (It's Always Sunny in Philadelphia), Sarah Chalke (Scrubs, Rick and Morty), Kadeem Hardison (A Different World, Black Monday), Allison Miller (A Million Little Things, 13 Reasons Why), and Richard Schiff (The West Wing). Psych 2: Lassie Come Home is also executive produced by Roday, Hill, and Chris Henze of Thruline. UCP will produce in association with Thruline Entertainment.