Rick and Morty: A Profile in F***ed-Up Family Dynamics – Here's Why
Adult Swim's Rick and Morty is a show that knows it's problematic at the best of times, and the characters frequently call Rick out on his problematic behavior. However, just how deep do these issues go? Let's analyze the interpersonal relationships in Dan Harmon and Justin Roiland's animated series to find out exactly how messed up they are & why.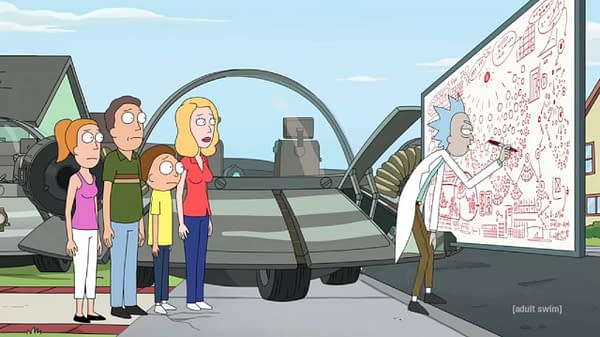 First up, Rick's relationship with his grandson, Morty. Now, Rick forcing Morty into beyond messed up situations and shaming him for being himself is part and parcel of the premise of the show and is never coded as "okay", however within the confines of the show having increasingly messed up situations our heroes find themselves in, audiences are frequently faced with a moral dilemma of "which is worse" and usually it's not Rick and Morty's relationship.
To be fair, the way Rick treats people is absolutely awful all the way around and all of his relationships, be them family or friends, are deeply problematic and rooted in abuse, though where the show does redeem itself is in not codifying it as "okay". True, there are not always shows consequences of Rick's abusive behavior, but other times (namely the Pickle Rick episode), he does suffer the direct consequences of his actions and hopefully learns a lesson from it. On Morty's side of this relationship, he trusts and looks up to Rick – which is a huge mistake. His relationship with Jessica often suffers one way or another because of Rick's influence.
Next up, Rick and Beth. True, he is a loving dad who wants back in his daughter's life, but most of the time he has some kind of ulterior motive. Beth is smart – she doesn't trust Rick as far as she can throw him most of the time, however that doesn't forgive Rick for taking advantage of Beth's hope of bringing her family together in order to get Morty to be his sidekick. And he has been proven to go to any lengths to get Morty to comply with whatever demands he makes.
And lastly, Jerry. Oh, Jerry. He's the schmuck who somehow had pity taken on him, probably because he's so pathetic. He's too pathetic – like a character only inflicted on the family to take all their abuse and frustration. He has zero personality, especially in early seasons, and gaslighting, manipulating, and generally abusing Jerry is something of a pastime for the Sanchez family. Whenever he does get a voice or agency of his own, he utilizes it to make the stupidest decisions and choices ever.
All in all, basically everybody in the Rick and Morty universe makes poor decisions that are rooted in abuse and are generally on the scale of "toxic AF". Now about Season 6…