Rick and Morty, Robot Chicken, Cosplay: Adult Swim Con Set for July
We've got Comic-Con@Home, WarnerMedia's DC Fandome, Skybound Xpo, and a number of other "virtual conventions" taking place over the next two months, all doing their part to give everyone as close to a pop culture convention experience as possible without the "con flu" aftermath (we have enough real sickness to deal with). Now we can add Adult Swim's Adult Swim Con (we're guessing that they're taking the money they would've spent on a flashier title and spending it on the event programming) to that list. Co-sponsored by Rick and Morty corporate best buddy Pringles and taking place online and for free (except for whatever obscene price you're paying for the internet) from July 23-25, the virtual weekend will include: live events, surprise musical guests, giveaways, DJ sets, a cosplay competition, a chance to chat live with the cast and creators from some of your favorites as well as new series (like Rick and Morty, Robot Chicken, Flying Lotus X, and YOLO: Crystal Fantasy), and so much more.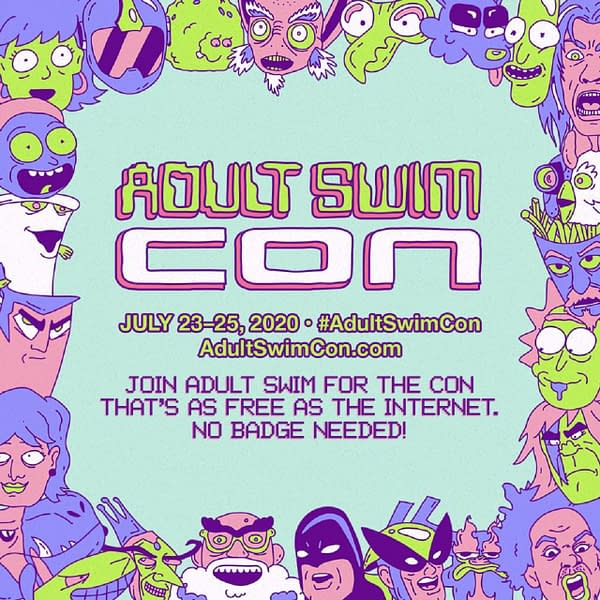 Here's a look at what's on tap so far (you can sign up here for a newsletter with updates):
Look Who's Bawkin: Robot Chicken Live (Thursday, July 23, 5 pm PT/8 pm ET): Seth Green, Matt Senreich, Breckin Meyer, and Donald Faison present an hour's worth of clips from the series' past and take viewers behind the scenes of the newest season.
Adult Swim Summer Showdown Finale (Thursday, July 23, 7 pm PT/10 pm ET): Find out the best Adult Swim series of all time, voted on by the Adult Swim viewing audience. Join hosts Matt and Max as they look back on the tournament season and crown a grand champion.
Adult Swim Cosplay Cup (Friday, July 24, 4 pm PT/7 pm ET): Dust off those hot glue guns, because Adult Swim wants you to be loud and proud about your home-grown cosplay greatness. Cosplayers will be able to submit their Adult Swim-themed cosplay before a panel of distinguished judges, with the winner announced live (sign up here).