Rick and Morty Season 4 Episode Titles Show Star Wars, Alien Some Love
With Dan Harmon and Justin Roiland's Rick and Morty ready to dimensional-hop their way back onto our screens for season 4.5 starting Sunday, May 3, Adult Swim is doing their part to throw a little red meat to the starving fanbase with the release of an episode title announcement video. As you're about to see below, the video is throwing more than a little love to the Terminator franchise as the titles are rolled out. The lovefest to geek culture continued with the episode titles (with the loglines available at writing), with as-subtle-as-a-sledgehammer nods to the Star Wars and Alien franchises.
To show that this year's April Fool's Day should be more about "shiny new things" instead of pranks (especially with the year feeling like one really long one), fans were treated to the midseason return trailer that left us with a number of takeaways. With Snowball returning, will Rick and Morty need to help him fend off a feline invasion? Is some off-shoot of the Galactic Federation still active, and backing the cats in the conflict? That laser sword fight (copyright issues with "The Mouse," folks) between Beth and Tammy seems to lean that way, but you can never trust how trailer edits can mess with perception. Could we be getting a Phoenixperson sighting, and our "heroes" one step closer to "Evil Morty"?
Season 4, Episode 6 "Never Ricking Morty"
Season 4, Episode 7 "Promortyus": Get off my face, broh
Season 4, Episode 8 "The Vat of Acid Episode": The one with the acid vat, broth.
Season 4, Episode 9 "Childrick of Mort": Miracle of life, broh. Whole family in this one, broh.
Season 4, Episode 10 "Star Mort Rickturn of the Jerri": Parenting is crazy, broh. Stuff straight disappearin in this one.
It's been an interesting 2020 for the series so far. Ever since their Super Bowl adventure with Pringles, the show's pimped doughnuts for Krispy Kreme (we're still bitter since it was only in Australia), urged us to wash our hands (and get our s**t together) over coronavirus concerns and clued us in to a previous visit from the Cromulons. Roiland even gave us a look at two of his other projects, including a trailer for the upcoming Hulu animated series Solar Opposites (along with Mike McMahan) and early intel on Quibi animated series Gloop World.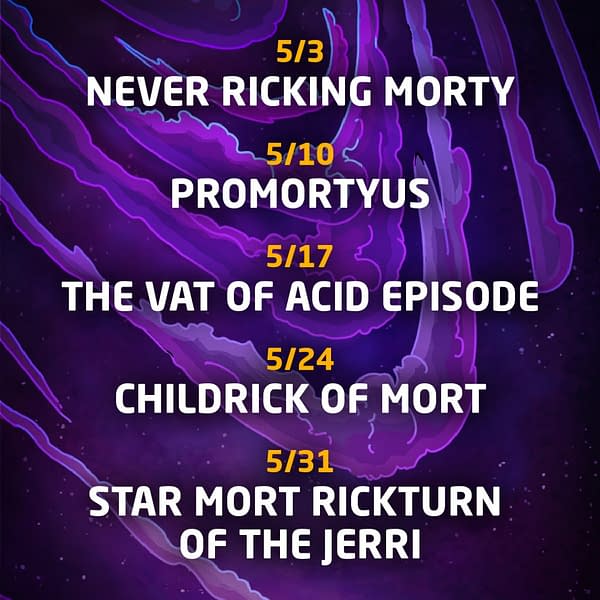 Rick and Morty: Our Season 4a Reviews
Season 4 premiere "Edge of Tomorty: Rick Die Rickpeat" (reviewed here) gave us a crash course in "death crystals" and a deeper understanding of just how hard it would be to kill Rick Sanchez – and keep him dead.
"The Old Man and the Seat" (our review here) proved a brilliant balance between sharp social satire and a gut-punch examination of love, loss, control… and poop. Which lead to "One Crew Over the Crewcoo's Morty", which "heisted" our minds in such a way that it made it our favorite episode of the season so far (check out our review here).
After a week off, our dimension-hopping duo returned with "Claw and Hoarder: Special Ricktim's Morty" (review here). Which leads us to our look at midseason finale "Rattlestar Ricklactica" – the one Roiland says is his favorite of these first five (and close to being ours, as you'll see in our review here).