Rick and Morty Season 5 E06 Cold Open: Never Trust the French, Morty
With a cold open that finds Rick and Morty attempting to steal the U.S. Constitution ending with them accidentally activating a "sleeper agent" robot assassin inside of the Statue of Liberty, that means two things. First, that this episode of Dan Harmon and Justin Roiland's Adult Swim animated series will be going in some twisted directions if this is what they're showing up upfront. Second, is there any way that the President isn't going to be a major factor in all of this? Because he hasn't exactly been the "ball of sunshine" so far this season that we were expecting him to be. And considering the amount of damage Rick and Morty just pulled off in less than two minutes? We're not sure "Rick & Morty's Thanksploitation Spectacular" will do much to change that.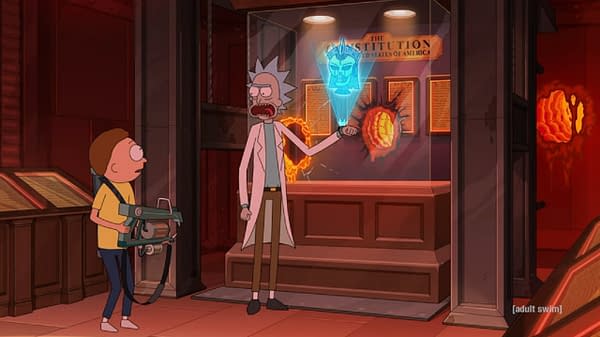 Here's your look at the cold open to this weekend's episode of Adult Swim's Rick and Morty:
In the following featurette, Harmon and written by Anne Lane break down the confusing psychology of underworld dwellers (which is a nice way of saying that ur Cenobites-wannabes are stuck in an ironic pain/pleasure paradox) as well as the ever-evolving nature of Rick and Jerry's relationship that went down in "Amortycan Grickfitti":
We also have a clip from that episode spotlighting Rick's spaceship as she blackmails Summer, Morty, and Bruce Chutback, and takes them on a murderous joyride:
Kicking off with the season-opener "Mort Dinner Rick Andre," the titles for the fifth season include "Mortyplicity," "Forgetting Sarick Mortshall," "Rickternal Friendshine of the Spotless Mort," "Rick and Morty's Tanksploitation Spectacular," "Rickdependence Spray," "Amortycan Grickfitti," "Gotron Jerrysis Rickvangelion," "Rickmurai Jack," and "A Rickconvenient Mort." Now as we head into the second half of the fifth season, here's a look back at the final official trailer for Adult Swim's Rick and Morty:
Bleeding Cool TV on Instagram: For all of the stuff too random and bizarre to make the site, make sure to follow us on Instagram (with an official launch on June 19): Bleeding Cool TV (@bleedingcooltv).
BCTV Daily Dispatch: For a look at what's going on across the television and streaming landscape, sign up for Bleeding Cool's daily email round-up of the news you need to know here.