Rick and Morty Will Be Better Without Justin Roiland: Some Thoughts
Because it's still a hot topic among the fans, we share some thoughts on why Rick and Morty will continue to be great without Justin Roiland.
---
Over the past few weeks, we've been offering up some deep dives into what could be ahead for the seventh season (and beyond) of Adult Swim's Rick and Morty – especially when it comes to Rick Prime & Evil Morty. That was a very welcome change from what was going on when the year first kicked off. By the time the dust settled on the month of January, Adult Swim, Squanch Games, Disney & 20th TV Animation had effectively cut ties with Rick and Morty co-creator Justin Roiland (Opposites, Koala Man), the result of Roiland being charged with one felony count of domestic battery with corporal injury & one felony count of false imprisonment by menace, violence, fraud, and/or deceit (full details here). But even as news/coverage on that subject has died off, there's still a ton of buzz on social media among the fans about how this will impact the Emmy Award-winning animated series. Some see Roiland's removal as the beginning of the end for the show, while others (like Season 4 staff writer Caitie Delaney ) pointed out that Roiland had distanced himself from the show some time ago, even as the show's success continued to grow. Based on what we've been reading & covering over the past three months, there's only one area where Roiland's absence could cause a bump along the way. Some thoughts…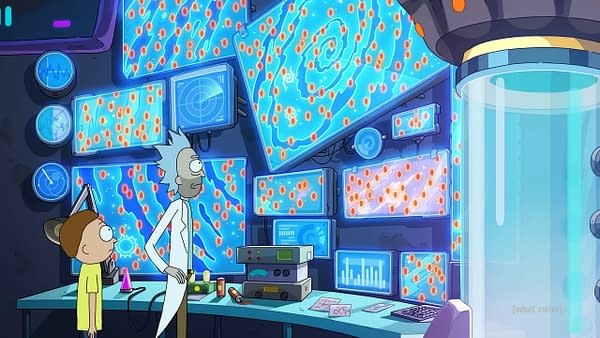 So Who's Going to Do Roiland's Voices? Assuming that the producers haven't already taken care of this already, the answers to this question are out there on YouTube, TikTok, or some other online resource. And if you think that can't be done, look no further than the story of voice actor Arif Zahir, who took over the role of Cleveland from Mike Henry on Family Guy. Five minutes before we started writing this, we checked out three people online who would be great given some professional practice time.
"Rick and Morty" Wins Emmys After Roiland Reportedly Distances Himself From Series: If we take the reports at face value, then Roiland was becoming more and more MIA heading into the third season. That same season, "Pickle Rick" (directed by Anthony Chun and written by Jessica Gao) would win the show its first Emmy Award for Outstanding Animated Series, followed by a win the following season with "The Vat of Acid Episode" (directed by Jacob Hair and written by Jeff Loveness & Albro Lundy). So the argument that Roiland's absence would somehow impact the quality of the show also appears to be pretty weak. And with the show making the decision to embrace canon, the series' overall narrative approach has evolved far beyond its initial first-season concept.
"Rick and Morty" Became a Well-Oiled, Lovingly Twisted Machine: Another big change to the animated series since its early days (and really kicking into gear after Roiland and co-creator Dan Harmon signed that mega-episode deal) was how far ahead the series runs its season production now. With folks like EP Scott Marder and others stepping up the operations, losing Roiland would've come at a time when a significant amount of work on Season 7 would've already been in play (and possibly for an eighth). And even if (IF!) there needs to be a delay on the seventh season, we always have the Rick and Morty anime series to help feed fans' appetites. But delay or no delay, Rick and Morty has become something far too big & far too important to be taken down by a co-creator whose creation had already passed him by.