ABC's new drama series The Rookie stars Nathan Fillion as John Nolan, a 40 year old rookie police officer with the Los Angeles Police Department. Nolan and his fellow rookies Jackson West (Titus Makin Jr.) and Lucy Chen (Melissa O'Neil) have to learn their jobs, try not to piss off their training officers, and get past their own emotional baggage. Under the helm of showrunner Alexi Hawley (who worked with Fillion on Castle), the show's first eight episodes were strong. The mix of comedy, drama, and police procedural – as well as the use of body cam footage – makes the show feel like Homicide: Life on the Street meets Brooklyn Nine-Nine.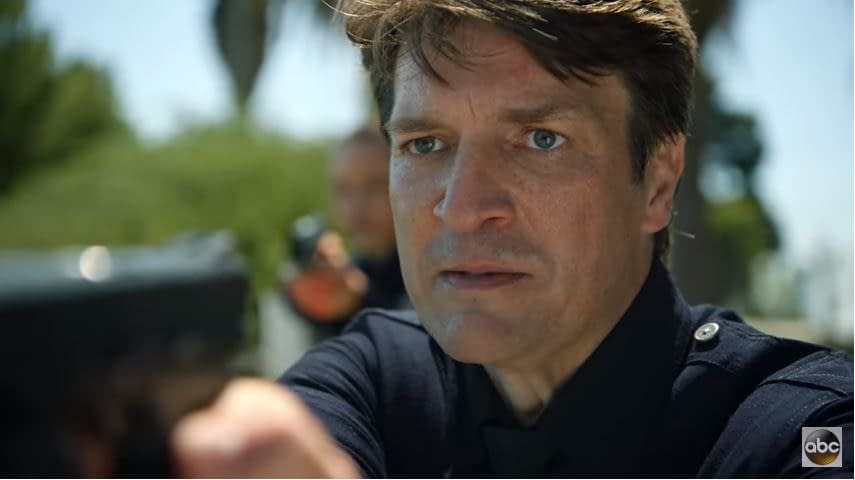 While the show has a lot quips and one-liners, it also does't shy away from showing the harder part of police work. In addition to Nolan, Chen, and West, we see the impact that the job has had on their training officers Angela Lopez (Alyssa Diaz), Talia Bishop (Afton Williamson) and Tim Bradford (Eric Winter) as well as Watch Commander Sergeant Wade Grey (Richard T. Jones) and Captain Zoe Andersen (Mercedes Mason). In fact, the last time we saw our intrepid rookies, Nolan was being held at gunpoint by the brother of someone he killed on the job while Chen showered in Nolan's house after illicit post break-up sex, Bradford's estranged junkie wife Isabel (Mircea Monroe) had just been kidnapped for wearing a wire to a buy with a drug dealer, and West's own mother doesn't want to see him.
The midseason finale ended with a gunshot and then the screen went black, leaving lots of questions in its wake. Who was shot by whom? Will the shooting now out Nolan and Chen's now mostly-over relationship? Will Isabel survive? Will Bradford's career survive Isabel's blown drug buy and the aftermath? Why is "golden boy" West on the outs with his mom? Is there something simmering between Nolan and Captain Andersen?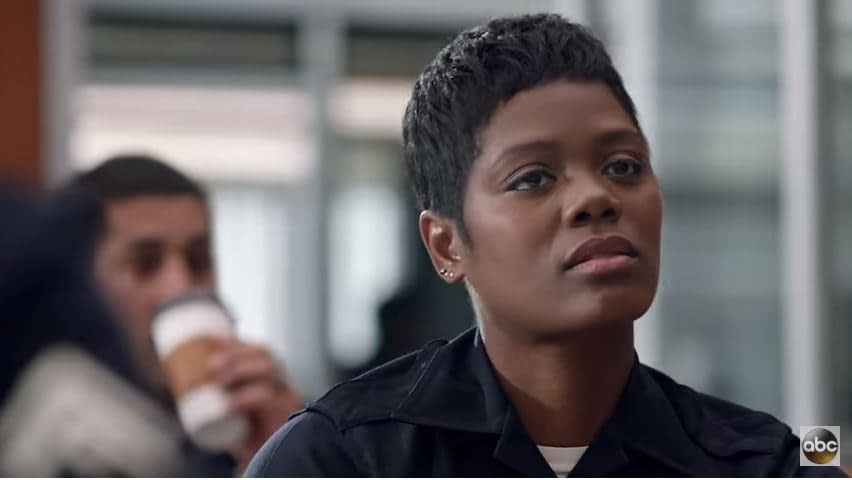 Lucky for us, at least one of these questions has been answered by an Entertainment Weekly exclusive video clip (go full screen) from the mid-season premier 'Standoff,' which airs January 8, 2019 at 10pm EST on ABC. In the clip, we see Bradford questioning the pregnant girlfriend of Vance (Christopher James Baker), the drug dealer that kidnapped Isabel. Bradford says that Vance "hurt" someone he cares about, indicating that they know where Isabel is and she has been injured. Chen and Bradford then work together to try and convince the girlfriend to call Vance and draw him out. The scene indicates that Chen and Bradford are both still on the job, so Chen survived the shooting at Nolan's place and is in good enough shape (mentally and physically) to be out working.
The Rookie s01e09 'Standoff': Officer Bradford's wife, Isabel, is found shot but alive and he vows to track down the man responsible. Meanwhile, Officer Nolan must protect his home and the truth after a home invasion attack.
As for the rest of our lingering questions, we will have to wait and see. ABC has already ordered a full 12 more episodes to fill out The Rookie's first season, meaning the writers are unlikely to give us all of the answers up front. But at least we can get things started with midseason premier 'Standoff' airing on January 8th at 10 p.m. ET.
Enjoyed this article? Share it!