Roswell: Carina Adly MacKenzie Resigns Over "Fundamental Differences"
After what's being reported as "tension boiling over the last few weeks," Roswell, New Mexico co-showrunner Carina Adly MacKenzie is resigning from The CW series ahead of its season 3 return. MacKenzie cited "fundamental differences" as the reason for her leaving in her social media post on Friday: "I have made the difficult decision to resign from my role on Roswell, New Mexico. I do not take this decision lightly, but ultimately due to fundamental differences, I must depart and entrust Roswell, New Mexico to capable hands. I am so proud of what we built over the last two years, and I believe in the heart and soul of the show: asking tough questions, striving to make the world better, amplifying marginalized voices, and fighting the good fight." Here's a look at the full statement, followed by MacKenzie's original tweet: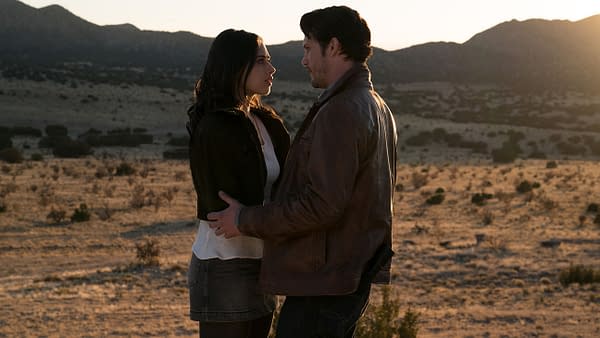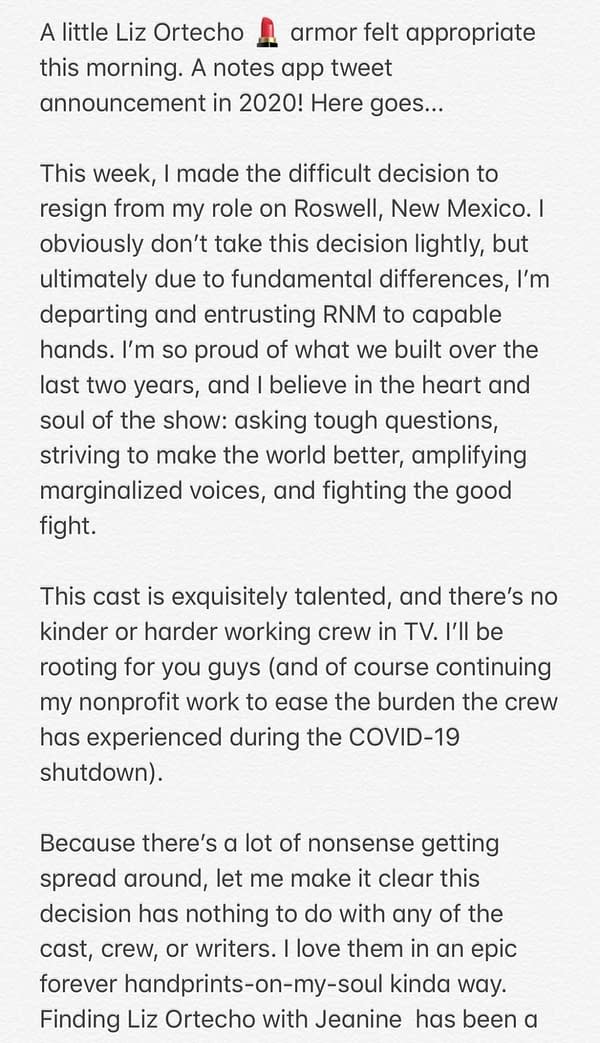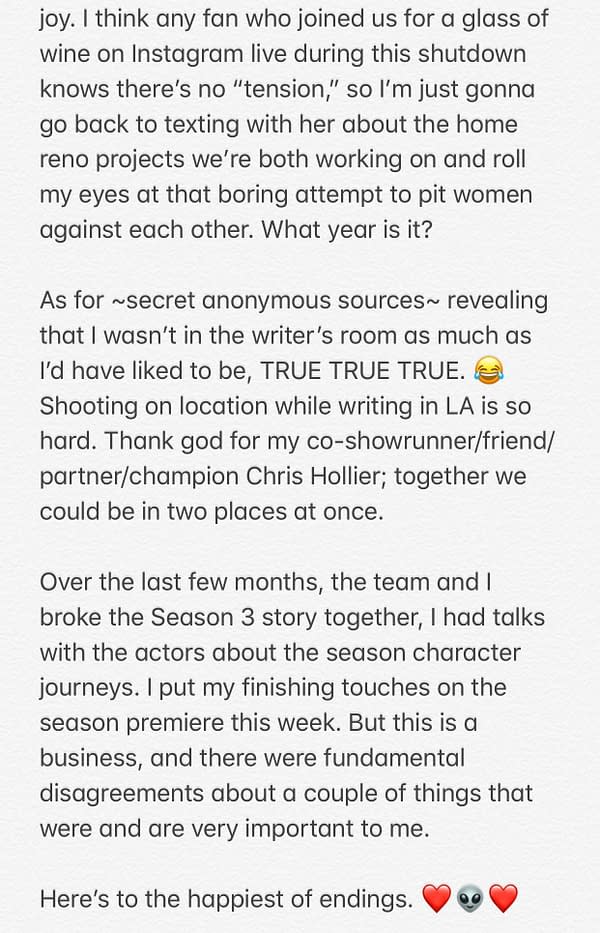 I'm gonna let him fly. pic.twitter.com/lA2ghvzuwP

— carina adly mackenzie (@cadlymack) July 10, 2020
One reason that was given for the friction between both sides by sources speaking with The Hollywood Reporter took place last month, when MacKenzie took to Twitter to accuse the U.K.'s ITV of homophobia, bigotry, and biphobia over what she considered were selective editing of certain sex scenes:
Really, really, REALLY upset to hear that @itv cut out a (pretty tame) love scene between two men and kept a (much more raunchy) heterosexual sex scene in their airing of an episode of #RoswellNM tonight. There are a lot of angry tears happening at my house tonight.

— carina adly mackenzie (@cadlymack) June 24, 2020
It's just… super upsetting not to have any advance notice of the way that my own work gets sliced and diced. The gay sex scene was about love, and was a major part of a long term character arc; the straight sex scene was about… fucking.

— carina adly mackenzie (@cadlymack) June 24, 2020
It's just blatant homophobia/biphobia/bigotry and I'm so, so sorry and so, so angry. Frankly I'd be fine never watching another straight white couple bone on TV EVER AGAIN. 😡😡😡

— carina adly mackenzie (@cadlymack) June 24, 2020
Also every single beat of that montage was painstakingly matched to the song lyrics and I was incredibly proud of it so I'm mad on that level too. I'm so sorry y'all. pic.twitter.com/n5cBAbIn7M

— carina adly mackenzie (@cadlymack) June 24, 2020
An ITV2 spokesperson pushed back against MacKenzie's accusations, saying, "During our compliance process on episode two, we edited love scenes featuring the characters of Alex and Michael and Max and Jenna. Editing is only ever undertaken to ensure content is suitable for scheduling in a pre-watershed time slot when younger age groups may be watching. Scenes involving sexual content were edited in keeping with the regulator, Ofcom's, guidelines."
Though the show's lone creator, MacKenzie shared showrunner responsibilities with Christopher Hollier (The Originals, Once Upon a Time). Diving deeper in the THR report, sources also allege that MacKenzie spent too much time on the New Mexico set and not enough time with the LA-based (and now virtual) writers' room. That was also reported to be the reason why MacKenzie would end up doing a lot of last-minute re-writing and turning in scripts late. There was also reportedly a "matter" between MacKenzie and star Jeanine Mason that took place last year, one that resulted in Warner Bros. HR taking a look. MacKenzie, Mason, and Warner Bros. chose not to comment on the matter.