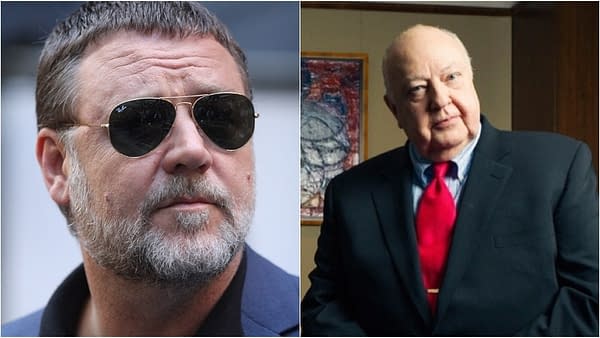 Academy Award-winning actor Russell Crowe (Gladiator, A Beautiful Mind) is marking his U.S. television debut by tackling the life of one of the most controversial figures in news media, late Fox News founder Roger Ailes, in an eight-episode limited series from Showtime and Blumhouse Television.
The still-untitled project (previously titled Secure and Hold: The Last Days of Roger Ailes) is based on Gabriel Sherman's bestselling book The Loudest Voice in the Room; as well as Sherman's reporting for New York Magazine on the allegations of sexual harassment that prompted Ailes's departure from Fox News. Sherman and Spotlight's Tom McCarthy co-wrote the pilot episode, with McCarthy, Jason Blum and Alex Metcalf executive producing alongside Blumhouse Television's Marci Wiseman and Jeremy Gold, Deadline Hollywood reports.
"In many ways, the collision between the media and politics has come to define the world we live in today. We've seen this phenomenon depicted on screen as far back as the story of Charles Foster Kane, and it finds contemporary embodiment in the rise and fall of Roger Ailes. With Russell Crowe in the lead role, this limited series promises to be a defining story for this era." – David Nevins, President/CEO, Showtime Networks
The project looks to examine Ailes's story in a manner that will help viewers understand the events that led to the election of Donald Trump in 2016, focusing on Ailes's 10-year rise to power and reputation as the Republican Party's unofficial leader. The limited series will also highlight important, defining events in Ailes's life from a number of different perspectives, including the meeting with Richard Nixon on the set of The Mike Douglas Show that would spark Ailes's political career and the sexual harassment accusations and settlements that finished him at Fox News.
Enjoyed this article? Share it!