"Saturday Night Live" Season 45: Eddie Murphy Returning as Host, First Time Since 1984
Eddie Murphy is returning to his comedic roots on the grand stage at NBC's 30 Rockefeller when he hosts Saturday Night Live (entering its 45th season) for the first time since 1984. A featured player from 1980-1984, Murphy was the only cast member to host during his run – on December 11th, 1982. The last time he hosted was the year he left the show in February 1984, only to return to host this December.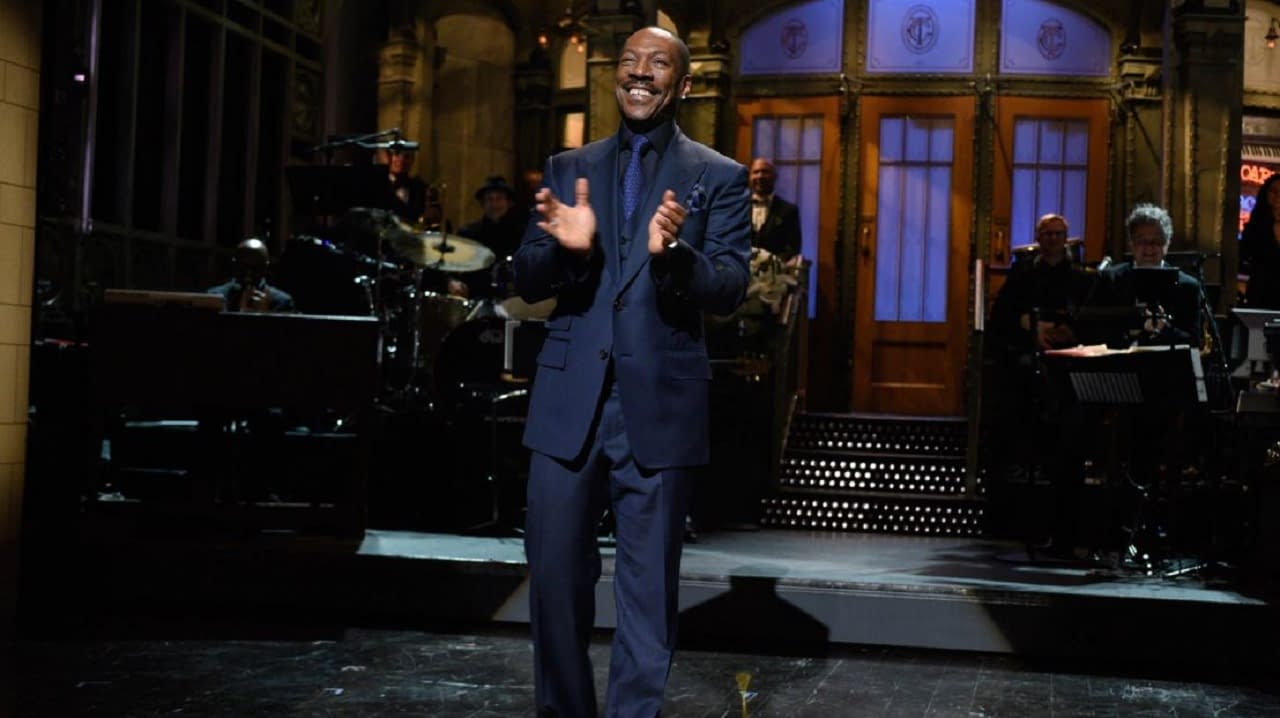 Following the initial SNL cast, Murphy was recruited in 1980 and would be the only member to be retained for the 1981 season, where he would be the prominent lead on the show – leading to him pursuing a successful film career in the process. Impersonating the likes of Mr. T, Michael Jackson, and Stevie Wonder, Murphy had dynamic range as a performer – not only with his comedic timing, but also for his ability to "become" his character.
Two of his more memorable characters were his versions of Buckwheat (a character in The Little Rascals films) as a grown up, and Fred Rogers – spoofing Mister Rogers' Neighborhood with a "reimagining" that had him as a children's host/con artist "Mister Robinson" in the parody Mister Robinson's Neighborhood. Murphy went even as far as to capture close ups with facial expressions and burst into song explaining his own criminal actions.
Despite not having appeared in over a decade, Murphy refused to have anything to do with the series starting with the series' 25th anniversary following a David Spade-hosted segment called "Spade in America." An extension of his popular "Weekend Update" segment "Hollywood Minute," that segment has Spade ripping on pop culture figures who made the news. When Murphy had a string of poor-performing films at the box office, Spade snidely remarked, "Look children, a falling star," which the actor felt the joke didn't warrant slamming his entire career especially the body of work he put in sustaining the show during his run.
Murphy later agreed to participate in SNL's 40th Anniversary and was approached to reprise one of his impersonations of Bill Cosby. He refused and had a brief awkward segment acknowledging his return – while current cast member Keenan Thompson played the disgraced Cosby in the planned "Celebrity Jeopardy" skit.
NBC announced Saturday Night Live hosts for its 45th season and Murphy's appearance is scheduled for December 21st with musical guest to be announced. Other hosts during the season include Woody Harrelson, Phoebe Waller-Bridge, and Kristen Stewart.