With the support of executive producers Aaron Rahsaan Thomas and Shawn Ryan, the writers' room behind CBS's S.W.A.T. is vowing to not shy away from the issues of race and how the police operate within minority communities heading into the series' fourth season. Retweeting the statement released by the writers following protests resulting from the killing of George Floyd by Minneapolis police officers, Thomas expressed the feelings of the entire creative team: "Frustrated, angry, but determined to do better. Onscreen and off."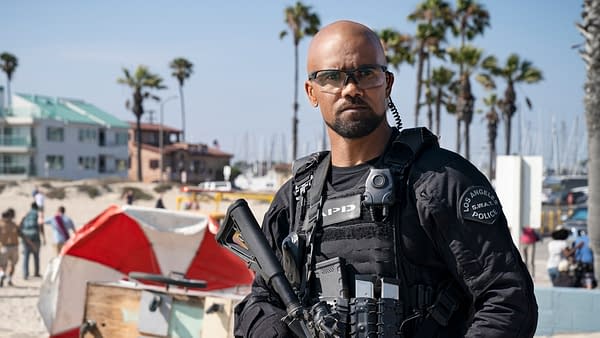 Here's a look at the full statement, followed by both the writers' room's tweet and Thomas' retweet:
"When S.W.A.T. began three years ago on CBS, as writers we examined the intersection of black communities and law enforcement through the eyes of Daniel 'condo' Harrelson (played by Shemar Moore), an African-American cop who has one foot firmly planted in each world. Now, as real-life events continue to horrifically unfold — and additional instances of police violence have a spotlight cast on them — "We are watching… in horror and sadness along with everyone else, and we will continue to mine the truth about these issues in the writing of our upcoming season as we all work towards a fairer, better system. In the meantime, we encourage protestors to express their frustrations peacefully and implore law enforcement to deescalate conflicts, not exacerbate them, as people work through their understandable anger and grief."
— SWATWritersRoom (@SWATWritersRoom) June 2, 2020
Frustrated, angry, but determined to do better. Onscreen and off. https://t.co/TAMRh7R1pb

— Aaron Rahsaan Thomas (@ARThomasTV) June 2, 2020
S.W.A.T. stars Shemar Moore as Daniel "Hondo" Harrelson, Alex Russell as Jim Street, Jay Harrington as David "Deacon" Kay, Lina Esco as Christina "Chris" Alonso, Kenny Johnson as Dominique Luca, David Lim as Victor Tan, Patrick St. Esprit as Commander Robert Hicks, and Amy Farrington as Lieutenant Piper Lynch. Produced by Sony Pictures Television in association with CBS Television Studios, the CBS series is executive produced by Aaron Rahsaan Thomas, Shawn Ryan, Justin Lin, Neal Moritz, Marney Hochman, Pavun Shetty, Allison Cross, Craig Gore, Billy Gierhart, Andy Dettman, and Michael Jones Morales.
Enjoyed this article? Share it!