Saturday Night Live Review: Woody Harrelson Vaccinated From Laughs
NBC's Saturday Night Live with host Woody Harrelson & musical guest Jack White is the one Season 48 episode we're allowed to forget about.
---
Okay. So that happened. And we're just going to have to confront it, deal with it, process it, and then hope for better days next weekend with Kansas City Chiefs' Travis Kelce and musical guest Kelsea Ballerini. To start things on a positive note, at least Miles Teller & Kendrick Lemar can now rest easy knowing that they no longer hold the title belt for the worst episode of NBC's Saturday Night Live Season 48. Because that distinction clearly now lies at the feet of Woody Harrelson and musical guest Jack White. Was it all bad? No, but it was so close to reaching "rewatch the Pedro Pascal episode from earlier this month" on way to many occasions. The few things that worked included Kenan Thompson's amusement park ride reactions, James Austin Johnson's Bill Walton, Colin Jost & Michael Che's wonderfully brutal "Weekend Update," Please Don't Destroy's (Ben Marshall, John Higgins & Martin Herlihy) wonderfully bizarre "The Stakeout" sketch, "The Hippo" (a take on The Whale) sketch was a biting take on Hollywood actors' "sacrifices," and Bowen Yang should've run solo in the "Beautiful Gym" sketch since he made me forget that Harrelson was there. As for what didn't work? Well…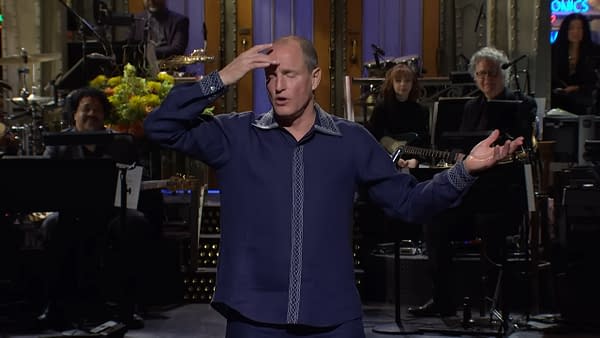 To go sketch-by-sketch would be the written personification of beating a dead horse, so I won't. But I referenced the Pascal-hosted episode earlier because I'm still finding it hard to believe that the same cast, writers & production team were behind both shows. This return episode felt like a going-through-the-motions exercise – but it's more than that. And a little weirder. Because the thing is, the performances were there on the screen from folks who've more than proven themselves. And while maybe not the best ever in the history of SNL, the sketches were more than solid enough to be able to keep the episode afloat. But it didn't, and I have to place the blame on Harrelson. Aside from being a veteran actor, Harrelson has hit the stages of Studio 8H four previous times. I expected better, and I don't think that was an unrealsitic expectation. Instead, what I got was a Harrelson who vibed like he was a first-timer who didn't give himself over to the SNL process and instead came in thinking he could have some fun & just wing it. Apparently, "being loud" was an acting choice Harrelson made before hitting our screens, and it was a (bad) decision he apparently chose to stick with. And before anyone retalliates by saying my thoughts are clouded by Harrelson's bizarre anti-vaxxer statement at the ending a rambling monologue, let me say that as whackjob-ish as it was, at least he said something interesting.
Now, with all of that said? If you're an SNL fan, this might be the kind of episode that you keep a pin in and keep a watch on. Because what was so weird about the episode were the questions it left me with (and not the ones involving what I should be snacking on at 1 am). Was the lack of energy on the part of the SNL cast & creative teams a reaction/response to their host? Is it really fair to blame it on having a few weeks off? Did anyone get to see, hear or read any of Harrelson's monologue before it went live? Was there more to that "5 Timers Jacket" running joke that we realize? Doesn't Scarlett Johansson already attend the shows anyway? Couldn't they get anyone else to join in on the "ceremony"? What was on Harrelson's rider for his dressing room? Here's hoping we get answers to at least some of those questions at some point down the road because this weekend's episode was a special kind of "bad" that should be a "cautionary tale" for all future shows. So when does Jenna Ortega host again?