Scrubs Meets Grease in Braff, Faison & Travolta T-Mobile Super Bowl Ad
In T-Mobile's Super Bowl commercial, Scrubs meets Grease as Zach Braff, Donald Faison, and John Travolta sing about... home internet access.
---
If nothing else, the NFL Super Bowl LVII brought some fascinating mash-ups, team-ups & collaborations when it came to the ads that we saw throughout the big game. But if you were looking for something that was fun, funny & just the right flick to the feels, then you could find it in T-Mobile's ad for its home internet service. But that wasn't the ad's selling point (nothing personal, T-Mobile). It was having Scrubs stars & best buds Zach Braff & Donald Faison teaming with film legend and Grease star John Travolta for a twisted cover take on "Summer Nights" while selling the benefits of the service in their own special, wonderfully goofball way.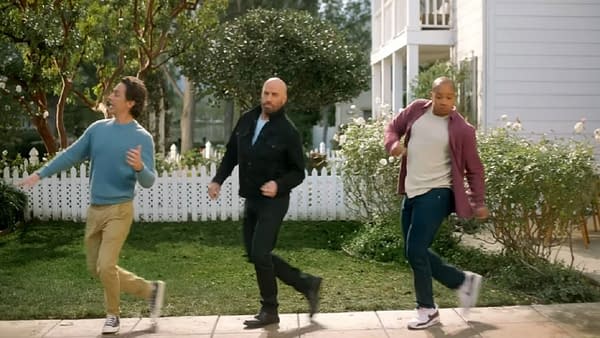 So for an extended look at Travolta, Braff & Faison doing right by one of the best musical movies out there, here's a look at their Super Bowl ad for T-Mobile Home Internet:
"Chemistry cannot be created. It is, or it isn't," Travolta shared during a recent interview with Variety regarding the Super Bowl ad team-up with Scrub stars Faison and Braff. "I love the dynamic between the three of us. It's a special energy. I know it sounds odd, but It's like a special art to do musical comedy and advertising that has a vibe, a frequency that is different than other types of performance. When I see all three of us together, I feel like we should do something else with this, you know?" The fact that the ad was paying a loving homage to the musical was a key factor in Travolta's coming aboard. "The commercial is in keeping with the spirit of the movie, as well as being humorous about it. All this is tongue in cheek, which is what I love about it, why I said, 'Yes.' It was the first time we've ever been asked to use a 'Grease' song and spoof it, to be honest. I'm curious why it hasn't happened before." And in case you were wondering if it was difficult for him to get back into the vibe of Danny Zuko, think again. "I did the play, on the road and on Broadway, for a year," he shared. "It was part of my DNA if you will."