Hulu Casts 4 for 'Search and Destroy,' a New Series from Portlandia's Carrie Brownstein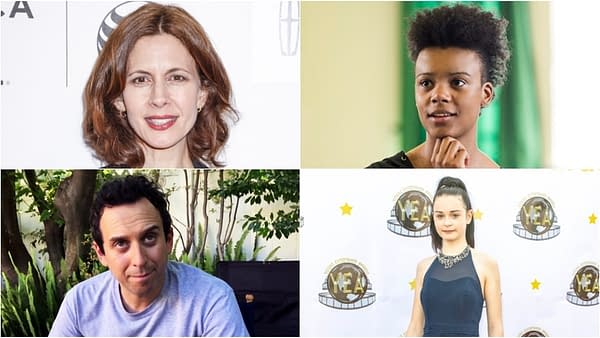 Portlandia co-creator Carrie Brownstein has signed up four more for her semi-autobiographical Hulu comedy pilot Search and Destroy. Brad Morris (Great News), Leah Harvey (On the Road), Jessica Hecht (Red Oaks) and Imogen Tear (When Calls the Heart) are set to star opposite Taylor Dearden (Sweet/Vicious) and Aubrey Peoples (Nashville) in the project; written and directed by Brownstein, and based loosely on her best-selling memoir Hunger Makes Me A Modern Girl. Brownstein executive produces alongside Annapurna Television's Megan Ellison, Sue Naegle, and Ali Krug.
Search and Destroy is centered on Karen Wolff (Dearden), a 22-year-old from the suburbs of the Pacific Northwest. Karen's unstable childhood has left her feeling disconnected and like a perpetual outsider, so she attempts to find a sense of belonging through creativity and community. Set in the feminist and fiercely independent punk scene of the 1990s, the series explores notions of identity, artistic and sexual awakenings, friendship and family. It is music however, and its transformative powers, that permeates and propels the story.
While detailed information on their roles haven't been released, we do know that Harvey will play Jackie; Hecht will portray Kris/Mom; Morris is Mark/Dad; and Tear will portray Molly. As for their past work, Morris recently appeared on NBC's Great News and David Wain's Netflix original A Futile and Stupid Gesture; and Harvey's credits include On The Road and Uncle. Hecht was previously seen on Red Oaks, High Maintenance, Blindspot and Madam Secretary; while Tear recently appeared on When Calls the Heart and The 100.
In a January 2018 interview with New York Magazine's The Cut, Brownstein discussed what the process of putting the series has been like for her:
"One thing I like about the fact that it can be fictionalized is that I can deviate from my own story, so it's not like the character will be called Carrie. The band is fictional. It definitely is based on my experiences in Olympia, the Pacific Northwest, in the band. It's much more about coming of age and as a young woman and as an artist in relation to a dysfunctional family and in the context of a highly politicized creative environment. I am excited to take something that for me was highly valuable and very formative, and that I have real affection for, and poke fun at it a little bit. I think in some ways it is kind of a culmination of the things I have been doing. I wouldn't say that it is a a straight-up comedy; there will be subtle humor."