"Servant": Once There Was a Mother Who Sang Her Doll to Sleep… [TEASER]
M. Night Shyamalan's (Glass, Unbreakable) upcoming project with Apple TV+ was first announced before there was an Apple TV+ – back in February 2018. With production on the psychological thriller Servant complete and a newly-announced November 28 premiere date set, viewers are getting a look at loving mother Dorothy (Lauren Ambrose) as she sings "Itsy Bitsy Spider" (clearly high on the "creepy song" scale to begin with) to…
Okay… can we just put it out there that the kid's creepy as f**k and clearly not real?!?
Which is the reason why we're even more curious about where Shyamalan's going with all of this than ever…
Created and written by Tony Basgallop (Hotel Babylon, Outcast), Servant introduces us to parents Dorothy (Lauren Ambrose) and Sean Turner (Toby Kebbell), who have hired young nanny Leanne (Nell Tiger Free) to help care for their newborn child. As time goes on (and because it makes the story much more interesting than it just being a series about a healthy babysitter-child dynamic), it becomes pretty clear that things are going to get creepy-weird pretty quickly. Rupert Grint (Harry Potter franchise, Snatch) co-stars as Julian Pearce.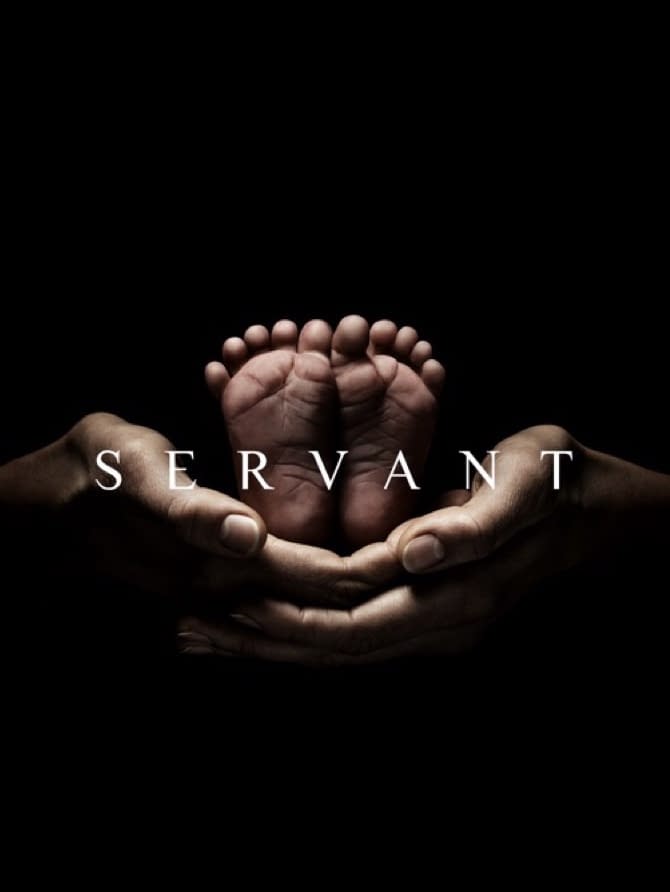 The cast and creative team sat down to discuss the series in more detail (within spoiler reason, unfortunately) during the Variety & Apple TV+ Collaborations.
Here are some of the panel's highlights:
● Describing the series as a "crazy thriller", Ambrose revealed that what attracted her to Dorothy the most was that she was a character dramatically different than those she usually plays – with just a tinge of the "ominous" at the end there:
"She's this ambitious, type A woman who refuses to fail at anything and she has this ultimate failure, this terrible tragedy and how she deals with grief is bananas."
● Kebbell's Sean is a chef – but if you thought there were any "stunt chefs" on set, you'd be mistaken: the actor prepared all of the on-screen meals himself. Turns out, he learned some skills through "familial osmosis":
"My mother was a Cordon Bleu chef, so I was her servant for a long time in the kitchen, so I was incredibly skilled without really knowing it."
● While filming the entire first season in one Philly home might lead to some serious "cabin fever" bordering on The Shining, it might also be an aspect of the series that sold Shyamalan on the project:
"I sent him episodes 1 and 2 of 'Servant.' I thought I wouldn't hear from him for a long time. He made it clear he didn't read other people's stuff. I woke up at 6 a.m. the next morning to go to set and he'd already emailed me, and all it said was 'M. Night Shyamalan, WTF,' and I knew I had him, because he knew this was something different and special."

– Jason Blumenthal, Executive Producer

If you need any more convincing, check out these four previously-released teasers – not sure about you, but "creepy baby", "crickets" twisted music, nannies with questionable references, and babies that might not actually be babies are usually "red flags" for us – so we see what you're doing there, Servant (and make sure to listen to the news broadcast in the background)"
From M. Night Shyamalan, "Servant" follows a Philadelphia couple in mourning after an unspeakable tragedy creates a rift in their marriage and opens the door for a mysterious force to enter their home.
Shyamalan directs the pilot and an additional episode during the season, with Lisa Brühlmann also on board to direct an episode. Shyamalan executive produces alongside Basgallop, Ashwin Rajan (Split, Wayward Pines), Escape Artists' Jason Blumenthal (The Equalizer), Todd Black (The Magnificent Seven) and Steve Tisch (Forrest Gump). Mike Gioulakis will serve as the series' cinematographer, with Shyamalan's Blinding Edge Pictures handling production.