She-Ra and the Princesses of Power Debuts New Trailer
She-Ra and the Princesses of Power debuted its first teaser trailer today. The show is being executive produced by Noelle Stevenson (of Lumberjanes and Nimona fame, and also being actively developed into feature films). It will debut on Netflix in association with Dreamworks TV on November 16. Check out the first teaser below!
She-Ra and the Princesses of Power is the story of an orphan named Adora, who leaves behind her former life in the evil Horde when she discovers a magic sword that transforms her into the mythical warrior princess She-Ra. Along the way, she finds a new family in the Rebellion as she unites a group of magical princesses in the ultimate fight against evil.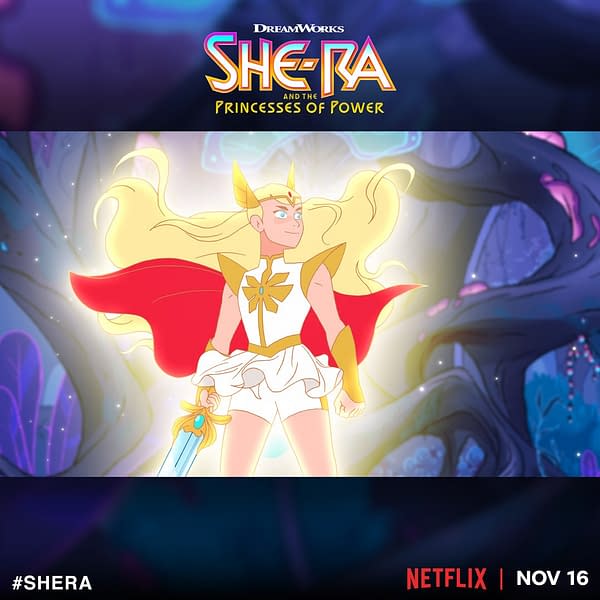 Man that is some way cool imagery. The show saw some people criticize the art style when it was first revealed a couple months back, for no reason really. As a life-long She-Ra and He-Man fan, nothing excites me more than when we get new content, especially of this caliber and quality. Nice, clean animation (Yes, it borrows heavily from Sailor Moon. So?) and a diverse voice cast make me pumped to watch this. Hopefully it proves popular so it keeps going and maybe we get an accompanying He-Man show. Man, I can't wait to see Hordak in action! For the honor of Grayskull indeed!
The voice cast features Aimee Carrero as Adora/She-Ra, Karen Fukuhara as Glimmer, AJ Michalka as Catra, Marcus Scribner as Bow, Reshma Shetty as Angella, Lorraine Toussaint as Shadow Weaver, Keston John as Hordak, Lauren Ash as Scorpia, Christine Woods as Entrapta, Genesis Rodriguez Perfuma, Jordan Fisher as Seahawk, Vella Lovell as Mermista, Merit Leighton as Frosta, Sandra Oh as Castaspella, and Krystal Joy Brown as Netossa.
She-Ra and the Princesses of Power will debut its first season on Netflix November 16th.