Agents of SHIELD Season 5: Will We See Fitzsimmons Get Married?
I remember back to the first season of Marvel's Agents of SHIELD. It was Phil Coulson (Clark Gregg) putting together a team for special missions and based off of the Bus. We got to meet the young science team of Fitzsimmons… Leo Fitz (Iain de Caestecker) and Jemma Simmons (Elizabeth Henstridge). There were like a married couple, finishing each other's sentences and taking care of the rest of the team. And we knew from the beginning that Fitz loved Simmons… But what they've had to go through since is insane. Brain damage from a betrayal by a friend, going undercover in a HYDRA facility, traveling to an alien planet, obsessing until you got them back, finally hooking up, and then building an android who replaced you and then one getting flung into the future and the other going into cryo-sleep just to catch up.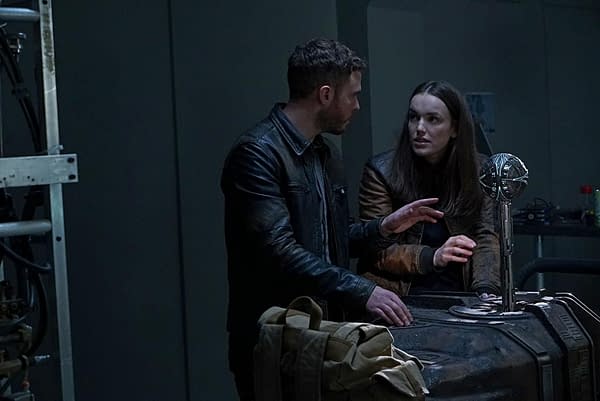 After all that, you think they would deserve a happy ending. Maybe a wedding? TVLine asked Henstridge and de Caestecker about that possibility:
Henstridge: I hope so, but Simmons doesn't have the best track record of things turning out well!

de Caestecker: I don't know if we'll ever see it. It's something that might be, hopefully towards the end of the show, hinted at, maybe in a flash forward, but I don't know. The cool thing about their relationship is it's been kind of a roller coaster, but through it all, you've always felt that they're kind of inseparable. They'll always kind of come back together. They've got a bond that's kind of unbreakable.
Sounds like we won't get it this season at least.
Marvel's Agents of SHIELD returns tonight at 9 p.m. ET on ABC.