SHOWTIME's American adaptation of British tv series Shameless just got renewed for it's 9th season after the season 8 premiere three days ago. That's pretty impressive, all things considered, especially after some of the issues that arose last year.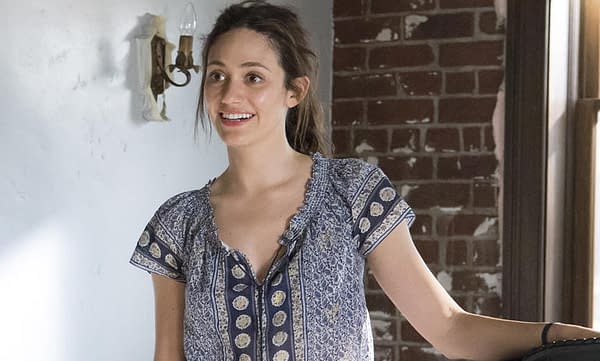 Some of you may recall the strange affair of the phantom of the wage equity surrounding the show last year with series star (and now director) Emmy Rossum seeking equal pay for her time on the show. There was a standoff with Warner Bros. Television and Showtime over pay disparity with Rossum's co-star, William H. Macy. The contract negotiations were stalled because she asked for a higher salary than co-lead Macy, after being paid less than him for the seven seasons the show had been on the air at that point.
Variety originally reported that Rossum HAD been offered parity to Macy, and that an equal offer had been sitting on the table. But Rossum's team was asking for more, reportedly to make up for the seasons she was being paid less. Macy was supportive of his co-star, TMZ posting a short snippet with him where it states "It's about f–king time, don't you think?"
Shameless continues to be a surprisingly enjoyable series, from the incredible ensemble cast to unexpected storylines, it remains a favorite show in my household. I will totally admit to shedding a tear or two during several seasons. The writing team continue to get so much right and realistic about living through the consequences of less than intelligent decision making.
It's also a complete and utter crime that the younger members of the cast haven't been recognized for their work with nominations and awards. Specifically Jeremy Allen White, Noel Fisher and Cameron Monaghan.
Shameless airs on SHOWTIME on Sunday nights, and is currently one episode into their 8th season.
Enjoyed this article? Share it!