Mmm… Waffles! Stranger Things' Demogorgon Made Homer Do It in 'Simpsons' Preview [VIDEO]
For a man who spent his entire television life binging on doughnuts like the recipe was about to be lost to The Sands of Time, you think Homer Simpson (Dan Castellaneta) would've discovered the joys of "binging" his second greatest love (Duff Beer's debatable): television. But in this week's episode of FOX's The Simpsons "I'm Dancing As Fat As I Can," Homer finally gives in to temptation and bites the binge apple – courtesy of The Devil.
Or to be more precise… The Demogorgon – by way of Netflix chief content officer Ted Sarandos: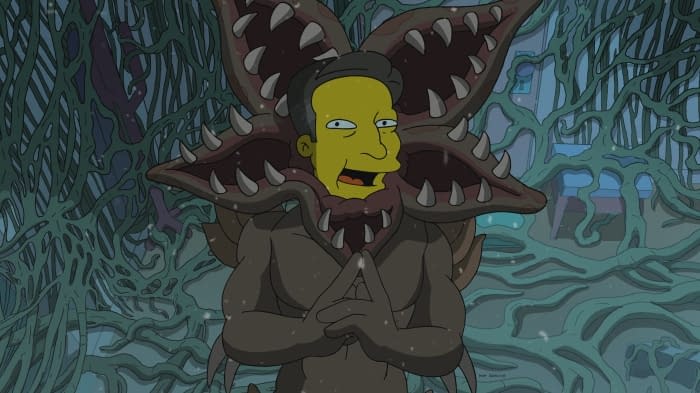 Yup. We told you. It's Sarandos dressed as the "big bad" from the first season of Stranger Things.
While we're waiting for you to let that settle in, you should know that Sarandos himself plays the "big bad" in this episode by tempting Homer into binge watch Marge's (Julie Kavner) favorite show…without her! In typical animation fashion, a series of events follows that almsot make you forget how it all started in the first place.
Regarding Sarandos' guest turn, executive producer Al Jean explained to Variety (in an exclusive report):
"We thought it would be funny to have him be the guy convincing Homer to do it. He came and recorded it with Jim [Brooks], Matt Groening and me; was very funny and easy to direct."
Recently renewed by Fox for two more seasons (seasons 31 and 32 – setting it at a record 713 episodes), The Simpsons s30e13 "I'm Dancing As Fat As I Can" airs this Sunday, February 10, at 8 p.m. ET. Here's a sneak preview of what viewers can expect:
https://youtu.be/xeEsB-Sa2CM
The Simpsons s30e13 "I'm Dancing as Fat as I Can": Homer angers Marge by binging their favorite show without her, and has to pick up a new skill in order to make amends. Meanwhile, Bart prepares to compete in "Krusty's Holiday Trample," in the all-new "I'm Dancing as Fat as I Can" episode of THE SIMPSONS airing Sunday.

Netflix CEO Ted Sarandos Make Guest-Voice Appearance