'Siren' Season 2: Ryn Seeks Solutions Before Mermaids Become Endangered [PREVIEW]
When Eric Wald and Dean White's Siren returns to Freeform for the second-half of season 2 on June 13th, it does so with that sweet "new car smell" that comes from having received season 3 pick-up. But if there's one thing viewers have learned from the previews previously released, the mermaid fantasy-action drama hasn't forgotten the second season's spider's web of drama.
In the newest preview, the pollution poisoning the waters around Bristol Cove have forced Ryn (Eline Powell), Ben (Alex Roe), and Maddie (Fola Evans-Akingbola) to find a solution to the dying mermaid population. To make matters worse, time isn't exactly on their side as Ryn's people lose mating seasons – and now an endangered species – as forces look to make matters worse…
In the second season of Freeform's Siren, more mermaids arrived in the once-sleepy fishing town – but are they seeking revenge, or is something more catastrophic driving them out of the sea? Marine researchers Ben (Alex Roe) and Maddie (Fola Evans-Akingbola) continue to establish a bond with mermaid Ryn (Eline Powell), not only to protect her but to try to help save her entire civilization.

Ben and Maddie are uncertain about the mermaids' future after the deadly consequences of the attack on the oil rig and, with the mermaids returning to sea, are left feeling lost without Ryn. Once Helen (Rena Owen) learns she's not the only one of her kind, she discovers there is a dark side to her people's past.
A Look Ahead to Freeform 'Siren' Season 2b…
In the previous preview, Ryn, Ben, and Maddie's journey gets dangerous as they leave the surface world for Ryn's home. But with Ben and Maddie's lives on the line… what choice do they have?
An earlier preivew finds Helen (Rena Owen) dealing with a deadly secret that could put her life – and the lives of those she loves – in danger. But where can Helen go when she isn't sure who to trust anymore?
While an earlier first-look finds Ryn "turning the tables" on Ben and Maddie: after all the time she spent learning the ways of the surface world vis Bristol Cove, Ryn gets to introduce them to her world… underneath the sea:
Joining the cast of Siren for its second season were Natalee Linez (The Art of Panic, The Swerve) as Nicole, a mysterious woman with her own agenda who catches Xander's (Ian Verdun) eye when she moves to town, distracting him from the painful death of his father; and Garcelle Beauvais (The Arrangement) as Susan Bishop, Maddie's mother and Dale's (Gil Birmingham) wife who returns to Bristol Cove to start over by making amends with the family she abandoned ten months earlier.
"Siren" takes us inside Bristol Cove—a coastal town known for its legend of once being home to mermaids. When the arrival of a mysterious girl proves this folklore all too true, the battle between man and sea takes a very vicious turn as these predatory beings return to reclaim their right to the ocean.

The series stars Alex Roe ("The 5th Wave") as Ben, a bright marine biologist who finds himself drawn to Ryn, a mysterious new girl in town played by Eline Powell ("Game of Thrones"), who is a strange young woman with a deep dark secret. Fola Evans-Akingbola ("An American Exorcism") stars as Maddie, also a marine biologist who works with Ben, and is highly suspicious of Ryn. Ian Verdun ("Life's a Drag") stars as Xander, a deep sea fisherman on a quest to uncover the truth; and Rena Owen ("Star Wars" Episodes II and III) as Helen, the town eccentric who seems to know more about the mermaids than she lets on.

Based on a story by Eric Wald and Dean White who both serve as executive producers. Emily Whitesell ("Finding Carter") is on board as showrunner and executive producer. Brad Luff, Nate Hopper and RD Robb are also attached as executive producers.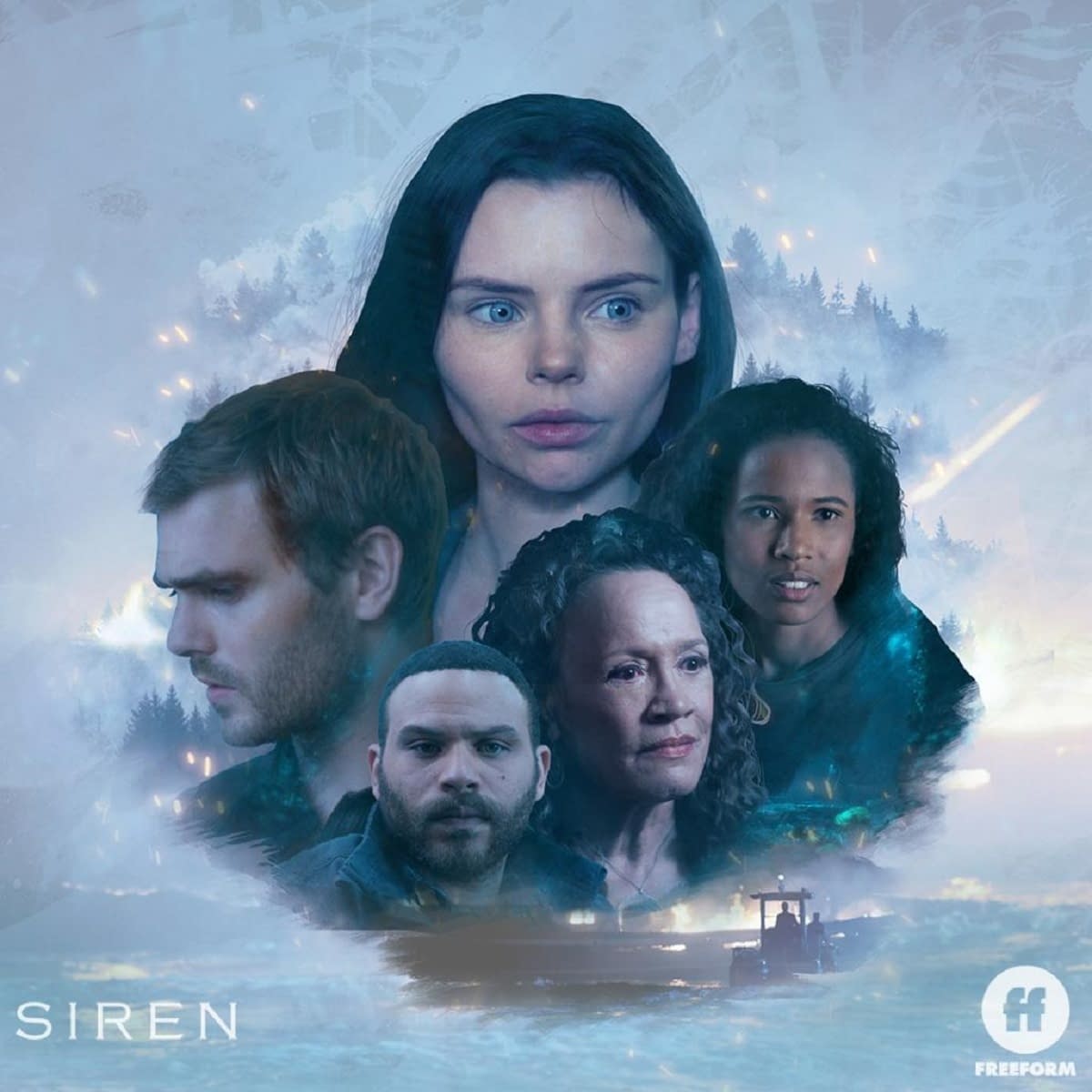 Freeform's Siren returns for the second-half of season 2 on Thursday, June 13, at 8 p.m. EST.