John Rhys-Davies Says He'd do a 'Sliders' Revival/Reboot/Revisit
John Rhys-Davies revealed a potential Sliders revival is in discussion with NBC during a visit to Toronto Comicon this past weekend.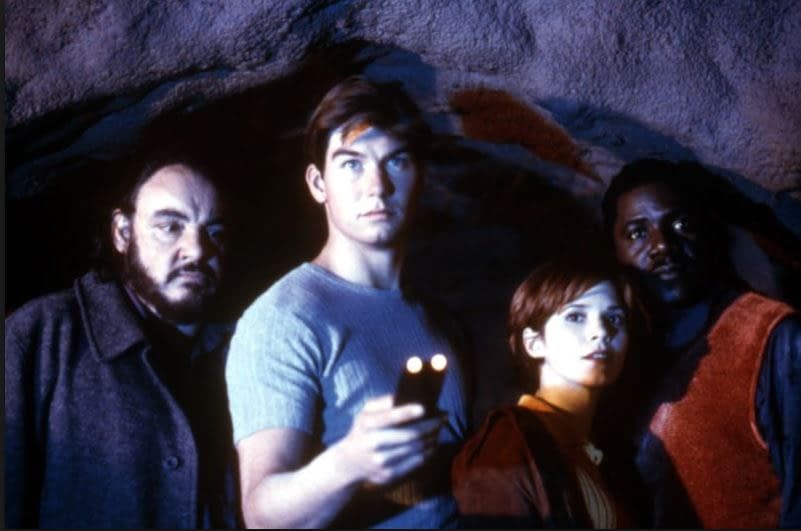 Rhys-Davis told Flickering Myth about the complicated process for he and co-star Jerry O'Connell with NBC to even begin talks about a possible revisit:
"Jerry had been pestering me for a number of years and we're actually talking to NBC at the moment to see if there's any possibility of rebooting the series.

They're looking into the basic question of who actually owns it? At the moment we don't seem to be able to find that out."
Sliders follows the story of physics prodigy Quinn Mallory (O'Connell), who discovers a vortex that can travel through multiple dimensions on earth. Dragging his mentor, Professor Maximillian Arturo (Rhys-Davies); Wade (Sabrina Lloyd), his coworker at computer store; and Rembrandt Brown (Cleavant Derricks) a Motown singer, who reluctantly travels with them on their journey. Each earth the four travel to different than the last and it can be something as subtle as a green traffic light means stop to answering, "What if the Soviets conquered the United States during the Cold War?" They must survive the world they're in as the timer runs out to travel to the next slide or they risk being stuck in the world they're in for the next 30 years.
Created by Tracy Tormé and Robert K. Weiss, the sci-fi series premiered on FOX on March 22nd 1995 running for three seasons before being picked up by SyFy (then Sci-Fi Channel) for two additional seaons and ending in 2000.
Rhys-Davies left Sliders during season three after production moved from Vancouver to Los Angeles. Lloyd left after the series was cancelled on FOX, but did return in a voiceover role in a later episode. O'Connell left the show after season four leaving Derricks the only original cast member to stay through the entire show's run.
Despite its initial run on FOX and NBC Universal (SYFY's parent company) as the current distributor, there is confusion over ownership.
Rhys-Davies did express interest in more adventures:
"I would do it again, if just to show how it should be done. It could have been the best show on television, it could still be on the air. I think maybe if we got another chance at doing it with the new technology, but also new stories, I think we could do something quite extraordinary.

I wouldn't want to do it for the rest of my life, but I would do it for a season or two if it was right."
The show could use an update with how far CG technology advanced in 24 years. Seeing the dramatic production and cast changes from FOX to SYFY (at the time, Sci Fi) were brutal given the tighter budget constraints of the cable network. A Sliders revival could more than likely thrive on any major network or SVOD streaming service.
Could Sliders be a hit in 2019? Did the original show age well? Sound off.