SNL Monologue Reunites Jenna Ortega, Wednesday Co-Star Fred Armisen
Saturday Night Live host Jenna Ortega reunited with her Wednesday co-star & SNL alum Fred Armisen during the opening monologue & a sketch.
---
"It's been a crazy couple of years. I think there is something about my face that people see and say, 'hey, let's throw blood on that.'" And with that, Saturday Night Live host Jenna Ortega (Wednesday, Scream VI) owned the main stage at Studio 8H for her opening monologue. Over the course of about four minutes, Ortega touched upon her early years acting when her mother posted a video of Ortega on Facebook ("which someone explained to me is like TikTok but for racism instead of dancing"). From there, we had a great moment when we had a chance to screen Ortega's first commercial work, a toothbrush commercial that was quickly turned into something far, far scarier. As for why she decided to host, Ortega explained that it was about finally confronting a fear she's had. "I love horror movies. I don't get scared very easily. Part of the reason [for hosting] was to face my biggest fear – happy, extroverted people who are always trying to perform."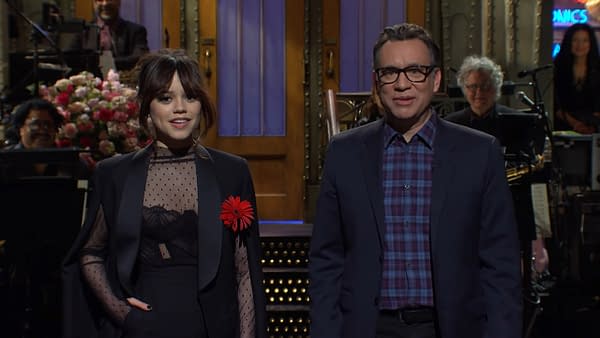 And that's when Ortega pointed out that SNL alum & Ortega's Wednesday co-star, Fred Armisen (Uncle Fester), was in the audience. With Armisen joining her onstage, Ortega shares how much "The Californians" sketch got her watching SNL – before sending Armisen back to his seat when he starts to do a deep dive into the sketch.
The duo would reunite for "The Parent Trap" sketch, with Armisen's crewmember standing in as a body double and running lines with Ortega's actress (with Bowen Yang directing in the sketch). And let's just say that the two have a bit of a generational disconnect:
With SNL going on a two-week break after this weekend, we learned that Quinta Brunson (ABC's Abbott Elementary) is set to host on April 1st (with musical guest Lil Yachty) – assuming that SNL's post-production editors don't end up going on strike.