SNL: Self-Proclaimed Anarchist Woody Harrelson Goes Anti-Vaxxer Again
SNL host Woody Harrelson says that he's an "anarchist," so as an "anarchist," he finds COVID protocols absurd. Because he's an anarchist...
---
Just in case you wrote off what Saturday Night Live host Woody Harrelson had to say at the end of his monologue as just the ramblings of someone who was clearly coming from a "special place" and not the anti-vaxxer "punchline" that it was intended to be, Harrelson made it pretty clear in an interview with The New York Times that he's no fan of having "all the COVID protocols" on film sets -and not just now. When asked what he found "absurd" about the COVID health & safety protocols in place, Harrelson didn't hold back. "The fact that they're still going on! I don't think that anybody should have the right to demand that you're forced to do the testing, forced to wear the mask and forced to get vaccinated three years on," answered the actor who (at the time of this writing) is not a medical doctor or has any sort of advanced degree in anything that would make his opinion relevant in the COVID discussion other than that he played "Woody" on Cheers. "I'm just like, Let's be done with this nonsense. It's not fair to the crews. I don't have to wear the mask. Why should they? Why should they have to be vaccinated? How's that not up to the individual? I shouldn't be talking about this [potty mouth moment]," Harrelson added.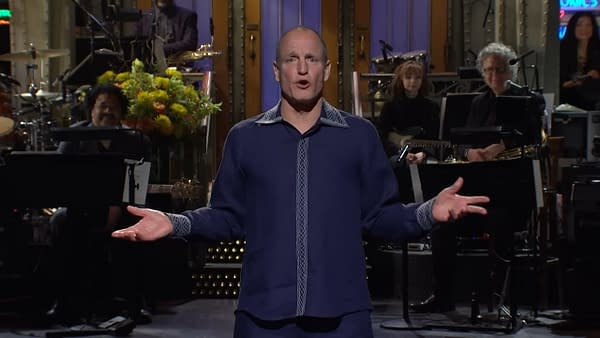 But don't think for a second that the self-proclaimed "anarchist" (which you can tell he is because he calls himself that twice, even though technically it's not cool to give yourself a nickname) was done. "It makes me angry for the crew," the "anarchist" continued. "The anarchist [Ed. Note: Drink!] part of me I don't feel that we should have forced testing, forced masking and forced vaccination. That's not a free country. Really I'm talking about the crew. Because I can get out of wearing a mask. I can test less. I'm not in the same position they're in, but it's wrong. It's three years. Stop. As an anarchist [Ed. Note: Drink!], I don't do well with mandates," Harrelson also threw into the mix.
Okay, let's set aside that facts that being filthy rich & an anarchist are a tough sell and that we live in a society where folks are in constant close contact with one another (so the idea of letting individuals decided is righteously stupid on so many levels), and let's focus on all of the "McAnarchy" that Harrelson's raised over the past five years with his work .On both the television & films sides, we have such indie work with striking social commentary as Disney & Lucasfilm's Solo: A Star Wars Story, popular franchise sequel Zombieland: Double Tap, popular Sony/Marvel film sequel Venom: Let There Be Carnage, HBO's Curb Your Enthusiasm & White House Plumbers, and more. Those are some big corporations for a "McAnarchist" to be saddling up with.
A Look Back at Woody Harrelson's Rambling SNL Monologue
What helped contribute to a night that would've had me rewatching the Pedro Pascal show again if I wasn't writing up a review was Harrelson's… "monologue"? Clocking in at a little more that 6-1/2 minutes, the rambling mess included Harreslon looking for someone to give him "SNL 5-Time Host" jacket, a rundown of colors that he likes to show how he's open to all people, a lot of moments when Harrelson kinda felt the need to defend his weed use, some stuff about palm tress, and a number of other random topics that screamed less-scripted and more "stream of consciousness." But things got really weird when Harrelson got to the end of his monologue and revealed where he was going with his "script reading" story. As in, "Did Woody Harrelson Just Out Himself As An Anti-Vaxxer?"-level weird. Whether it was his direct intent, an attempt at a joke that lost all of its "funny" halfway through, or another option that we might be missing.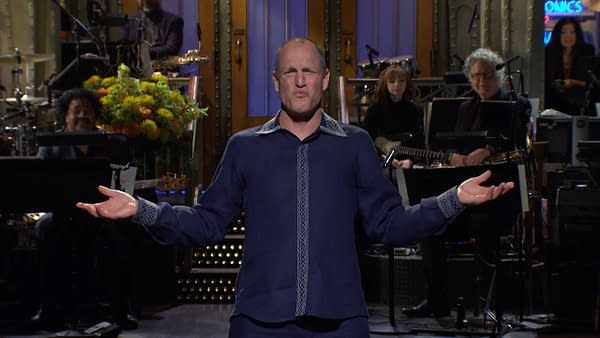 "So the movie goes like this," Harrelson began the ending to his monologue story. "The biggest drug cartels in the world get together and buy up all the media and all the politicians and force all the people in the world to stay locked in their homes. And people can only come out if they take the cartel's drugs and keep taking them over and over. I threw the script away. I mean, who was going to believe that crazy idea? Being forced to do drugs? I do that voluntarily all day long."