"Sons of Anarchy": Kurt Sutter Shares "Mayans" Disney Joke That May Have Gotten Him Fired; "SoA" Prequel Series Thoughts
If you're a fan of Sons of Anarchy and its spinoff Mayans M.C., then you're very familiar with the name Kurt Sutter. Which means you're also familiar with the fact that the SoA creator and Mayans co-creator was fired from the FX series last week. About a week-and-a-half later, Sutter has quite a few thoughts to share about his termination, his current relationship with FOX, the SoA prequel that almost was, and a number of other topics – and he shared them with Deadline Hollywood.
Here are just three of our takeaways from some excellent, in-depth interview reporting from Mike Fleming Jr. – make sure to check out the entire article here):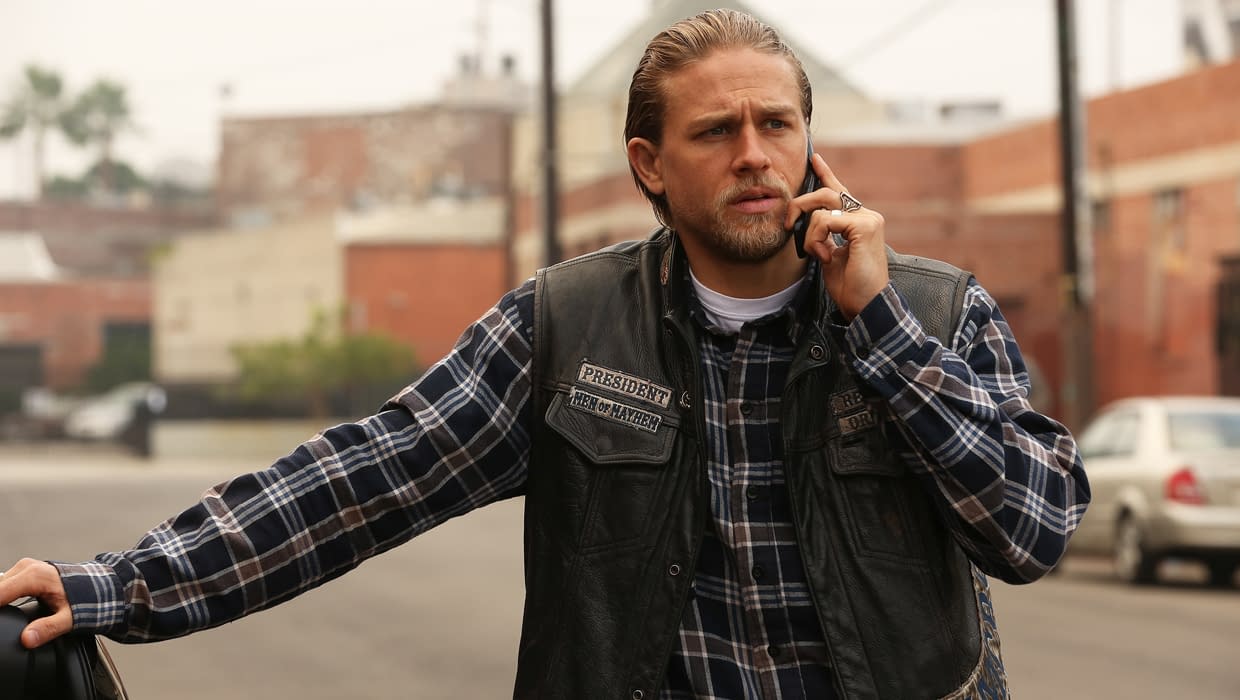 ● While leaving open future possibilities, the writer and producer of The Shield, Sons of Anarchy, The Bastard Executioner, and Mayans M.C. isn't vague in describing her current status with Disney-owned FOX:
"I would say that in the near future, my creative relationship at Fox Disney is done."
● As for what started the downward spiral that was his relationship with Disney, Sutter believes it was a Walt Disney-themed joke – and his choice of replacement joke following – that lit the fuse:
"It all started with a joke. And not a very good one. There was a line in the Season 2 premiere. EZ [JD Pardo] and Coco [Richard Cabral] were getting off the bus at the school where the drugs were being processed. There was supposed to be a really gnarly playground out front. Filled with debris, dangerous looking swings, sharp objects, rusty jungle gym, etc. As they exited, Coco sees EZ's distracted and says: Lighten up Boy Scout, and gesturing to the playground, says, We're going to Disneyland. EZ replies: Yeah? Guess this is where Walt buried all the Jews he had killed. Coco comments: That's dark man… And exits."

"So when I was informed that the Walt, Jew killing line had to go, I agreed and changed it to…We're going to Disneyland. And now EZ says, Yeah… if Mickey and Pluto were pedophiles."
● Though admitting that the prospects of it are now dead, Sutter imagined a limited series focusing on Jax's father that would've had a Sherlock structure of fewer but longer episodes: "The way I write, the episodes are way longer than they are supposed to be anyway. So that to me would have been ideal."
Sutter continued by sharing his vision of how the series would lay out overall:
"To do four movies basically and tell a story that starts in Vietnam with John Teller and Piney and taking it through the last of the first nine members of the club to show up. Which was Clay. And then ending it there. I didn't want to fuck with the mythology that we had laid down. I just wanted to tell the story with the loose pieces we already had. I wanted the tone to be different, because it's period. We are in a pretty rugged time right now, but it takes place in probably one of the most tumultuous periods, politically and socially, in the 60s with the Vietnam War. I wanted to really let the time and place and politics influence story. Tonally, I think it would have been a little different than Sons. But that's as far as I got. I never sat down and started breaking story. I just knew, that's where I wanted to begin, that's where I wanted it to end and I knew it was a one-off."

Sutter was fired from his role as series co-showrunner a little more than a month after Sutter announced he would be stepping down from his role if Mayans M.C. was picked up for future seasons (see below). Reportedly, the decision was made by FX CEO John Landgraf and Disney TV Studios and ABC Entertainment chairman Dana Walden and was based on "several complaints " made about Sutter's "behavior on the set of the series." Sutter notified the series' cast and crew of his departure via email – it's still not known how this could impact his overall deal with 20th Century Fox Television, which included 20th TV, Fox 21, and FX Productions.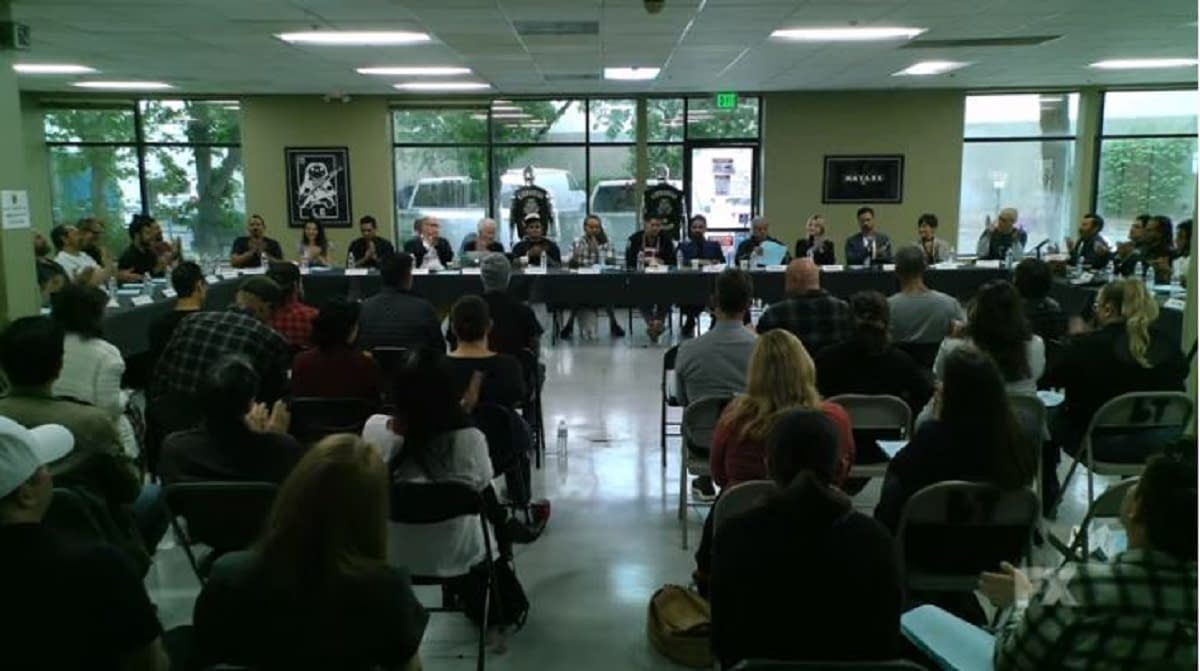 Here's a look at the letter Sutter sent to the Mayans team (from exclusive reporting from The Hollywood Reporter):
Dear Team Mayans,

Apparently, Disney HR and Business Affairs has conducted an investigation into the unacceptable conditions that have been created on the set of Mayans in season 2. As you know, I've removed myself quite a bit this season, allowing others to take a bigger role in producing the show. It appears that philosophy has backfired. It's been reported by writers, producers, cast and crew that my absence and subsequent behavior when there, has only created confusion, chaos, hostility and is perceived as abandonment. Or at least that's how Disney has interpreted it. I'm sure it's true.

This morning I was fired by Dana Walden and John Landgraf for all the complaints levied against me. Not the way I wanted to end my 18 year relationship with FX. At least being fired for being an abrasive dick is on brand.

I deeply apologize if I've made people feel less than or unsupported. My intention was literally the opposite. But clearly I've not been paying attention. My arrogance and chronic distraction has created wreckage. Just know, I adore this cast and crew.

I'm not sure what the fate of Mayans MC holds. But if it continues, you'll still be in good hands. As I said at the premier, Elgin is ready to take on the challenge of running the show. I'm sure FX will get him the support he needs to find and follow his vision.

For those of you who wanted me gone, you win! For those of you who didn't, you win too. Although I will no longer be involved, I have no doubt the new team will move things forward with the same quality fans have come to expect.

Thank you for the honor of working with all of you.

I don't need, nor want, replies or condolences. I know where the love is. And for those of you who have it, I'm sure our paths will cross again.

Best,
ks

The news comes after Sutter had previously said that he was planning to step down from his role as co-showrunner on the series to allow co-creator and co-showrunner Elgin James sole run of the show.
Sutter made some serious waves in August at the official season premiere, announcing that he was stepping down from his executive producer role if the series was picked up for a third season. At the Hollywood screening, Sutter emphasized that a series centered on a Mexican motorcycle gang based on the California-Mexico border should be spear-headed by a person of color: "It's time for the white man to leave the building."
While initial reports were met with a sudden social media panic, fans took heart in knowing that the helm would still be run within the Mayans M.C. family: James would assume the role of showrunner for future seasons.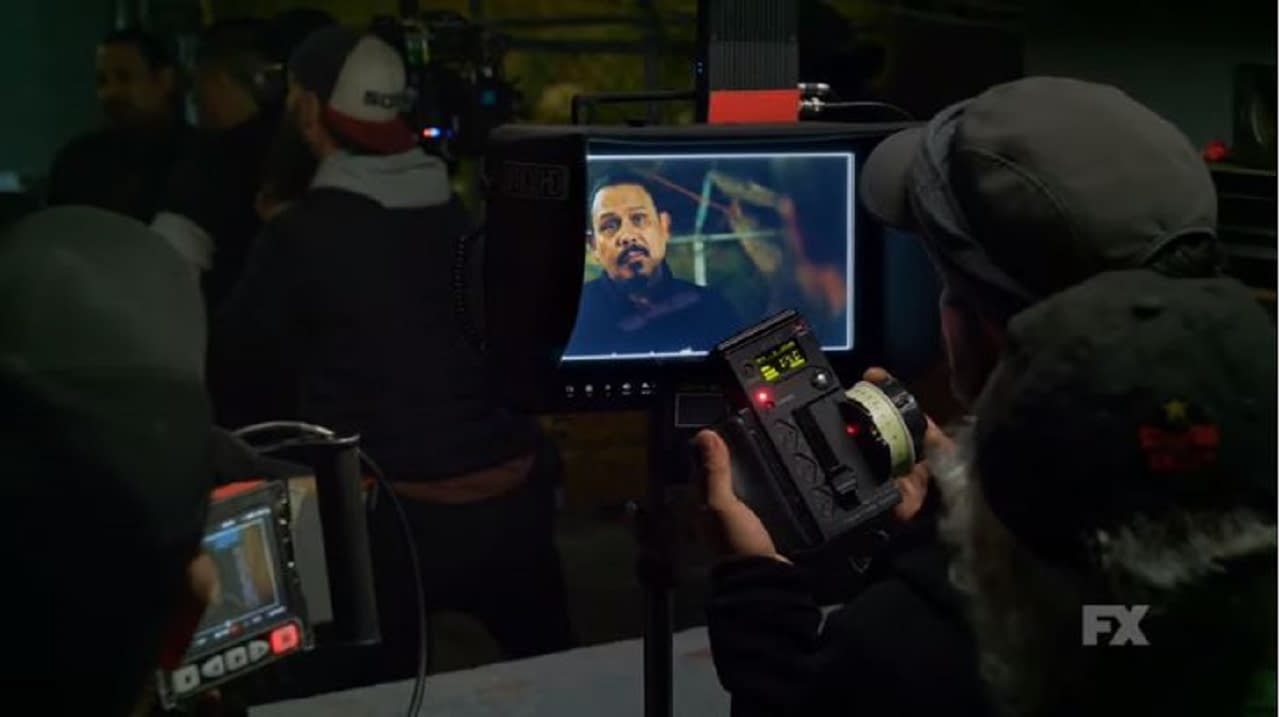 Here's what James had to say about his new role and working with Sutter for the past two seasons:
"Kurt Sutter changed my life. I couldn't get a job in a Walmart or a Costco as a violent ex-felon. He took a shot on me … I don't know what he saw in me … and the last two years I've learned so much from him that it's left me speechless, really. I love everyone on our show so much. We've become a family. I'm so excited about what we get to do."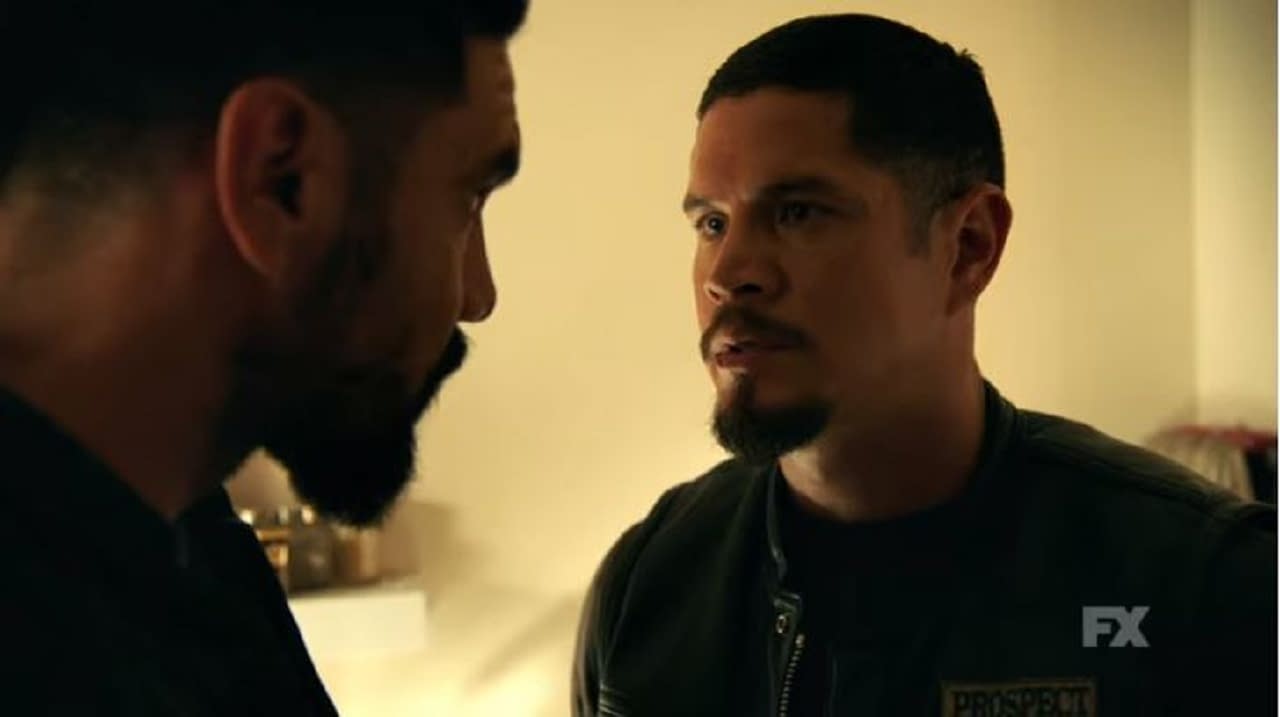 As for James being ready to take on the responsibility? No worries, fans… looks like he already has the right approach:
"F— yeah. I'm wearing a suit! Yeah, I am. Being the boss, all that means is taking the chains off and letting everybody do what they do. Everyone on our crew, our writers' room and in our cast is brilliant. Our job is easy. Just turn the cameras on and let the chemistry happen."

Set in a post-Jax Teller world, Ezekiel "EZ" Reyes (JD Pardo) is a prospect in the Mayans M.C. charter on the Cali/Mexi border. Once the golden boy with the American Dream in his grasp, EZ is trying to reconcile with his brother "Angel" (Clayton Cardenas) while searching for the truth behind their mother's death. Meanwhile, their father "Felipe" (Edward James Olmos) is struggling to lead his sons down a righteous path.
Co-created by Sutter and James, Mayans M.C. also stars Sarah Bolger, Michael Irby, Carla Baratta, Antonio Jaramillo, Raoul Max Trujillo, Richard Cabral, Danny Pino, and Emilio Rivera. The series is executive produced by Sutter, James, and Kevin Dowling. FX Productions and Fox 21 Television Studios produce.

At the end of the show's freshman season, James spoke about what he wants the focus of the second season to be: getting to the heart and soul (???) of the cast of character that populate the world of Mayans M.C.
"I just want to go deeper and rawer. [The cast] all met and we all fell in love with each other. I think a big part of that is realizing our hearts are all broken in the same places. And so now we have that trust in each other to go deeper."