In Nickelodeon's SpongeBob SquarePants holiday special 'SpaceBob MerryPants' (now available online and in-demand), SpongeBob, Sandy, and the rest of their Science Scout troop take a trip to the moon for an adventure in space. Wait…hold on a second…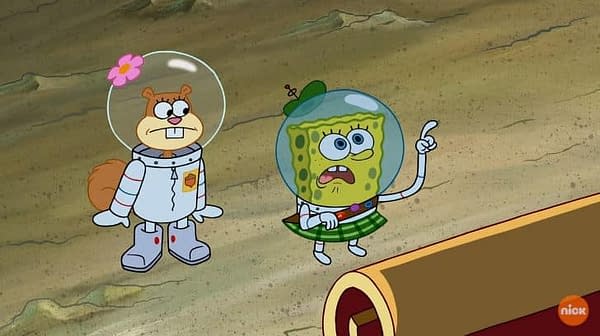 (Note: Once again, if you have a problem with the above premise, take a second and think of all the things about SpongeBob you've been perfectly fine accepting up to this point (campfires under water???). Is this one really a "bridge too far"…a line in the sand…the hill to plant your flag on? Nope…)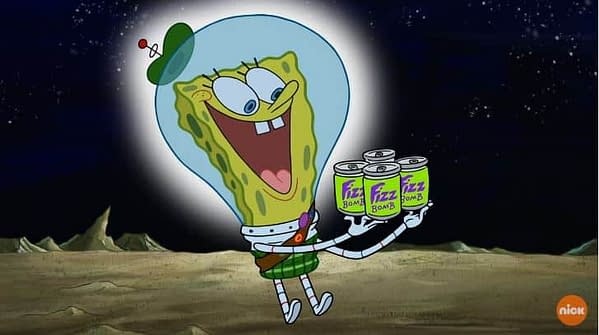 Sandy's doing some nut research, SpongeBob might inadvertently become a "god," Squidward takes his Pink Floyd love very seriously, and Patrick is…eating something, we're sure. But when the team somehow finds a way to move the moon (see above comment), it's going to take some help from a certain "jolly fellow" to set things right..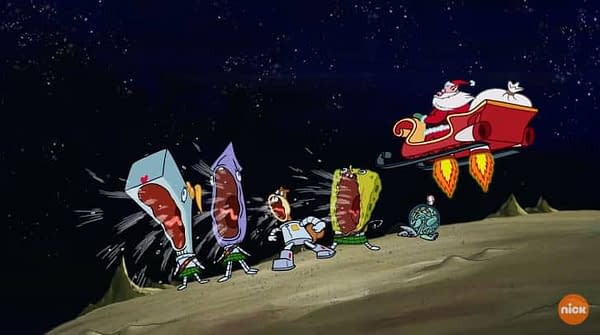 SpongeBob SquarePants features the vocal stylings of Tom Kenny (SpongeBob SquarePants), Rodger Bumpass (Squidward Tentacles), Bill Fagerbakke (Patrick Star), Clancy Brown (Mr. Krabs), and Carolyn Lawrence (Sandy Cheeks). Actor/producer/satirist Lewis Black (The Daily Show, Inside Out) is on board as the jolly old big guy himself, Santa Claus – who teaches SpongeBob and friends that working together as a team and thinking outside the box can help them solve any problem.
In 'SpaceBob MerryPants,' Sandy leads the scouts through space for scientific exploration, where SpongeBob finds life exists in the form of a krabby patty, Sandy studies the moon's gravitational effect on nuts and Squidward goes to the dark side. After an explosive mishap with a Jack-in-the-Box, the troop is left in an astronomical situation, where they luckily find the one person who can help them out, the big man himself…Santa Claus!

Fans looking to satisfy their SpongeBob fix are in luck: Nickelodeon launched a weekly, seven-episode digital short-form series titled Bikini Bottom Mysteries, which shines the spotlight on parts – and other characters – in the SpongeBob SquarePants universe every Tuesday on Facebook Watch and YouTube.
Produced by Viacom Digital Studios and with a vibe that harkens back to the early days of SpongeBob SquarePants, the series takes a closer look at some of Bikini Bottom's other citizens; including Frank the Fish, Purple Doctor Fish, Harold, Mable, and more.