Wanna Buy Spock's Toga from 'Star Trek: The Original Series' at Auction?
You may have noticed we get REALLY into auctions, especially when classic tv series and films are involved. Like the upcoming TV Live Treasures auction from PropStore, which features so many great pieces.
Like the iconic Grecian-style toga worn by Leonard Nimoy in the classic Star Trek: The Original Series season 3 episode, "Plato's Stepchildren".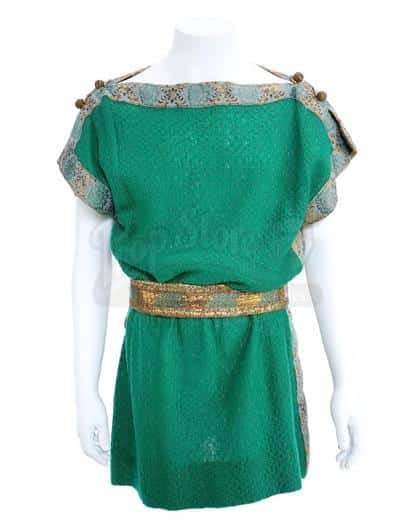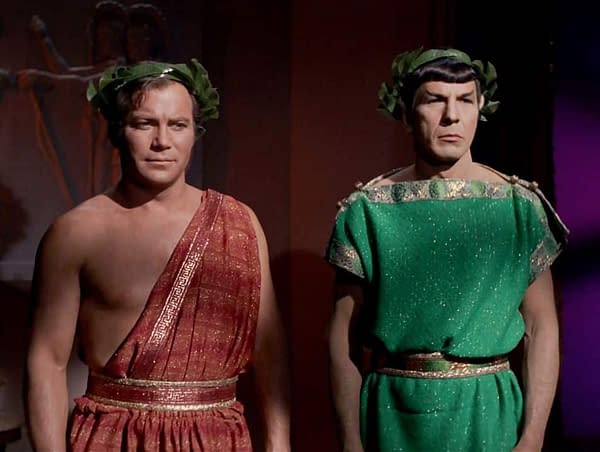 In the catalog, the item (lot #301) is described as:
Mr. Spock's (Leonard Nimoy) myrtle green Grecian tunic and gold belt from Gene Roddenberry's sci-fi television series Star Trek: The Original Series. The custom-made ancient Greek-style costume consists of a myrtle green chiton and gold trimmed belt. The chiton is made of myrtle green fabric knit with silver Lurex. It is edged with soft blue and gold trim and has two pairs of thread-wrapped buttons. Strings with decorative tassels cinch internally at the waist and shoulder. The belt is made of green and gold metallic fabric thickly trimmed with gold painted foil. The costume comes from series costume designer William Ware Theiss' personal collection and immediately following production was stored away from the damaging conditions often seen with traditional studio storage. Thereafter, archived by the Comisar Collection, it has been meticulously cared for and stored in a light, climate and humidity controlled fine art warehouse. This costume is in excellent, production-used, vintage condition overall, indicative of its provenance.

In the episode 'Plato's Stepchildren' (310), the USS Enterprise answers a distress call from the Platonians, who dress in the styles of Ancient Greece and use their telekinetic powers to control Spock and Kirk (William Shatner). Significantly, this episode features the first on-screen interracial kiss ever broadcast on scripted television between African American Uhura (Nichelle Nichols) and Caucasian Kirk (William Shatner).

Provenance: Mr. William Ware Theiss.

Estimate: $20,000 – 30,000
The PropStore auction will kickoff on December 1st 2018, and you can read the full catalog here.