Posted in: CBS, Preview, Star Trek, streaming, Trailer, TV | Tagged: bleeding cool, Burnham, cable, cbs all access, enterprise, episode 5, Kirk, Mary Wiseman, may, mccoy, mycelial network, pike, saints of imperfection, Saru, season 2, Sonequa Martin-Green, spock, staments, Star Trek: Discovery Season 2, Starfleet, streaming, television, Tilly, tv
---
'Star Trek: Discovery' Season 2 Enters The 'Shroom-niverse In "Saints Of Imperfection" [PREVIEW]
Over more than 50 years, Star Trek has taken viewers to a lot of strange worlds and shown a lot of weird things – but this week on CBS All Access' Star Trek: Discovery season 2 episode "Saints of Imperfection," the mycelium is going to hit the fan. Events in last week's episode left a beloved Discovery crew member unaccounted for – and in danger. In order to rescue their colleague, the Discovery must venture in a world they don't understand and face dangers they can't imagine.
Star Trek: Discovery is going through the looking glass – and from all appearances, the episode is going to be like nothing we have seen before. Put on your facemasks, a spoiler epidemic is on the way.
Star Trek: Discovery s02e05 "Saints of Imperfection": Burnham and the crew navigate a dangerous alien landscape in a race against time to save Tilly's life, but Stamets is not at all prepared for what they find in the process. Further, Section 31 is assigned to help track down Spock, much to Pike's dismay.
When we last saw the Discovery, the crew had just saved Saru's (Doug Jones) life and downloaded 100,000 years of universal observations from a glowing sphere. In the fight to free the Discovery from the thrall of the sphere, the mycelial life form that had possessed Ensign Tilly (Mary Wiseman) broke free from its containment. The fungus among us – formerly in the guise of Tilly's childhood friend May (Bahia Watson) – used a mushroom cocoon to transport Tilly… somewhere. Given the fact that the life form lives in the mycelial network, we're assuming that's where it's taken Tilly.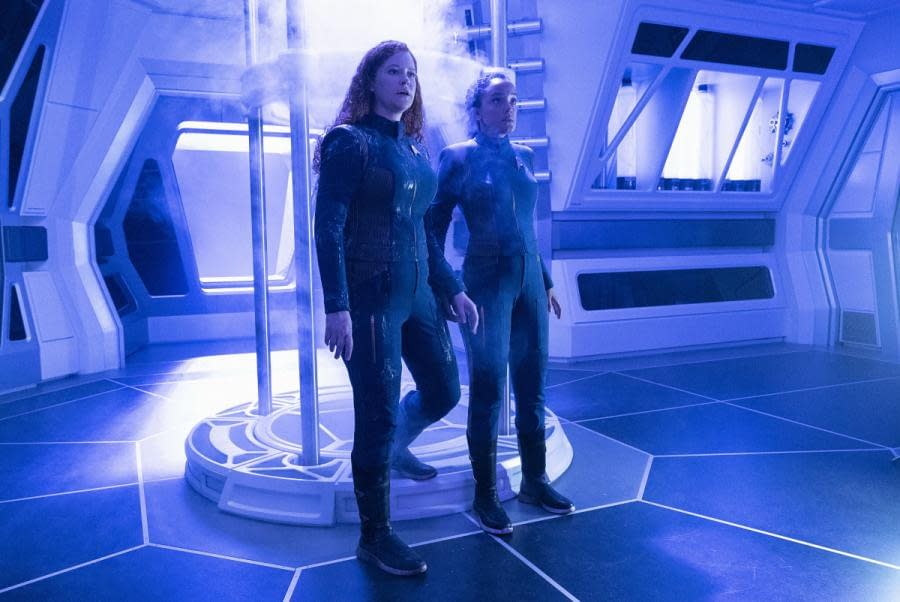 Working off of the preview at the end of last week's episode, the photos released by CBS All Access this week (featured in this article), and the episode description, we can put a few of the pieces together. It appears that the Discovery is going to try and use its spore drive to somehow park itself within the mycelial network. Scenes show both Stamets (Anthony Rapp) and Burnham (Sonequa Martin-Green) walking through some sort of containment field or membrane and traveling within the shroom-niverse itself to find Tilly.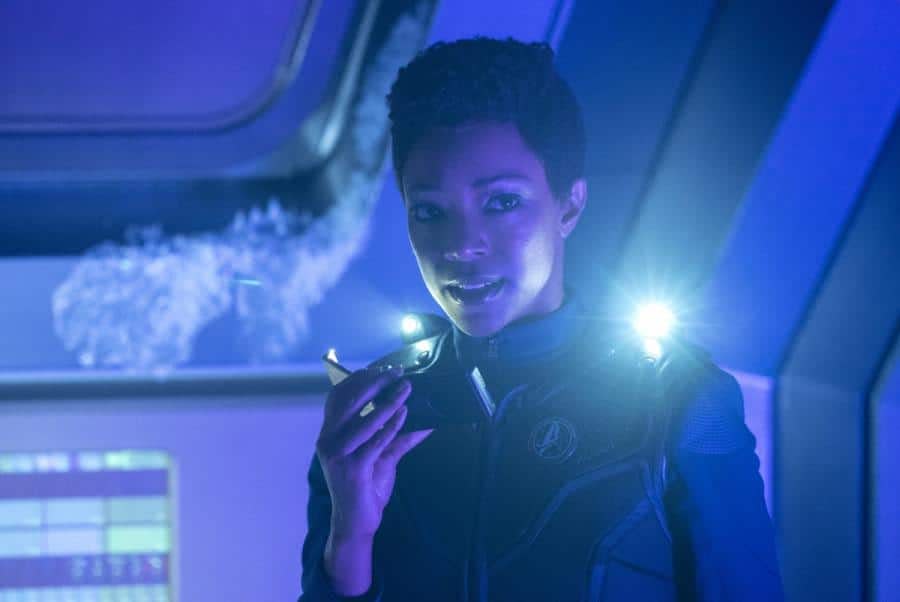 Predictably, parking a spaceship within a fungal network is not going to do any favors for the Discovery or its crew. Scenes show damage to the Discovery and dangerous situations for almost everyone aboard. Most of the images I have seen give the feeling of a very dark but phantasmagorical episode, similar in feel to something like Pan's Labyrinth.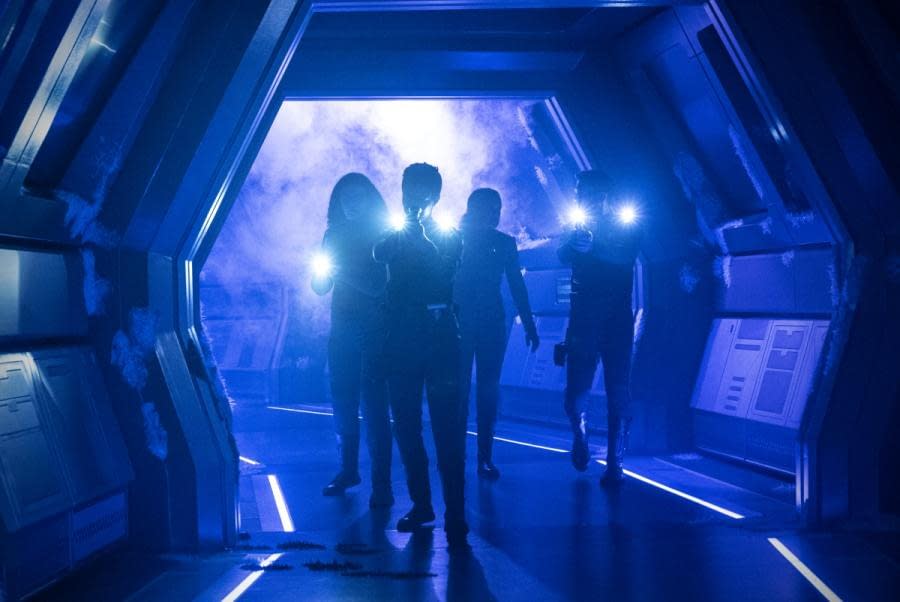 Released images show that Captain Georgiou (Michelle Yeoh) and her Secret Starfleet Squirrel Section 31 colleagues are also present when the Discovery takes is wild mushroom ride. It is unclear from the preview if Section 31 is there to help rescue Tilly or if it's just a case of bad timing. Because there are no coincidences in Star Trek, I'm sure there is some plot-related reason for the black-communicator squad to be present. I just hope they don't screw anything up.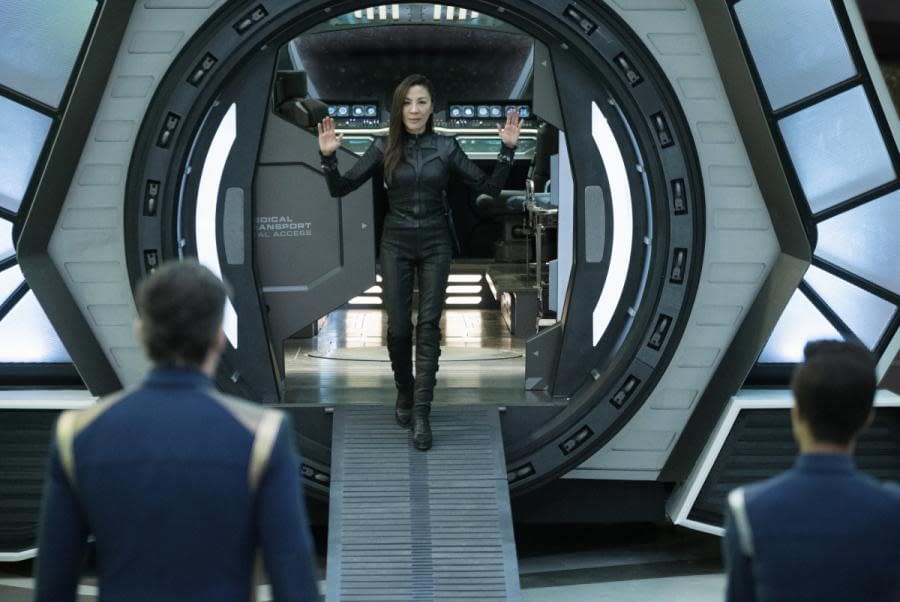 Analyzing the preview, I noticed another aspect of the episode that could be pretty interesting. Throughout the thirty-second video, a sound similar to a ticking clock can be heard in the background. Combining that sound with Captain Pike announcing "we have have an hour to find her" makes me wonder if the episode will take place in "real time" – or at least close to it. The pressure of a ticking clock set against the backdrop of the surreal mycelial universe sounds like a unique, interesting, and unpredictable episode that I am looking forward to watching.
Just beware of free-floating spores…
Star Trek: Discovery Season 2 Episode 5 "Saints Of Imperfection" will be available on CBS All Access on Thursday February, 14 2019.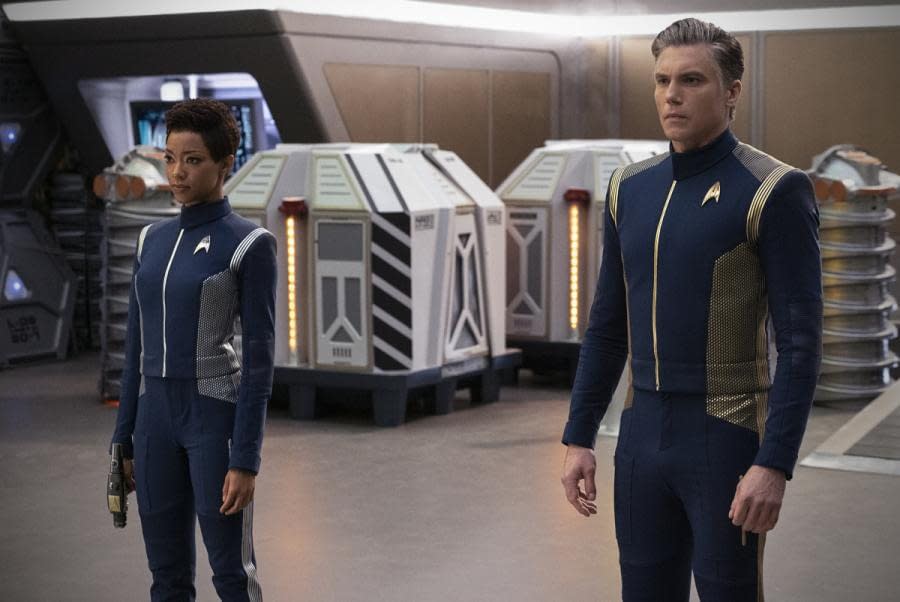 ---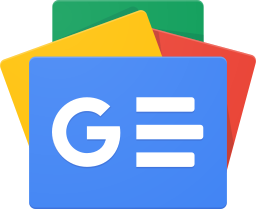 Stay up-to-date and support the site by following Bleeding Cool on Google News today!