"Star Trek: Picard": Apolitical But "Does Its Bit to Heal Social Ills; Will More "Star Trek" Alum Appear?
Since its premiere in 1966, Star Trek has always found a way to bridge the gap between our present and its distant future. Despite a perceived disconnect of a utopian society, the iconic science fiction series always found a way to ask the right questions of contemporary values. Even if the future did not look like 1960's earth, the series was still a geopolitical reflection of the time. In 2020, the minds behind CBS All Access' Star Trek: Picard look to do the same.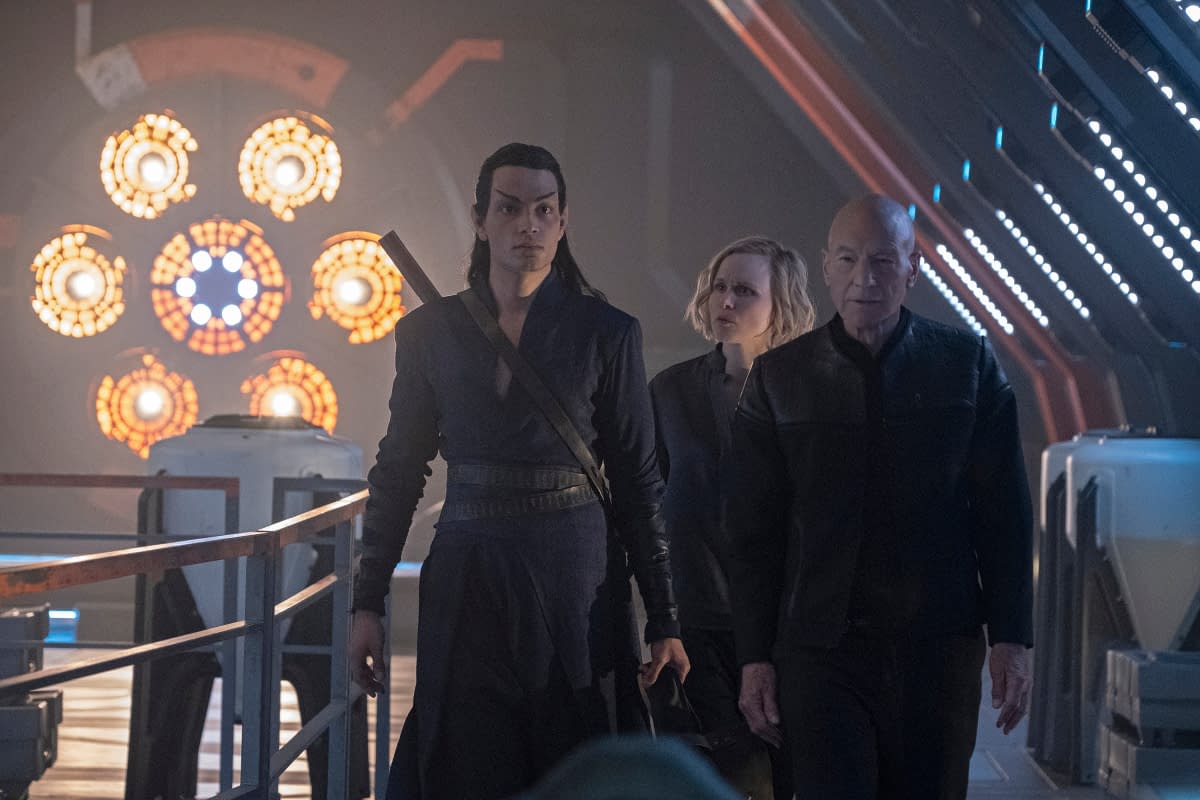 Defining "Star Trek" in 2020
At the Television Critics Association (TCA) winter press event, the cast and crew of Star Trek: Picard (set to premiere on the streaming service next week) discussed how much of the series' "galaxy" will come from some familiar areas.
"Our world is pretty fractured. The marginalization of others, not being open-hearted or seeing with empathetic eyes, this seems to be a pervasive problem we all saw as ripe for healing. Star Trek does its bit to heal social ills."

– Akiva Goldsman, Executive Producer
Sir Patrick Stewart wanted to make it clear that Picard retains the spirit of the franchise in much the same ways that the original 1960's series was initially conceived:
"I'm not saying we are turning Picard into a political show, not at all. We are making entertainment. Perhaps it should reflect the world that we're living in, and that's what Star Trek has always done."
Executive producer Heather Kadin added, "The best sci-fi is about that, without hitting you over the head."
CBS officially renewed Picard for a second season for its ViacomCBS streamer. Joining Goldsman, Stewart, and Kadin on stage were co-stars Alison Pill, Isa Briones, Evan Evagora, Michelle Hurd, Santiago Cabrera, and executive producer Alex Kurtzman.
As far as alum from Star Trek: The Next Generation and other sequel series', trailers revealed Riker (Jonathan Frakes), Troi (Marina Sirtis), Data (Brent Spiner), Hugh (Jonathan Del Arco), and Seven of Nine (Jeri Ryan). Stewart closed the panel remaining hopeful his other former castmates appear at some point: "It is my hope that whenever the series wraps, we will have encountered all the principal actors from Next Generation."
Please, CBS All Access! Make it so! Star Trek: Picard premieres January 23rd.