Posted in: Paramount+, Star Trek, streaming, TV | Tagged: Alandra La Forge, Ashlei Sharpe Chestnut, Ed Speleers, Geordi La Forge, Jack Crusher, LeVar Burton, Mica Burton, paramount, Sidney La Forge, star trek, Star Trek Picard
---
Star Trek: Picard: Chestnut on Sidney La Forge, Spinoff Hopes & More
Star Trek: Picard star Ashley Sharpe Chestnut on Sidney La Forge's journey, relationship with Geordi (LeVar Burton), spinoff hopes, and more.
---
One of the more underappreciated new stars of Star Trek: Picard is Ashlei Sharpe Chestnut, who plays Ensign Sidney La Forge, the helmsperson of the U.S.S. Titan-A. If the last name wasn't a dead giveaway, she's one of the daughters of U.S.S. Enterprise-D engineer Commodore Geordi La Forge (LeVar Burton), currently stationed at the Federation's Fleet Museum. His return in Picard's season three episode six's "The Bounty" marks his long-awaited return to the franchise since his guest appearance on UPN's Star Trek: Voyager in the alternate timeline season five episode "Timeless." Joining Burton's Geordi is his real-life daughter Mica Burton who played Geordi's other daughter Alandra La Forge, who followed in his footsteps. Chestnut spoke to Inverse about the family dysfunction and the tensions created by Sidney deciding to walk her own path in Starfleet and dealing with her overprotective father.
Star Trek: Picard: Chestnut's Moment to Shine in "The Bounty"
When it came to how welcome Chestnut felt on set, "We're Star Trek's family, but outside of that, like, we're family too." During the events of "The Bounty," Riker (Jonathan Frakes), Worf (Michael Dorn), and Raffi (Michelle Hurd) attempt to infiltrate Daystrom Station to find out what the Changelings stole from the facility that's even deadlier than the portal weapon used on the Shrike. As Federation forces close in, the Titan escaped to Athan Prime to recruit Geordi's help. As they arrive, she and Jack Crusher (Ed Speleers) try to devise a way to help the Titan stealthily rescue the Away team with minimal presence and discover the Klingon Bird of Prey, which they extract its cloaking device to use on their vessel. With fans naturally projecting their chemistry vibes, much to Geordi's chagrin – and "LaCrush" was born.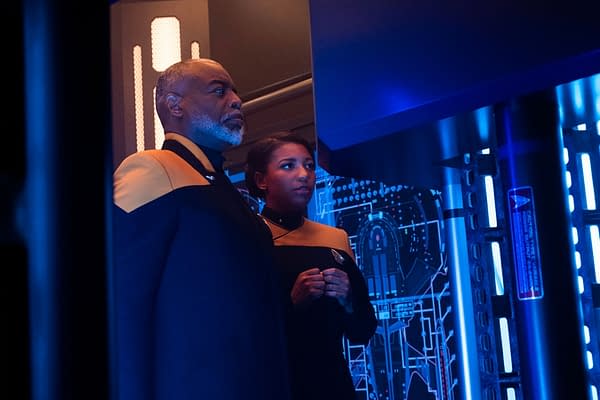 "I feel like their relationship is more meta in the sense that we are the kids of these iconic characters," Chestnut says. "Sidney's trying to come out of her dad's shadow and be her own kind of woman. And Jack is finally figuring out his father. Figuring that out behind the scenes was a journey in and of itself." As far as seeing her Changeling double dead on the operating table, shot after trying to stop Seven (Jeri Ryan) and Shaw's (Todd Stashwick) engineering plan, "Just seeing myself, laying down as a dead body, that was nuts," she said of the scene in the previous episode "Imposters." "Sidney sees her dead body. She doesn't want to see that again. So. I wanted to do a hair change! I talked to Terry [Matalas] and asked him if Sidney could change her hair in response to this, and he was like, yes."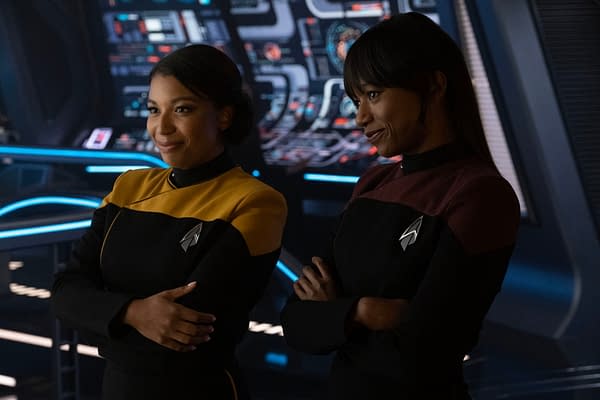 Much like Stashwick, Chestnut also hopes we'll see more adventures with Sidney in the future. "I kept my comms badge," she said. "I tried to keep my uniform, but CBS and Paramount were like, 'No, please give that back.' I hope we get our own spinoff! If the fans really love us, maybe it will happen." Star Trek: Picard streams Thursdays on Paramount+.
---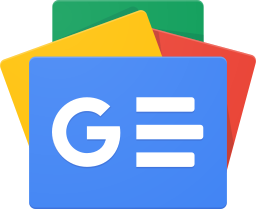 Stay up-to-date and support the site by following Bleeding Cool on Google News today!