"Star Trek: Picard" Season 1 "Absolute Candor": When Jean-Luc Visited Not-Rivendell [REVIEW]
This week's episode of CBS All Access' Star Trek: Picard could be the final stop in Jean-Luc's (Patrick Stewart) "regret tour" before they finally set off to their real journey. The episode begins when the admiral visits the colonized planet of Vashti, home for many displaced Romulans from their cataclysmic supernova 14 years ago. Minor spoilers to follow.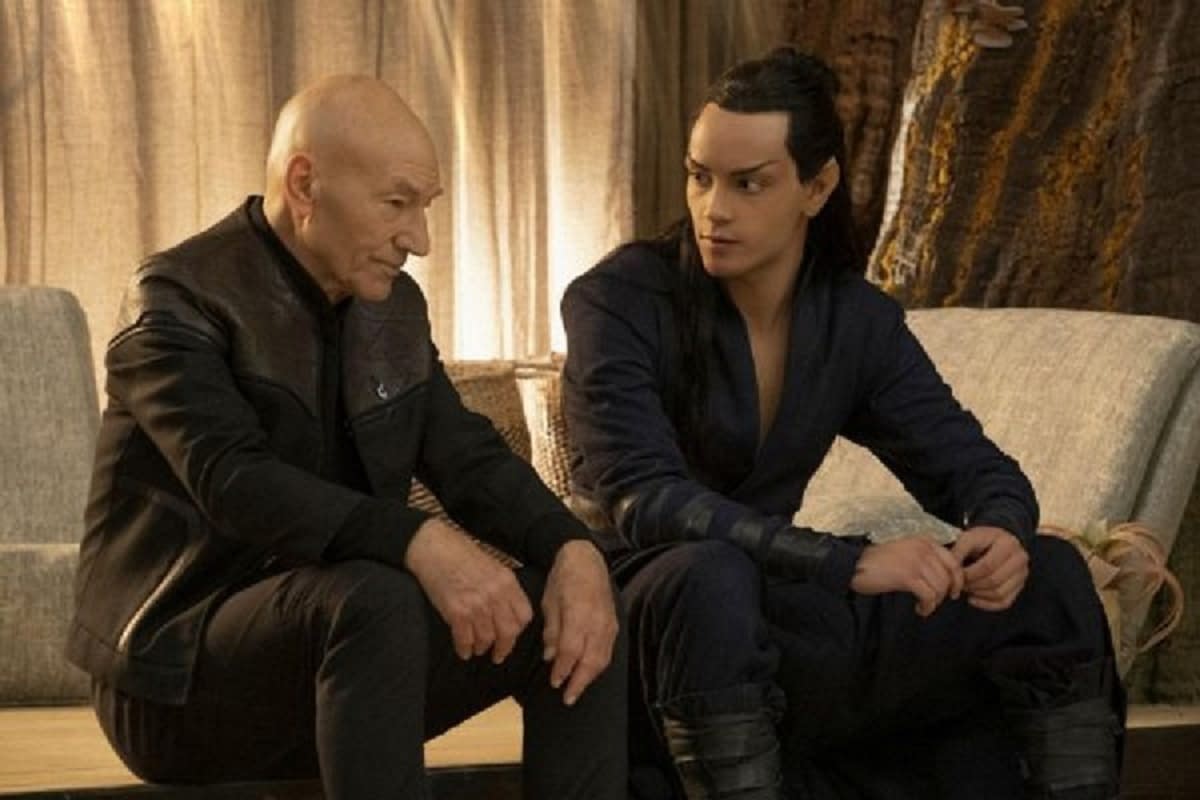 [rwp_box id="0"]
"Star Trek" Meets "The Lord of the Rings?"
The planet has a red hue reminiscent of other such locations in Trek lore like Vulcan and Romulus. The presentation, settings, and ambiance are reminiscent of J.R.R. Tolkien's Middle Earth. Picard transports down in civilian gear, which happens to be White similar to Gandalf. The Romulans are not like the Hobbits as they have elven features. Plus they have more modern-type clothing.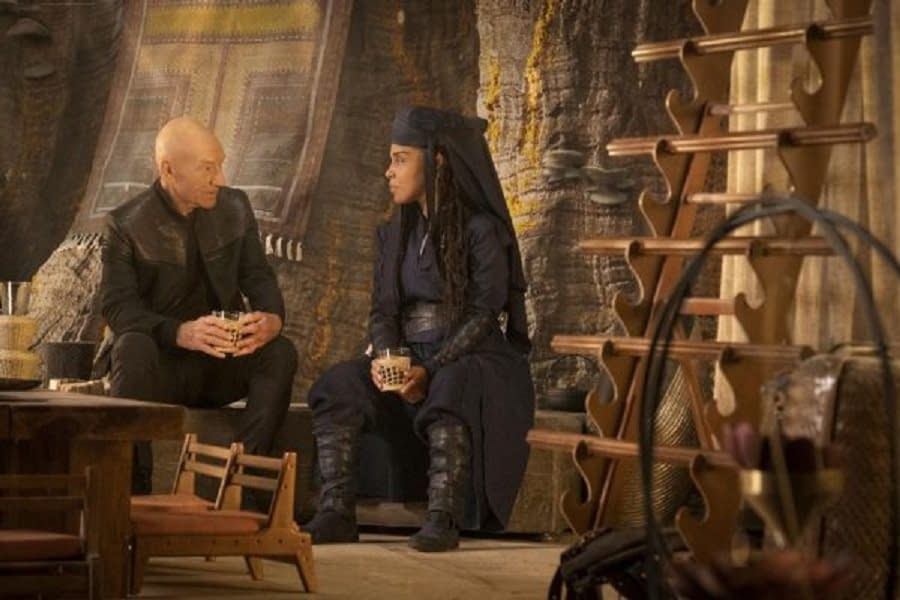 Bond Between Romulan Boy and Surrogate Human Father
Picard comes down looking like a grandfatherly figure talking with locals and bonds with a local, a boy named Elroy…sorry, Elnor (Ian Nunney). He reads to him and teaches him fencing. When Picard finds out about the Mars meltdown, he has to scramble his resources to decide his next course of action.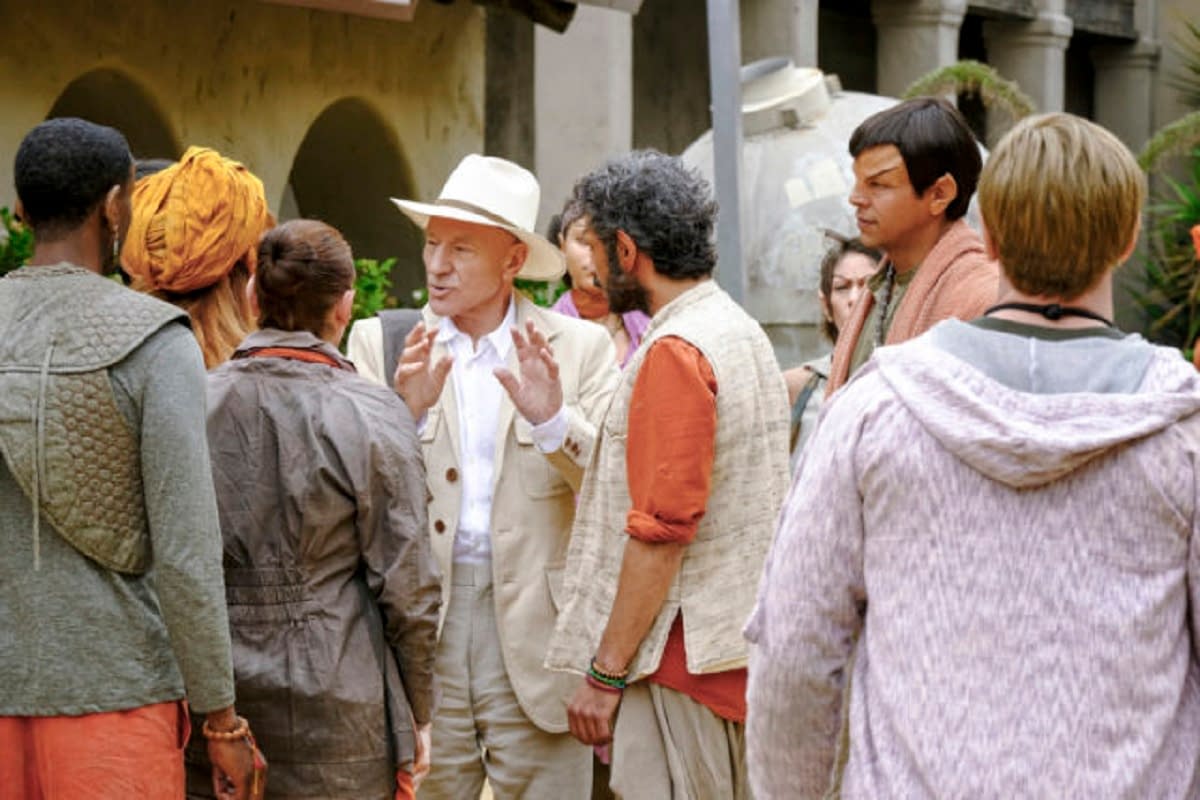 Cue to the present when Jean-Luc's crew arrives at the planet discovering much changed since his last visit. In the similar vein of previous episodes, he learns the scars he left behind following his abrupt departure and its aftermath. The episode provided a non-serial element to the series, which is Picard's bond with the displaced Romulan child. While there wasn't much to build off of aside from those precious moments, the grown-up Elnor (Evan Evagoria) felt like a Romulan version of Worf.
To elaborate, both characters lost their parents at a young age and raised by surrogates. They both found a rare kindness from humans they never saw before and became a reflection of their influence. While the episode condensed that relationship in the interest of TV, we see more of the life that's Picard's rather than what's shared with his Enterprise crew in The Next Generation.
Directed by Jonathan Frakes and written by Michael Chabon, what separates "Absolute Candor" from "The End is the Beginning" is the feeling of gaining something new to invest in rather than gaining exposition to fill in a gap. The bond between Picard and Elnor was what made the episode work. Even the corniness and filler of Soji (Isa Briones) and Narek (Harry Treadaway) didn't distract from its main focus. It's a definite step up from last week – and you're in for a treat at the end.