Star Trek: Picard Season 3 "Will Get Those 'Next Gen' Feels Back": EP
Star Trek: Picard EP & showrunner Terry Matalas discusses if Season 3 is the definitive final bow for The Next Generation crew and more.
---
It's funny how the stars can sometimes align to create new adventures for your favorite characters, especially when you're billing it as a "final journey." It's something that Star Trek: Picard showrunner Terry Matalas wrestles with entering the third and final season as it's the second attempt to date to close the chapter of The Next Generation crew, with the first being the oft-maligned 2002 Nemesis. Speaking with SFX Magazine, the executive producer does his best to define what he's trying to do for the Paramount+ series while providing a fuller picture of the cast's future.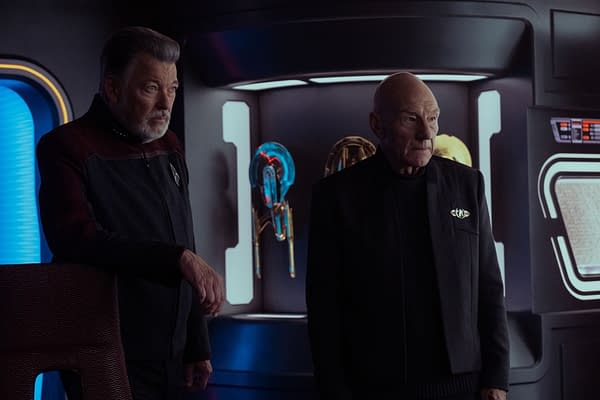 When asked about the purpose of the new season, "It honors what came before, it honors the spirit of the characters, but also takes into account that it's been over 20 years since we'd last seen many of them," Matalas said. "Storytelling and serialized television have changed since then, so we do both. If you're looking to feel like these are the Next Gen characters that you grew up with, you will see them everywhere. If you're looking for something a little new, well, you get to catch up with them in unexpected ways as well. But you will get those 'Next Gen' feels back for sure. But it's the next step in their journey. It feels like a feature film, a final feature film."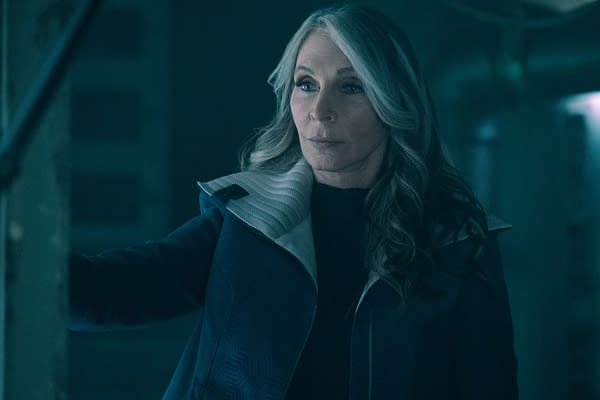 Since premiering in 1987, TNG ran for seven seasons and across four feature films, which breaks down to 15 years dedicated to playing their roles. Several of the cast members, such as Jonathan Frakes, LeVar Burton, Michael Dorn, Patrick Stewart, and Marina Sirtis, have reprised their roles for spinoffs like Deep Space Nine, Voyager, and Enterprise. Brent Spiner, who was Data on TNG, played a Soong ancestor on Enterprise. In the Paramount+ era, Stewart returned to star in Picard in 2020, and over the course of the first two seasons, we've seen the returns of Frakes, Sirtis, Spiner, and Wil Wheaton from the core cast and recurring guest stars in John de Lancie, Jonathan Del Arco, and Whoopi Goldberg. Season three completes the circle with the returns of Burton, Dorn, and Gates McFadden, along with Daniel Davis and Spiner reprising TNG fan-favorite characters Professor James Moriarty and Lore.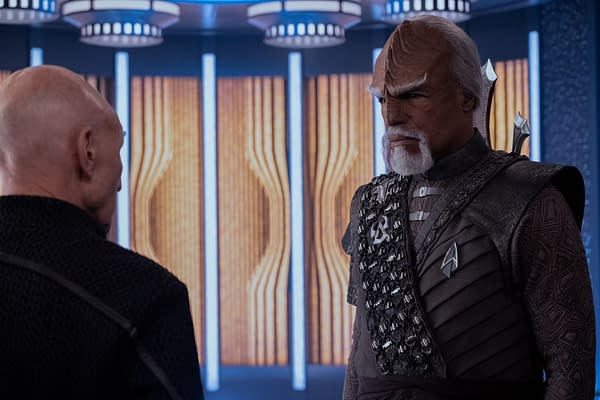 With demand for legacy sequels at an all-time high, especially in the era of streaming, it's natural to see a future that continues any of the TNG cast in some form as long as the other legacy syndicated shows. "The [TNG cast] certainly did have a great time, and they certainly all would love to do this again," Matalas said on teasing another feature film to Paramount. "I think there are ways of seeing these characters again, in a kind of Next, Next Generation story. Not all these characters – I'm not gonna say they all necessarily make it out safely of season three. But I will say that in science fiction, there are always ways of seeing people again. So, of course, who wouldn't want to do this forever?" For more, you can check out the rest of the interview here. Star Trek: Picard season three premieres on February 16th on Paramount+.