Posted in: Paramount+, Star Trek, streaming, TV | Tagged: Daniel Davis, James Moriarty, sir arthur conan doyle, Star Trek Picard, Star Trek: The Next Generation
---
Star Trek: TNG Star Daniel Davis on Reprising Moriarty for "Picard"
Star Trek: The Next Generation alum Daniel Davis on reprising his role as the Conan Doyle villain Prof James Moriarty for Star Trek: Picard.
---
It's no secret that Star Trek has a ton to mine from its nearly 60-year history. Perhaps one of the most surprising figures from the franchise's past is that of Professor James Moriarty, played by Daniel Davis, originally on The Next Generation. The actor made his franchise debut in the TNG season episode "Elementary, Dear Data" and in season six's "Ship in a Bottle." He spoke to Screen Rant about reprising the famous Sir Arthur Conan Doyle character for the latest Picard episode "The Bounty." The following contains spoilers.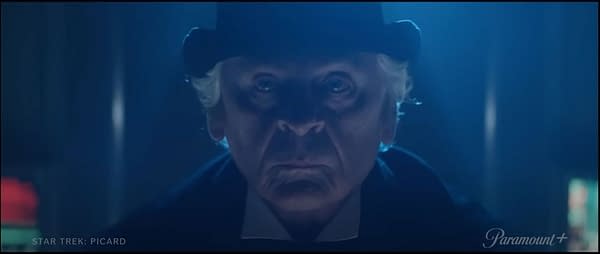 Daniel Davis' Triumphant Return to Star Trek
Upon Moriarty's introduction in TNG in the Doyle-inspired episode written by Brian Alan Lane and directed by Rob Bowman, it's discovered the primary adversary of Sherlock Holmes, the character Data (Brent Spiner) plays in the Holodeck, becoming self-aware and going beyond its programming. With his return in season six, Moriarty hijacks the Enterprise-D in hopes of leaving beyond the confines of the Holodeck as anything generated by the ship's computer disappears beyond the simulation.
"Oh, well, I've read the [Doyle] books. I read them back when I was much, much younger," Davis recalled. "And in fact, I was in a production of a play called 'Crucible of Blood' at my Home Theater in San Francisco, but I played Dr. Watson in that because Moriarty wasn't a figure in the play. I think what was wonderful about our two episodes on 'Next Gen' was that the mythology of Sherlock Holmes combined with the mythology of Star Trek was a marriage made in heaven, really. And I think it satisfied a lot of people's longings for something a little bit different on the show."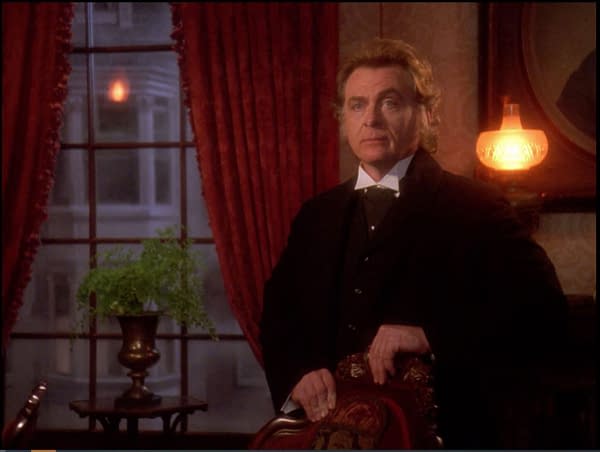 Davis recalled the copyright-related issue Paramount ran into. "The only problem that we ran into with the first episode was that they didn't get clearance from the Conan Doyle Society to use those characters because they assumed mistakenly assume that the works of Conan Doyle were in the public domain. Because he'd been dead for more than 50 years. Then they find out, to their shock, that the Conan Doyle Society holds the rights to those characters and stories in perpetuity because the Conan Doyle Society sponsors so many orphanages and charitable organizations. And the funds that come in from the use of those characters are what keep the organization going. Mr. [Gene] Roddenberry got into a little bit of hot water, which he was able to solve after a few years, and then happily called back and said, we're ready to do another episode. We've got the rights this time."
In Picard, Data is in a hybrid body created by Dr. Alton Soong (Spiner) and shared with the minds that include his ancestor's other major creation Lore and Data's daughter Lal. Synched with the Daystrom Station's computer, he uses Moriarty as holographic security to face Riker (Jonathan Frakes), Worf (Michael Dorn), and Raffi (Michelle Hurd). As the trio tries to fire upon Moriarty, the phaser blast goes right through his projection, but the 19th-century bullets fired from his pistol are solid enough to penetrate flesh. Once Riker solves Data's puzzle, whistling the completed notes to "Pop Goes the Weasel," Moriarty dissipates along with access to the mainframe room where Data resides, incapacitated and still integrated with the Daystrom Station computer.
"I'm loving [the new season of 'Picard]. I'm so sad that it's coming to an end," Davis said. "And I'm sad that we won't have Picard around anymore. At least [Patrick Stewart] says he's not doing it anymore. He told me that the day I saw him and then, several months later, I read an article in the paper where he said, 'Well, never say never.' So fingers crossed." With an eye to the future, "As far as Moriarty is concerned, I spoke to one of the producers when I was in Los Angeles shooting this episode, and she said to me, 'Well, you know, Moriarty is one of those characters who can pop up just about anywhere in the Star Trek universe.' Because there are other Star Trek shows now [like] 'Discovery' and Strange New Worlds," he said. "Even my dear friend Kate Mulgrew is voicing Janeway in the cartoon. So maybe Moriarty will show up. He may not be done yet. We don't know. But fingers crossed."
For more, including Davis revealing fan's culture shock that he's not actually British, his time on the CBS sitcom The Nanny, the day he got called to return, his latest take on Moriarty, and reflecting on his TNG episodes, you can check out the interview here. Star Trek: Picard streams Thursdays on Paramount+.
---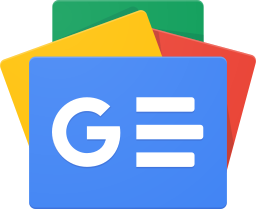 Stay up-to-date and support the site by following Bleeding Cool on Google News today!