Stargirl Season 1 S.T.R.I.P.E. Preview: Pat Owes Courtney Some Answers
If we had to sum up the series premiere of DC Universe and The CW's Stargirl in as few words as possible, it would be "revelations and confrontations". Beginning with the defeat of the Justice Society of America at the hands of the Injustice Society and the passing of the torch (in the form of the cosmic staff) to the next generation of heroes, the series wasted little previous time getting Courtney (Brec Bassinger) and Pat (Luke Wilson) somewhat on the same page (wasn't going to be that easy). Of course, we can't have the next generation of heroes rise without the villains making their presence known once again. This time, it was in the form of Henry King Sr. aka Brainwave (Christopher James Baker). Thankfully (for Courtney's sake, especially), Pat made the right call in deciding to take his "upgrade" out for a spin.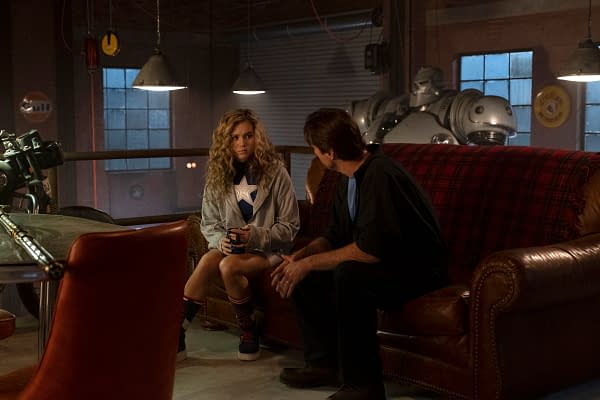 Which brings us to the following preview for this week's episode, "S.T.R.I.P.E". It's pretty safe to say from the title that we're going to get a lot of Pat's backstory on this one, but it's Courtney who's going to be dealing with the fallout from last episode's confrontation. Our biggest concern? How long can Courtney and Pat keep their dangerous secret a secret from Barbara (Amy Smart) before our season's "big bad" force their hand?
Stargirl season 1, episode 2 "S.T.R.I.P.E.": LIFE IS ABOUT LEGACY — After Courtney (Brec Bassinger) has an unexpected run-in with a member of the Injustice Society of America, Pat (Luke Wilson) reveals the truth to her about their history. Meanwhile, Barbara (Amy Smart) is elated when she sees Courtney making an attempt to get along with Pat, not knowing the secret they've been keeping. Finally, things take a dangerous turn at Blue Valley High's open house night when Courtney becomes the target of a dangerous foe. Yvette Monreal, Anjelika Washington, Trae Romano, Jake Austin Walker, Meg DeLacy, Hunter Sansone, Neil Jackson, and Christopher James Baker also star. Greg Beeman directed the episode, written by Geoff Johns.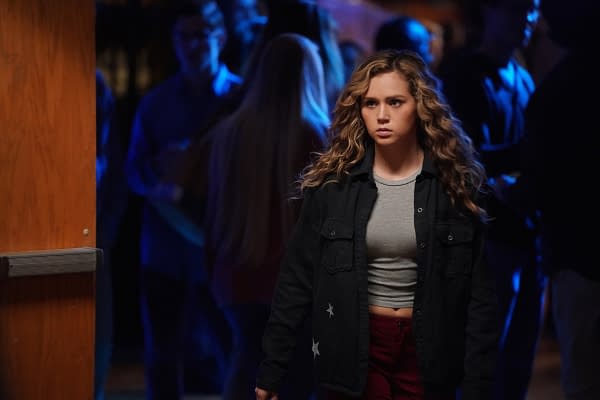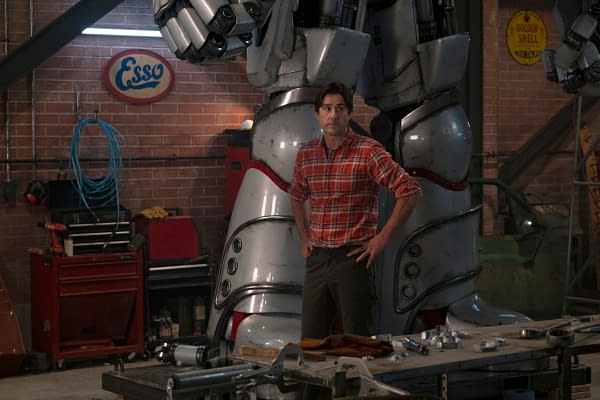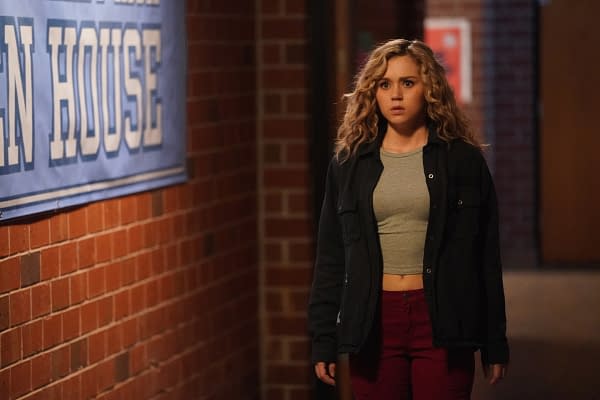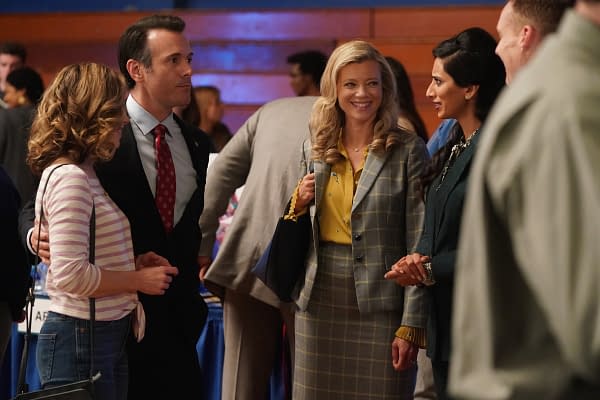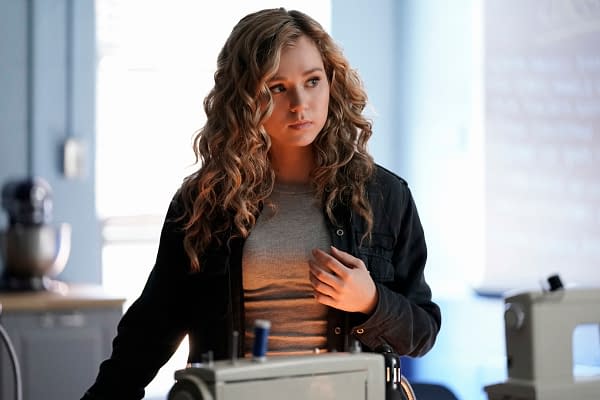 Welcome to The World of Stargirl Season One
Joining Courtney's new Justice Society of America are her stepdad Pat Dugan (Luke Wilson) aka Stipesy aka S.T.R.I.P.E., Anjelika Washington's Beth Chapel aka Doctor Mid-Nite, Yvette Monreal's Yolanda Montez aka Wildcat, and Cameron Gellman's Rick Tyler aka Hourman. Looking to end their "do-gooding" for good is the Injustice Society's Henry King aka Brainwave (Christopher James Baker); Paula Brooks aka Tigress (Joy Osmanski); Lawrence "Crusher" Crock aka Sportsmaster (Neil Hopkins); Dr. Ito aka Dragon King (Nelson Lee); and Jordan Mahkent aka Icicle (Neil Jackson).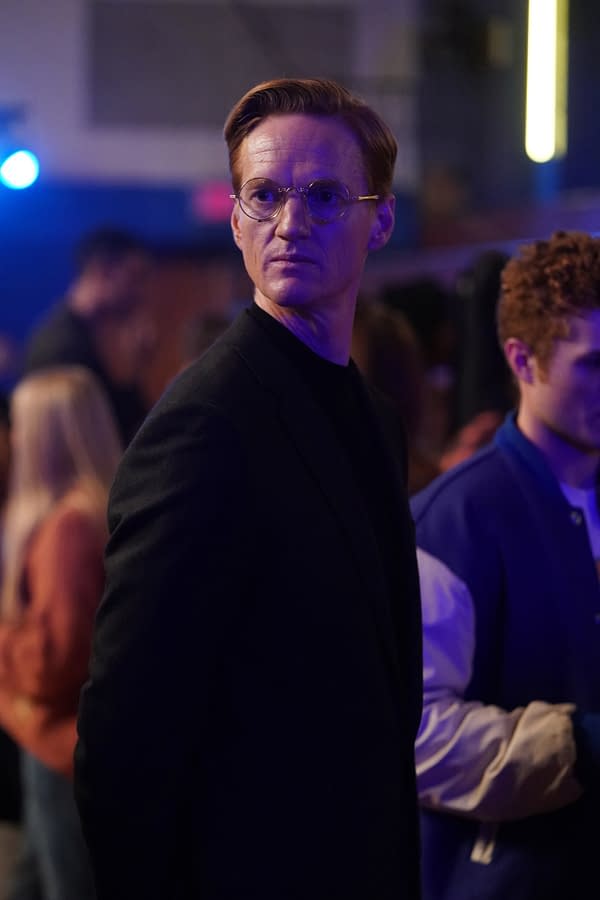 The live-action series also stars Amy Smart (Barbara Whitmore), Joel McHale (Sylvester Pemberton aka Starman), Lou Ferrigno Jr. (Rex Tyler aka Hourman), Brian Stapf (Ted Grant aka Wildcat). Joining them this season are Henry Thomas (Dr. Charles McNider aka Dr. Mid-Nite), Meg DeLacy (Cindy aka Dragon King's daughter), and Trae Romano (Courtney's step-brother). Jake Austin Walker (Rectify), Hina Khan (Hit The Floor), and newcomer Hunter Sansone are also on board. Johns executive produces with Melissa Carter (Queen Sugar), who serves as co-showrunner, as well as Greg Berlanti and Sarah Schechter. Based on the characters from DC created by Johns, Stargirl is produced by Berlanti Productions and Mad Ghost Productions in association with Warner Bros. Television.