Starsky & Hutch: Female-Led Series Reimagining in Development at FOX
A female-led reimagining of Starsky & Hutch, from writers/showrunners Sam Sklaver and Elizabeth Peterson, is in development at FOX.
---
FOX is tackling an updated reimagining of the David Soul, Paul Michael Glaser & Antonio Fargas-starring 1970s buddy cop series Starsky & Hutch. With the series set to feature female characters in the lead roles, Fox Entertainment president Michael Thorn shared with The Hollywood Reporter that writers/showrunners Sam Sklaver (Prodigal Son) and Elizabeth Peterson (The Resident) will submit at least two scripts before a decision is made regarding moving forward. The new take on the original series shines a spotlight on two female detectives, Sasha Starsky & Nicole Hutchinson. They solve crimes in the offbeat town of Desert City while staying true to their friendship & their awesomeness, and somehow also trying to unravel the mystery behind who sent their fathers to prison 15 years ago for a crime they didn't commit. Sony Pictures Television and Fox Entertainment are set to produce.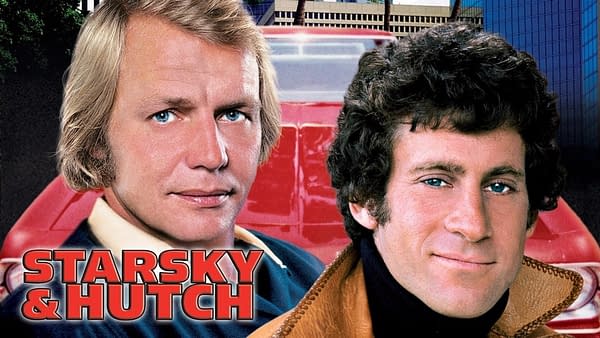 Created by William Blinn and running from 1975-79, the ABC series saw Soul & Glaser as the lead crime solvers, with Fargas as Huggy Bear, the two detectives' informant. And who can forget the cherry-red Ford Gran Torino with the white stripe across its sides and roof? In 2004, Ben Stiller, Owen Wilson, and Snoop Dogg teamed up for a feature film take on the crime series that was both a loving embrace of the series as well as an occasional knife-twister on some of the original's more dated aspects. The Starsky & Hutch reimaging is just one of a number of projects that FOX has in development. Other projects include Sony's medical drama Doc. Stemming from Barbie Kligman (Magnum P.I.), the project is based on an Italian series about a doctor who suffers a traumatic accident and loses eight years of her memory. In addition, Marc Cherry's Jenny Is a Weapon is also in development, with more details on the way soon on both projects.