Stephanie McMahon Wants to Prove WWE Commitment Against Racism
Stephanie McMahon believes it's not enough to say you're taking a stand against racism. You have to prove it. McMahon appeared an episode of the Women in the Business of Sports podcast, where she discussed WWE's response to systemic racism in the current political climate.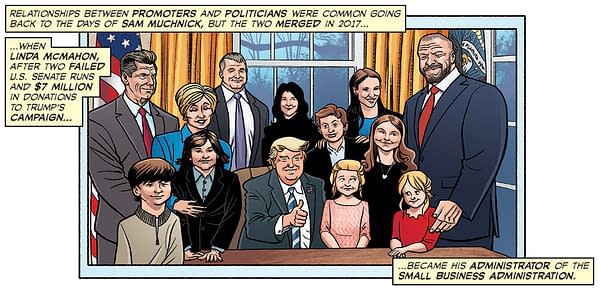 "Well you know, it's not enough to just put out a statement and say you're going to do something," McMahon said, according to a transcription of the podcast by 411 Wrestling. "So we've actually been doing any number of things across multiple sectors. So from employees, we're looking at different types of training and resources and platforms to really encourage our employees to speak, and to let them know that they are heard. And of course, any action items that come out of that."
"We're also looking to partner with a few different organizations to really make sure that we're able to amplify and use out platforms in the best way possible — education, I think to me at this moment, being primary," McMahon added. "So we're, you know, I'm not ready to make some kind of formal announcement yet, but we're getting further down the pike in something I think will be very meaningful hopefully for our entire community. For the WWE community and larger than that. Because it is not enough to just say 'Oh yeah, I take a stand.' You have to prove it. And that's something that I believe in wholeheartedly."
Of course, if Stephanie McMahon did want to take a stand, she could always say something about WWE Hall-of-Famer Donald Trump. With whom she's been photographed within the oval office, to whom her family has donated millions of dollars, and in whose reelection interests her mom runs a Super Pac. But maybe that will happen after different types of trainings generate action items.