Steven Moffat, Sophia Myles Join Next Doctor Who Lockdown Rewatch
The Doctor Who Lockdown rewatches keep coming thick and fast. So fast we nearly missed the announcement for the next one. Rewatch organizer Emily Cook announced via Twitter that the next rewatch will be another classic 10th Doctor episode, "The Girl in the Fireplace". This is the one where The Doctor meets Madame de Pompadour in pre-revolutionary France. The rewatch takes place on Wednesday, May 6, at 7 pm British Standard Time (which is 2 pm US East Coast Time), marking the 14th anniversary of the show's original airdate. Writer and former showrunner Steven Moffat and Sophia Myles, who played Reinette, will livetweet the rewatch event. They also announced that Moffat has written a new bonus short, "Pompadour, featuring Reinette and Myles will reprise the role for the first time in 14 years.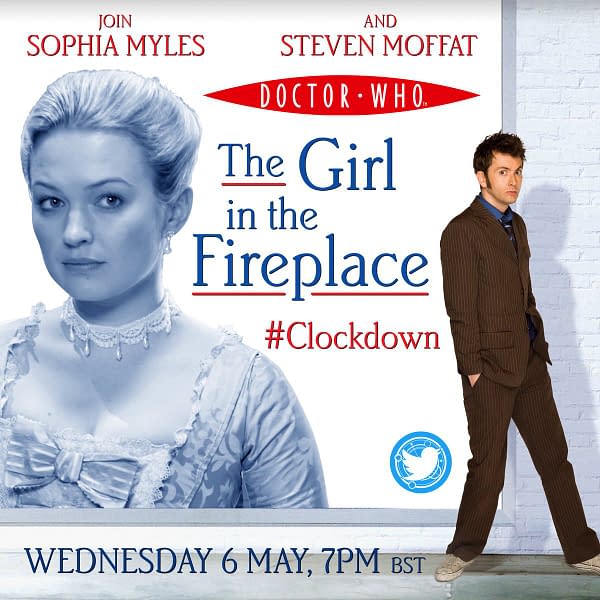 Although Marie Antoinette is the more famous aristocrat from French history, Madame de Pompadour was the cooler member of the French court to know. She became the mistress of King Louis XV and was renowned for her sharp intelligence, political acumen, and patronage of the Arts. She got her nickname "Reinette" from childhood because her mother referred to her as "the little queen". That is the name that the Doctor comes to know her by. She really deserves a movie or TV series of her own.
Steven Moffat Loves to Break Your Heart
"The Girl in the Fireplace" is one of the most romantic episodes Moffat ever wrote, a poignant tale of love gained and lost over time. The chemistry between David Tennant and Sophia Myles was real and the two dated for a time after the episode was produced. The gut-punch ending only works because of their chemistry. It also cemented the 10th Doctor as a romantic figure. Moffat was quite open about being influenced by Audrey Niffenegger's novel The Time Traveller's Wife. It would not be the last time he drew from that novel to play out a love story during his run on Doctor Who. Moffat is now developing a new television series adaptation of the novel for HBO. That's just how the universe work sometimes.