This article contains spoilers for the Supergirl Season 3 episode 'The Faithful'.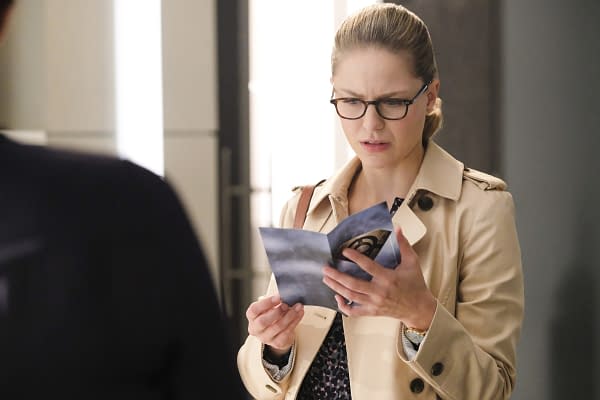 'The Faithful' is one of the more interesting episodes of Supergirl in a while. Not necessarily one of my favorites, but it is definitely one to make you think.
The premise ties into the pilot episode where Kara used her powers to save the plane Alex was on. Also on the plane was Thomas Coville, a guy whose life had just about completely fallen apart. After being saved, he looked out on the wing and saw Kara — and from that day forward, he began to worship her.
He tracked down every Kryptonian artifact he could and discovered a crystal that showed the teachings of Rao. Coville starts a cult around the Kryptonian religion and pulls together people saved by Supergirl or who want to be saved and are willing to put themselves at risk to have it happen. And while Kara tries to get him to stop, he sees it as she has lost her way and needs to be put back on the right path.
He has a large explosive Kryptonian power source and sets it up at a hockey game. When she flies in and tries to stop it, the kryptonite inside weakens her and it makes his followers doubt and run away. Alex shows up, Supegirl blasts a hole in the ground, and they toss it in. Coville still believes in her and points out that she looks lost now, as compared to the first time he saw her. Even though he knows who she really is, he won't say, as he sits in prison praying to her and Rao. I think Coville will return.
The other main story involves Samantha getting used to running L Corp and making time for Ruby. She's having a hard time trying to balance it all and you feel sorry for her. But then we get a reminder of who she really is at the end when a hooded woman appears and Samantha is covered in Kryptonian symbols.
And then there was the next piece in the end of the Alex/Maggie relationship as Alex watches Ruby and the other kids perform, realizing she can't just accept not being a mom. She knows that she and Maggie can't be together and be happy. I wonder if this was the original direction the writers were going with these characters or if this is a result of Floriana Lima leaving the show.
The episode was more about faith than religion. It's about the power of faith and what people will do in the name of their beliefs – and what can happen when you lose faith. It also has led Supergirl back to her own faith and reconnecting with her heritage. This is a good thing, since that alien ship we saw in episode two turns out to be tied to the Kryptonian artifacts. There are people in tubes on the ship… could these be the other Worldkillers?
The focus next week seems to turn back to Lena Luthor and Morgan Edge as he accuses her of being the cause of children suffering from lead poisoning. Since he was already willing to blow up the wharf with a crowd of people on it, I wouldn't put it past him to poison kids and blame someone else. The trailer makes it look pretty intense.
https://youtu.be/5OuLR9g2NCA
Enjoyed this article? Share it!