The CW has released a sneak peek for tonight's new episode of Supergirl. While the episode will focus on someone from the Cult of Rao bailing and taking an important journal with her, then going to James Olsen (Mehcad Brooks) to get it to Supergirl (Melissa Benoist), the episode still has to keep up with the fall out of last week's battle with Reign (Odette Annable) and the tension building between Supergirl and Lena Luthor (Katie McGrath). Spoilers ahead…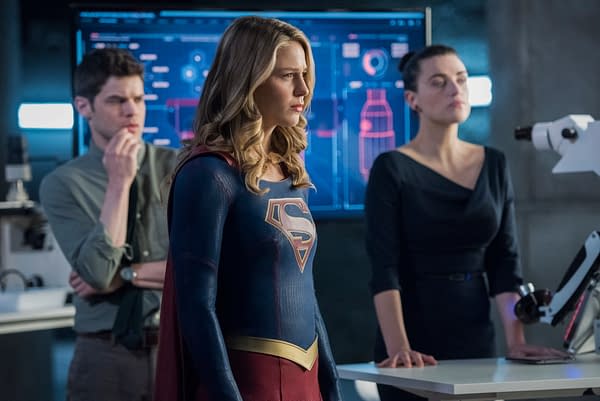 The scene shows us Lena injecting Reign with metal, hoping it would block out whatever makes the change happen and return Sam to control, but it fails. Supergirl, Mon-El (Chris Wood) and Winn Schott (Jeremy Jordan) are there, and Lena says she just needs a little more time to figure out the right vectors. Reign threatens Lena, saying she will pull out her spine once she gets free and then crack the world in half. Lena throws up a barrier, blocking Reign's vision, and we hear a muffled sound of pain. Lena says its a shield on a frequency that blocks Kryptonian vision, Winn asks if about x-ray vision, and Supergirl tries with a painful response. She chides Lena for creating another weapon against Kryptonians and not telling her. Lena reminds Supergirl that this isn't a weapon; she told her about the Kryptonite, and she really doesn't think of Supergirl when she's creating things.
The tension between the two is extremely high and not likely to end well, I believe. But then again, Lena does seems to be going down part of her brother's path, building things to be used against Kryptonians.
Supergirl airs tonight at 8 p.m. ET on the CW.
https://youtu.be/shPz8_ogP20
Enjoyed this article? Share it!