'Supernatural' Season 14, Episode 17 "Game Night": Quit Playing Games With My Heart [SPOILER REVIEW]
Supernatural is keeping us on our toes with misdirects and unnerving cliffhangers. "Game Night" takes a dark turn when Nick (Mark Pellegrino) challenges the Winchesters to a deadly game of hide-and-seek. Donatello's (Keith Szarabajka) life is on the line, Jack (Alexander Calvert) is getting scary, Sam's (Jared Padalecki) fatally wounded, Castiel (Misha Collins) searches for God, and Mary (Samantha Smith) is surprisingly sentimental. It's just another Thursday night on CW.
Tricky Nicky
Nick misses the impenetrable power of Lucifer coursing through his veins, so he concocts a plan to bring the Dark One back from the Empty. He uses Donatello as bait and lures the Winchesters into his trap. He antagonizes Jack during interrogation and gets what he wanted all along – Lucifer's blood. Now, he has everything he needs to bring Luci home.
Pellegrino is always a joy to watch, no matter what incarnation of Lucifer or Nick he is playing. He has so much fun with these roles and his biting wit never fails to entertain. We just love to hate him. Granted, we hoped to like him as Nick, but we're not surprised by Lucifer's influence. Nick was his meat-suit for years and he's not as strong as Sammy.
For a second, I feared Lucifer would try to inhabit Sam again upon his resurrection. After all, even Nick spites Sam for being a better vessel. Luckily, that isn't the case. Skeletor Luci is ready to jump aboard SS Nicky when Jack and Mary make their entrance.
Jack uses up the remainder of his soul (which doesn't seem like much) to send Lucifer back to the Empty and mercilessly scorches Nick. Mary barely stops him from burning Nick to a crisp. Yes, Nick turned out to be a bad guy, but this brutal behavior is unbefitting of a Winchester. Looks like Jack is already forgetting his mantra – WWWD.
Easily defeating Lucifer and BBQ-ing Nick with flinching frighteningly proves that Jack really is the most powerful being the Winchesters have encountered. Mary needs to tread very lightly here…but we'll get to that in a bit.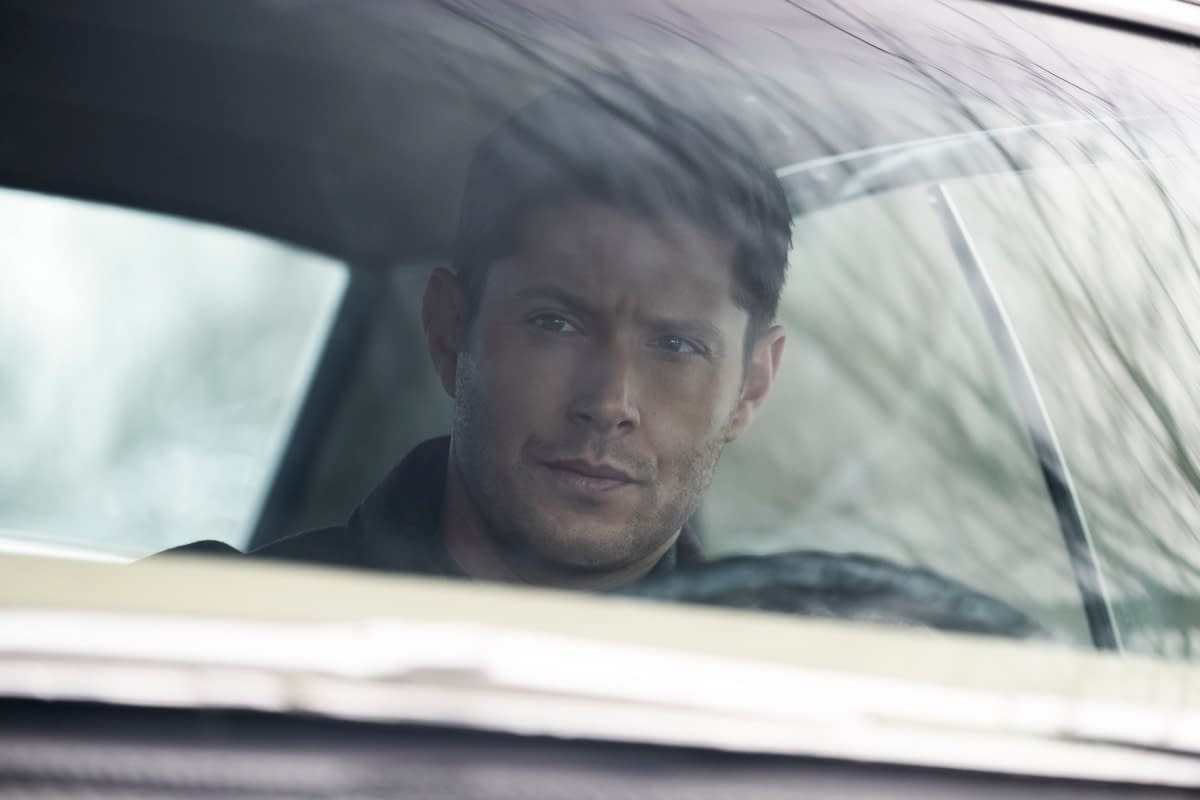 Return of the Amulet
I've been saying this season is especially nostalgic and Cas just found a treasured Winchester keepsake that gave us goosebumps. We've been waiting for years to see the Dean's (Jensen Ackles)amulet again. The pendant holds great value – as a token of Sam's love for his brother and as a tool to sense God's presence. Ever since Dean dropped it in the trash, I've been hoping it would resurface – along with John's (Jeffrey Dean Morgan) leather jacket (they better bring that back in the final season!).
Anael (Danneel Ackles) doesn't have many answers for Cas and is a kind of a downer. Nonetheless, her superficial desires lead Cas to a cool collection of supernatural artifacts. Just when they're about to call it quits, Cas spots the amulet. Squee!!!!
Castiel uses the amulet forged by Joshua and calls out for God. Now we just have to wait and see when there will be an answer.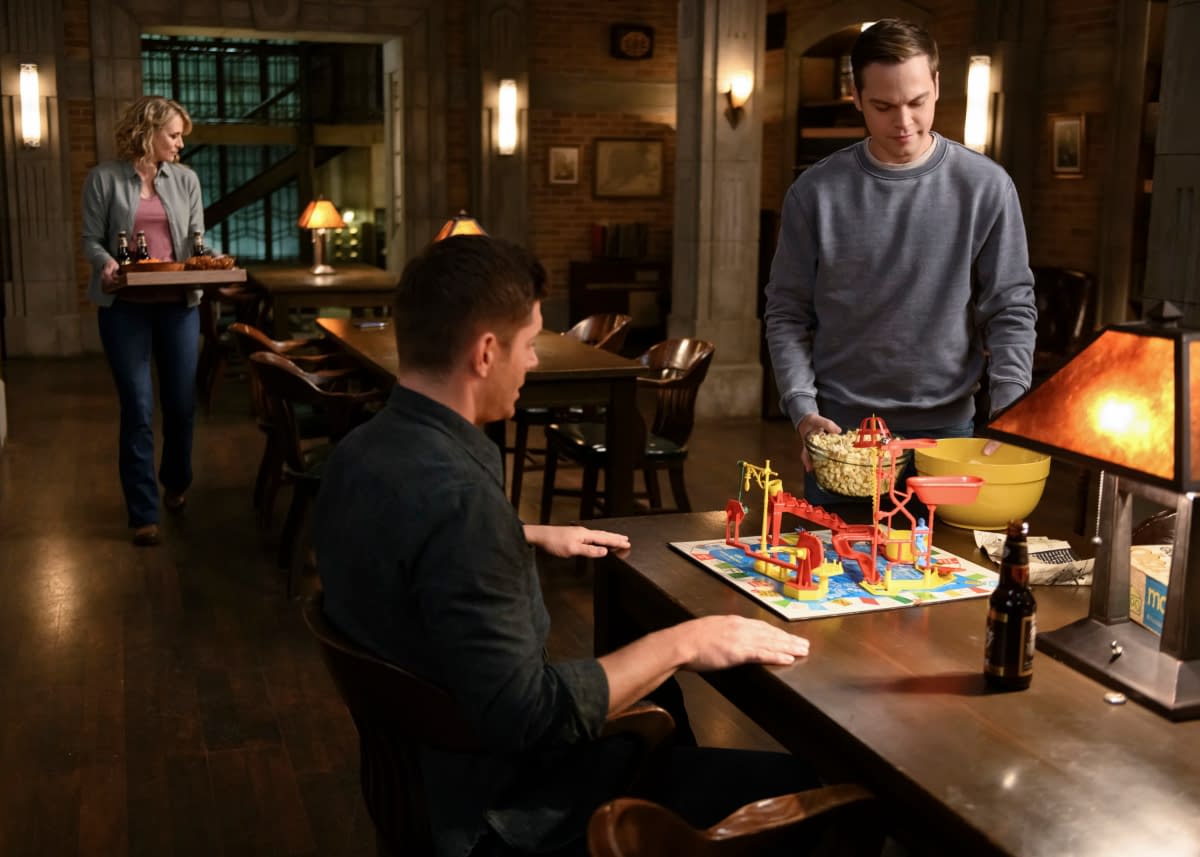 There's Something About Mary
Mary's extra sensitive and attune to the boys. She hasn't been very mushy or mothering since her resurrection, so this is a little surprising. She's mindful of Jack's subtle and unsettling changes. She's gung-ho for game night to give Dean a nostalgic break from their agonizing reality. But, it is her conversation with Dean in the Impala that is especially striking.
As we mentioned in our preview, Mary remorsefully acknowledges her short-comings and apologizes for not being there for the boys since her return. As I watched this scene play out in the context of the episode, it almost felt like she was saying goodbye or making her peace before it is too late.
I had a knot in my stomach for the rest of the episode – for good reason…
Sam and Dean have watched each other die too many times. Between Mary's melancholy and Nick's teasing about the boys continuously defying Death, we had a feeling someone was going to be knocking on Heaven's door by episode's end.
Just when the waterworks are about to start, Mary tells Jack to go save Sam. One angelic tap later, Dean wipes his man-tears away and sighs in relief. Phew! Sam is as good as new…again. We're in the clear now, right???
Jack flutters back to Mary and wants to finish their conversation about morality. Without his soul, Jack's view of right and wrong it totally warped. Nick became a bad guy, but he didn't deserve that. Plus, it is not their place to play judge, jury, and executioner.
This is where Jack youth make his soullessness different from Sam's. He wants Mary's motherly absolution and she refuses to give it. She says they can all sit down and discuss this as a family. But Jack doesn't want to wait or talk. He wants to be told that what he did is okay.
If he doesn't have a soul, why is justifying his actions so important? Why does he care about the Winchesters' approval is he supposedly has no feelings? Jack's behavior is paradoxical. He seeks Mary's support and when he doesn't get it…BAM!
Did Jack really kill Mary? He can bring her back, but then she will tell the boys what happened. This is probably going to be the biggest test of all – how bad can Soulless Jack get? Bad enough to lie to Sam and Dean about their mother?
I'm nervous for the next episode, SPN Family.
https://youtu.be/uAPVJaV-9PI
Supernatural season 14, episode 18 "Absence": THE STATE OF BEING AWAY– Sam (Jared Padalecki) and Dean (Jensen Ackles) continue to worry about the condition of Jack's (Alexander Calvert) soul. The episode was directed by Nina Lopez-Corrado and written by Robert Berens.
Nick is alive… Dean is livid with Cas… and there's no sign of Mary. Commence freak out!
Supernatural airs Thursdays at 8 p.m. on the CW.