Ted Lasso Season 3 Debuting Spring 2023; Ted/Nate Face-Off Preview
It's a Ted/Nate face-off in this preview image for Apple TV+'s Ted Lasso Season 3, with the series returning in Spring 2023.
---
Some really good news for fans of Apple TV+'s Jason Sudeikis-starring Ted Lasso, with the third season set to premiere on the streaming service in Spring 2023. But that wasn't all because we were also treated to a first-look image showing a literal face-off between Ted (Sudeikis) and Nate (Nick Mohammed), with West Ham United owner Rupert Mannion (Anthony Head) in the background, seemingly assessing the standoff. Our initial takeaway? Ted looks like he's got that "Lasso cool" going on, while Nate still looks like he has something to prove. But the drama isn't just in front of the camera, with today's Television Critics Association (TCA) winter press event not offering clarity on if it will be "three-and-done" for the award-winning series. In the past, series co-creators Bill Lawrence and Brendan Hunt (Coach Beard) have said that the series will finish telling its story in three seasons (though not shutting the door on future stories in future seasons). That said, the cast's new deals not only included pay increases but also options for future seasons.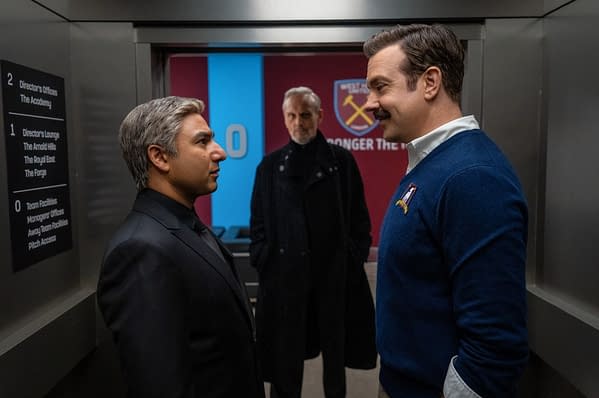 Earlier today, during Apple TV+'s Shrinking panel, Lawrence and Brett Goldstein (who also stars in & executive produces Ted Lasso) has a few comments to make regarding the season. "I've seen cuts of the show, and I think it's f**king awesome," Lawrence shared about the third season. "I love it," added Goldstein. In addition, Lawrence also thanked Sudeikis for stepping up during production while Lawrence was back in the U.S. to work on Shrinking. Developed for television by Sudeikis, Lawrence, Hunt, and Joe Kelly, the series sees Sudeikis serving as an executive producer alongside Lawrence via his Doozer Productions, in association with Warner Bros. Television and Universal Television (a division of Universal Studio Group). Doozer's Jeff Ingold also serves as an executive producer, with Liza Katzer serving as co-executive producer.