Ted Lasso: WBTV Head Dungey Offers Some Hope of Life Beyond Season 3
When it comes to the Apple TV+ series returning after Season 3, WBTV head Channing Dungey offered a sliver of hope to Ted Lasso fans.
---
It's been about two weeks since we last checked in on how things were going regarding the future of series co-creators Bill Lawrence, Brendan Hunt (Coach Beard), Joe Kelly & Jason Sudeikis, and Apple TV+'s Sudeikis-starring Ted Lasso. In the past, the show's creators have gone on record saying that they envisioned three seasons as the right amount of seasons to tell the story they were wanting to tell. And at the end of January, Warner Bros. TV head Channing Dungey offered an update that things hadn't changed on that front but that no decision had been made one way or another. But there's a slight chance that things may have shifted ever-so-slightly on that front, based on an interview/profile on Dungey that was posted by Deadline Hollywood.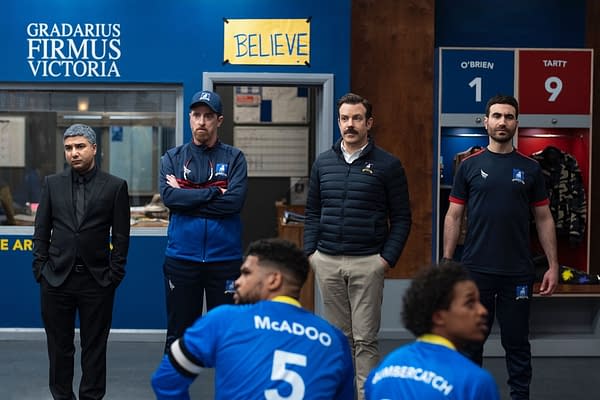 "What had initially been the vision that Jason and Bill [Lawrence] had when they went into season one was very much a three-act structure. Then I think it becomes one of those things that as you get going with it, and if you fall in love with that world and those characters, it's hard to say goodbye," Dungey shared. That said, the WBTV Group head believes the third season will leave fans "really happy and excited" – even if there's some wiggle room left for more. "The end of the season, it ends beautifully. If that is all we do in the Ted Lasso universe, I think the fans will be really happy and excited. But there's also a way to crack open a door. If we're fortunate enough to do more, we can keep on going," Dungey added.
As for spinoffs, it sounds like that's a door that's also open. But Dungey makes it clear that spinoffs have to make sense and present a different take on the main show's universe. "When you think of 'Ted Lasso,' you obviously think of that unforgettable character. When you think of 'Night Court,' you think of John Laroquette, and when you think of 'The Big Bang Theory,' you think of Sheldon. 'Young Sheldon' is a perfect example of being able to create a spin-off of a universe that actually does work because you have a character at the center and a different way of looking at that universe than what was there before. But I do think that when you're doing a spin-off for a spin-off's sake, that's usually where you fall into some problems," Dungey explained.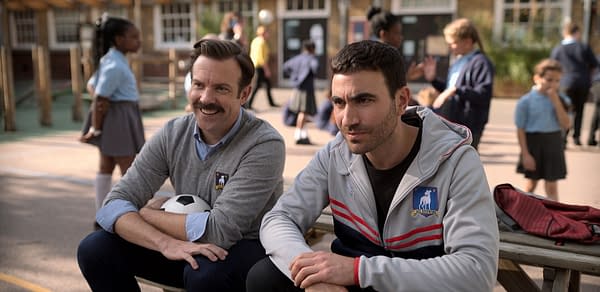 So What's the Deal with Apple TV+'s Ted Lasso Season 3 & Beyond?
During an interview with The Hollywood Reporter from the end of January, it was status quo regarding the show's future. "I will say that season three ends in a way that feels very satisfying. So, if that ends up being the end, the audience will feel satisfied. But is there a door that's potentially open if we could do more? Yes,' Dungey shared regarding the possibility of a fourth season. As for those rumblings of a spinoff focusing on series star & executive producer Brett Goldstein's Roy Kent? Dungey also shared with the THR interview that she likes the idea and believes Goldstein would be up for it
Goldstein was asked for an update on the streaming series' future while checking in recently with Stephen Colbert on CBS' The Late Show with Stephen Colbert. While half-joking about how he's sworn to secrecy by Apple regarding the show's future, Goldstein didn't commit to Sudeikis' past comments about the series being "three-and-done" but did add, "I would happily play Roy Kent forever. I would feel very sad to say goodbye." Here's a look at what Goldstein had to share with Colbert, followed by a look back at the most recently-released Season 3 preview:
In the first-look image for the third season that was released to coincide with the streaming series' TCA panel, we preview a literal face-off between Ted (Sudeikis) and Nate (Nick Mohammed), with West Ham United owner Rupert Mannion (Anthony Head) in the background, seemingly assessing the standoff. Our initial takeaway? Ted looks like he's got that "Lasso cool" going on, while Nate still looks like he has something to prove: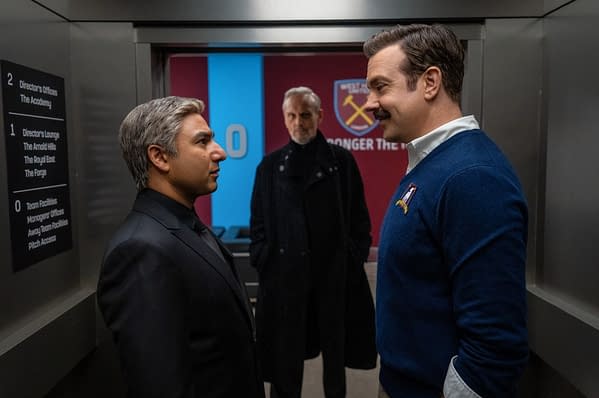 During Apple TV+'s Shrinking TCA panel, Lawrence and Goldstein had a few comments to share regarding the season. "I've seen cuts of the show, and I think it's f**king awesome," Lawrence shared about the third season. "I love it," added Goldstein. In addition, Lawrence also thanked Sudeikis for stepping up during production while Lawrence was back in the U.S. to work on Shrinking. Developed for television by Sudeikis, Lawrence, Hunt, and Joe Kelly, the series sees Sudeikis serving as an executive producer alongside Lawrence via his Doozer Productions, in association with Warner Bros. Television and Universal Television (a division of Universal Studio Group). Doozer's Jeff Ingold also serves as an executive producer, with Liza Katzer serving as co-executive producer.