"Teen Titans Go! vs. Teen Titans": More Crossover Cliches Than You Can Shake an Avocado At [TRAILER]
History is filled with bitter rivalries and struggles that have spanned The Sands of Time: The Hatfields and The McCoys…Snoopy and The Red Baron…The Doctor and The Master…Trump and the truth. But only one rivalry stands heads, shoulders, and capes above all others…reaching such a fever pitch that DC Entertainment, Cartoon Network, and Warner Bros. could no longer turn a deaf ear and a blind eye to the inevitable: Teen Titans Go! vs. Teen Titans.
It's been eight months since the film was officially announced, and now we have our first look at what fans can expect. Teams being manipulated to fight each other by a "Big Bad"? Check! Teams learning to work together by learning from each other? Check! Lots and lots of gratuitous violence and more "easter eggs" than all of your childhood hunts combined? Check and check!
So start brushing-up on all the reasons why Teen Titans GO! ruined the very concept of "Teen Titans" for the next seven generations of Teen Titans fandom. And Teen Titans GO! fans? You can start listing out all the ways liking that show makes you so much "cooler" than those who miss and want the "old" Teen Titans back.
But remember…play nice! Here's your first official look – courtesy of the fine folks at IGN:
Villains from each of their universe join forces to pit the Titan teams against each other.They'll need to set aside their differences and work together to combat Trigon, Hexagon, and Santa to save the multiverse.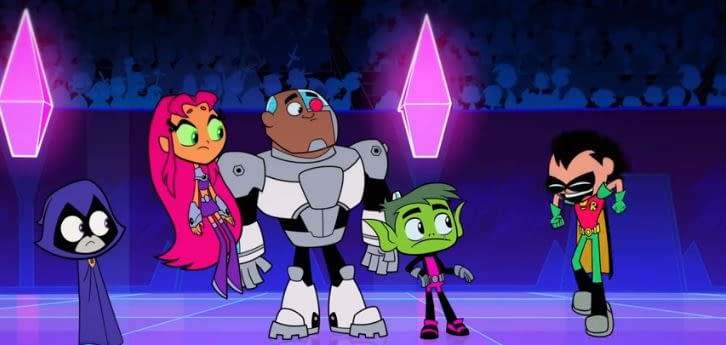 Teen Titans Go! vs. Teen Titans welcomes back the core voice cast: Greg Cipes as Beast Boy, Scott Menville as Robin, Khary Payton as Cyborg, Tara Strong as Raven, and Hynden Walch as Starfire. Joining them on this "Crossover to End All Crossovers" are Kevin Michael Richardson as Trigon/Hexagon, Robert Morse as Santa Claus, Grey Griffin as Mrs. Claus, Rhys Darby as Master of Games, Sean Maher as Nightwing, and "Weird" Al Yankovic also pulling double-duty as Gentleman Ghost and Darkseid.
Behind the scenes, Jeff Mednikow's (Be Cool, Scooby-Doo!) name will be the one on the back of the director's chair, with a screenplay from Marly Halpern-Graser (Batman vs. Teenage Mutant Ninja Turtles) and Jeremy Adams (LEGO DC: Batman – Family Matters). The film will skip the theatrical route, and will be available on DVD/Blu-ray, digital download, and streaming later this year.