One of The CW titles we're semi-dreading but car-crash-curious about seems to be having some issues getting their pilot off the ground, as reports have surfaced about a reworked episode of Lost Boys being ordered.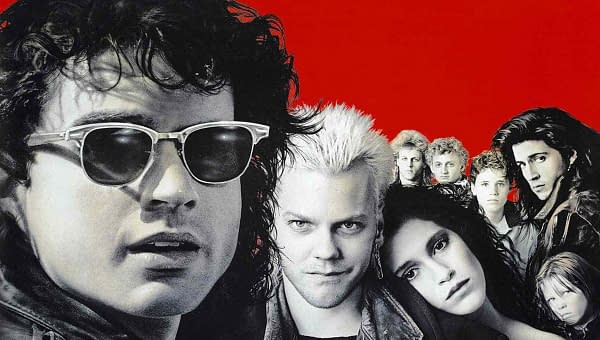 If you'll recall, word came round earlier this year that a television series reboot of the 1987 vampire flick was coming to The CW. That alone was….fascinating, considering the network's cache of programming and audience. It got *cough* worse when director Cathrine Hardwicke was announced as helming the pilot, bringing up all kinds of flashbacks to the sparkly vampire wars courtesy of Twilight. Not to be all doom and gloom- we were very interested about the notion of the Frog Brothers now being the Frog Sisters, as well as the announced cast.
Teen Wolf's Tyler Posey is making the jump from lycan to vampire, as he'll be playing Michael, who just moved to Santa Clara with his mother and brother, and starts running with a new pack- we mean crowd, of undead (undead undead undead). Rio Mangini (Everything Sucks!) will be playing Sam, Michael's brother. Sarah Hay, Del Zamora, Cheyenne Haynes, Haley Tju, Kiele Sanchez, Medalion Rahimi and Dakota Shapiro were also on cast.
According to Deadline, that pilot needs some work. The outlet says "not all elements in the pilot came together in the execution, thus the order for a reworked new pilot, which could feature recastings," which doesn't really surprise us?
We'll let you know what we hear in the coming weeks about the project. In the meantime, let's go see Timmy Capello's Blood on the Reed tour, because WE STILL BELIEVE.
Enjoyed this article? Share it!