"The Good Place" Season 4: The Bad Place Are Real Forking Ash-Holes in "Tinker, Tailor, Demon, Spy" [SPOILER REVIEW]
Welcome back to NBC's The Good Place! Everything is fine.
…Well, not exactly, but at least Brent stopped saying "Daddy like" all the time, so that's something?
We join our Soul Squad as they run a new neighborhood as an experiment with four new humans to test if humans really can become better people after death.
Simone, Chidi, Brent, and John are our test subjects, with Jason playing his part as Jianu the monk, just to make things interesting.
And boy, do they get interesting. Oh… now is probably a good time to warn you that by "interesting," I mean…
MAJOR SPOILERS!
So…yeah. Want to know who the hooded figure is then?
Surprise! Super early on, the hooded figure from the end of last week's episode arrives at the train station… and it's Glen from The Bad Place?
Even stranger – he's sneaked out to deliver some news: Michael isn't Michael – it's really demon Vicky in a Michael skin suit.
Dun dun dun!!!
Things have been stagnating the past few weeks, and it would be a very logical explanation that a Bad Place mole has been sabotaging all their efforts. Could it really be Michael?
I mean… he didn't tell any of the humans about the phone call he got just before the experiment began. You know, the one where Shawn called and showed off Vicky's new Michael skin suit?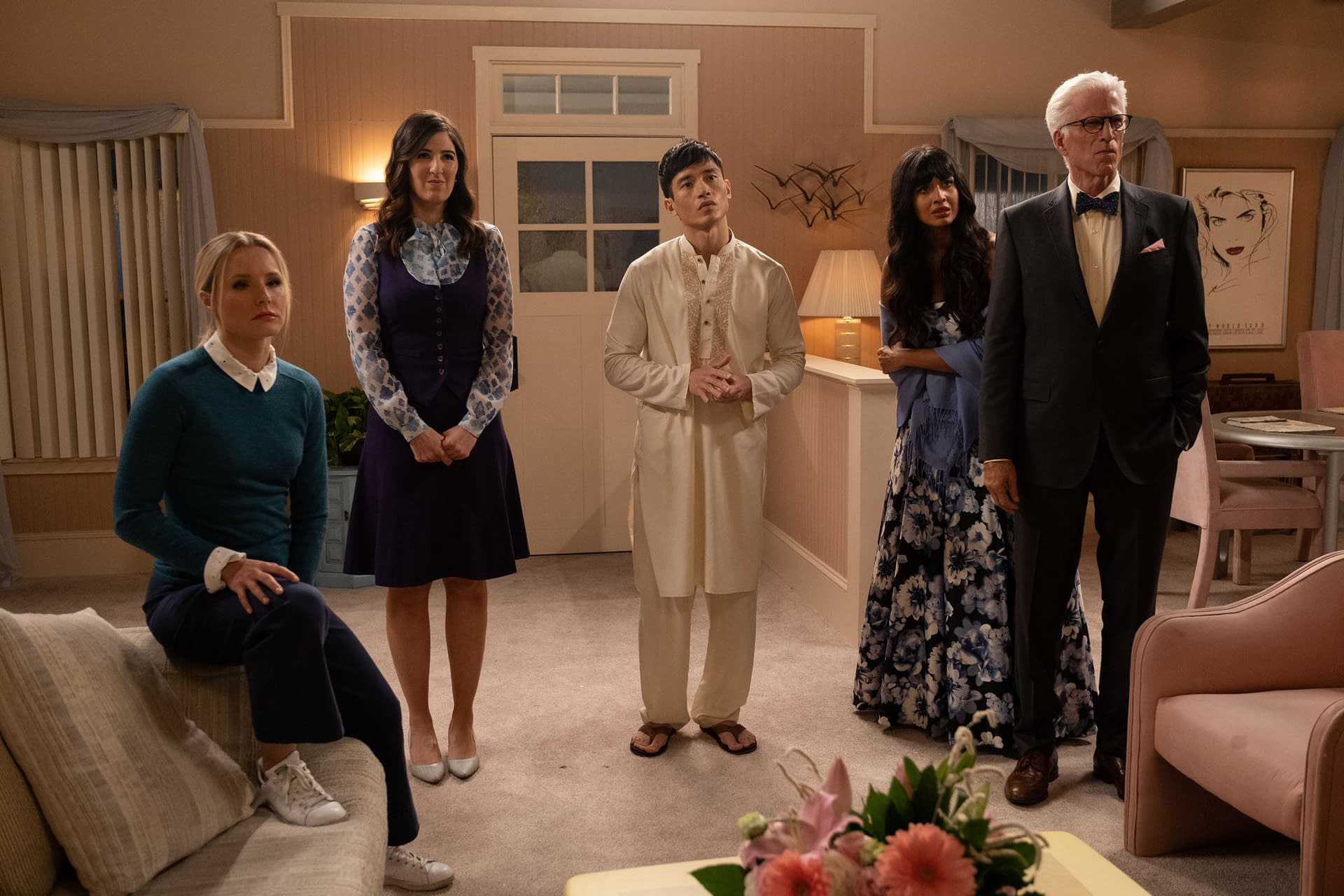 Oh – so Michael lied to Eleanor about that, and now she can't trust him…or is he really Vicky and she's not supposed to be able to trust him? Man, I'm more confused than Jason trying to figure out how they get the peanut butter inside of peanut butter cups!
So Michael lied about knowing about the skin suit, then lied to Eleanor about faking the breakdown. But it was an inspirational lie, just like all of Instagram!
Now Eleanor and our humans have no idea who to trust – so Janet made a demon lie detector… and it blew up Glen!
Luckily, demons can't actually die… but they do take several months to reform themselves from the gross goo they turned into. How convenient: demon problems solved… or is that just what they want you to think?
But nothing is really solved – we still don't know who Michael really is!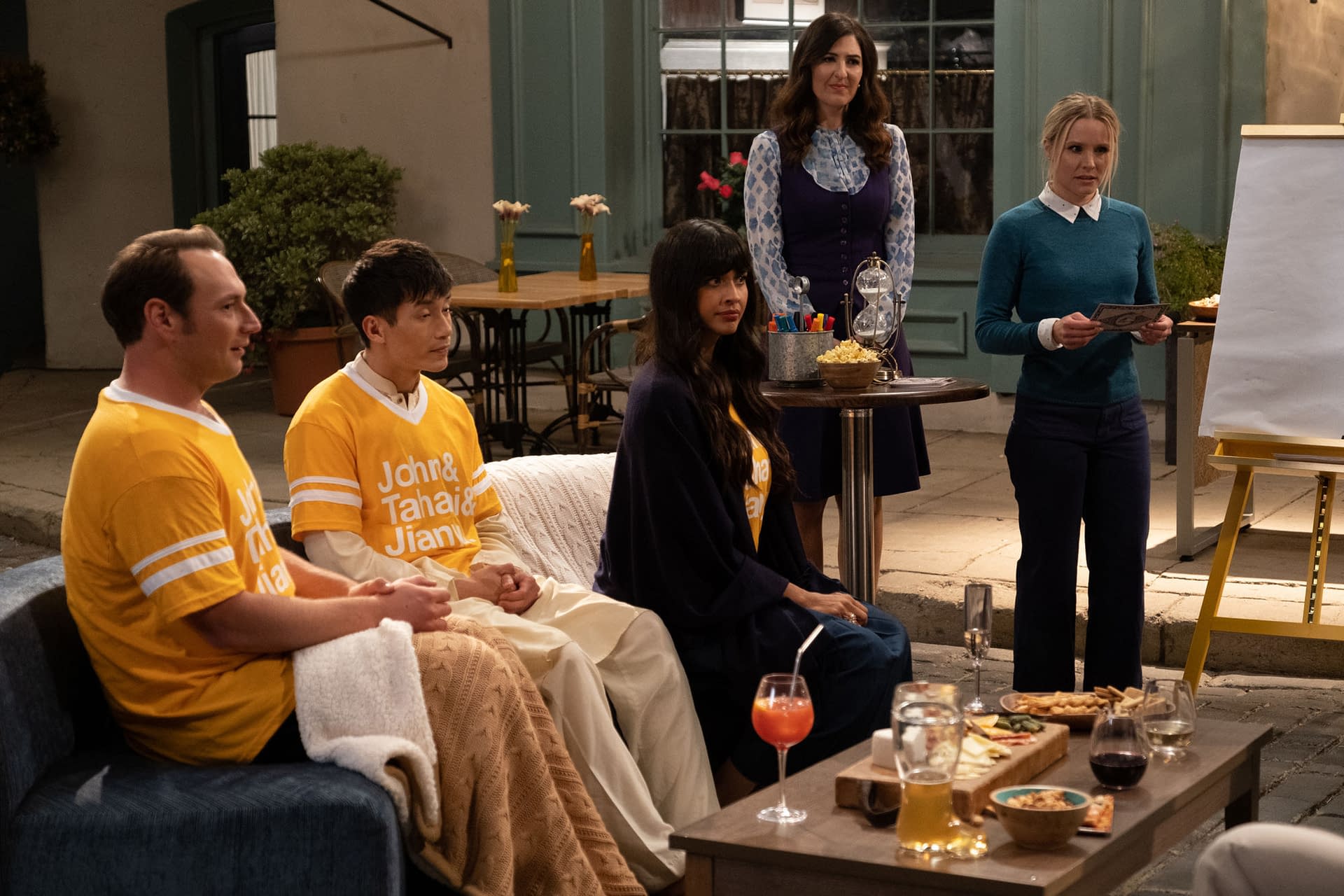 Luckily, Eleanor came up with a plan – call The Judge, restart the experiment. It's the only way to be safe: because if it's not the real Michael, he's going to sabotage the whole experiment and they're forked.
Until Michael offers to fall on his own sword and turn himself into goo. It's the only thing he can do to put their minds at ease and keep them from restarting the experiment and wasting more time and the progress they've already made.
…but lo and behold, right as Michael is about to push the button and make a total mess of things (literally) it's Jason to the rescue!
He slaps a pair of Derek's magic magnetic sex handcuffs (it's weird – but hey, we don't judge) on Janet, and presto! Janet isn't really Janet – it's Bad Janet?!?
See, what happened was Chris was sent in disguise as Linda, and he was always supposed to get caught – so when the train to The Bad Place came to pick him up, they ambushed real Janet and replaced her with Bad Janet in disguise.
And nobody ever knew – well, except for the one person who knew her better than anybody else: Jason! When he called her girl, she always corrects him and says, "not a girl". It's adorable, and kind of their thing. Except Janet in disguise didn't say that… and that's how Jason saved the day!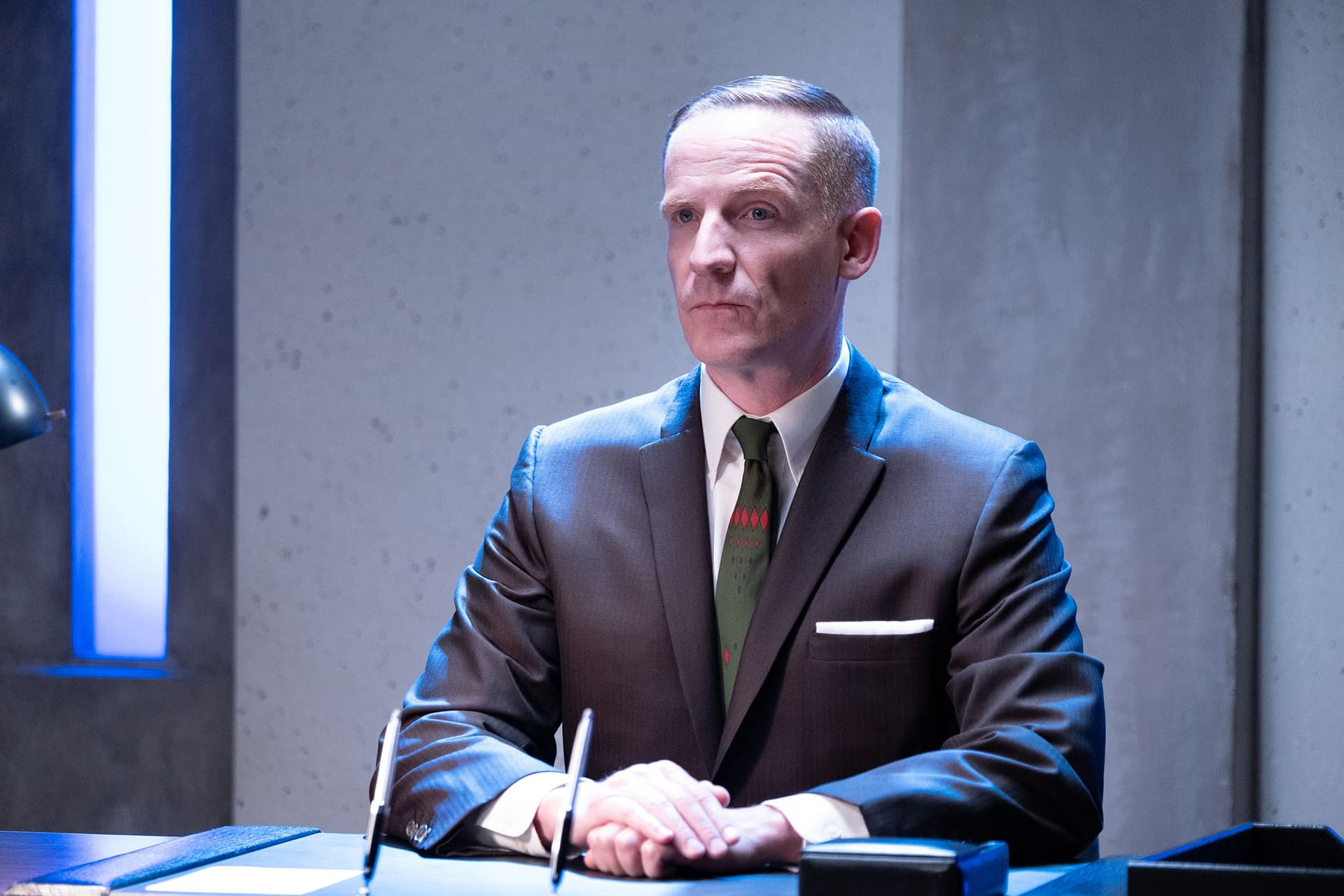 Well, more accurately… how he saved Michael. But there's still someone else left to save – real Janet is in The Bad Place, held captive by Shawn – and Jason and Michael go to save her!
Well, that and to deliver the vat of goo formerly known as Glen and their Bad Janet back to The Bad Place.
Now, let's go get our not-a-girl back from those monsters!
If it sounded like I was enjoying myself when I told you how the episode unfolded, it's because I did – and that's what made this episode work. Our Soul Squad was working together like a "greatest hits" of what we love about them – but there were also enough new elements thrown into the mix to keep things moving forward.
Plus, the show never stops finding interesting and unique ways of being romantic, i.e. Jason and Janet.
I can't wait for next week's episode where we hopefully get the real Janet back!
---
---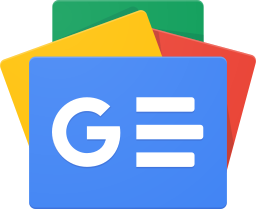 Stay up-to-date and support the site by following Bleeding Cool on Google News today!