Kermit vs. Elmo Brings NYE Felt-on-Felt Crime: Britt's Nonsense Battle
The eerie crayon-colored walls of a small bedroom welcome our next Nonsense Battle, and it may be Elmo's World, but with a banjo strapped to his back, Kermit is ready to conquer it. The lines drawn around the door and picture frames are as straight as Bert and Ernie's relationship. They make Kermit feel mentally exhausted already, and it's benefiting Elmo in many ways by being on his own turf for this battle. As our frog gathers himself so as not to get dizzy from his surroundings, Elmo finally turns around to face his opponent and concerningly has adorned makeup resembling Joaquin Phoenix's character in Joker.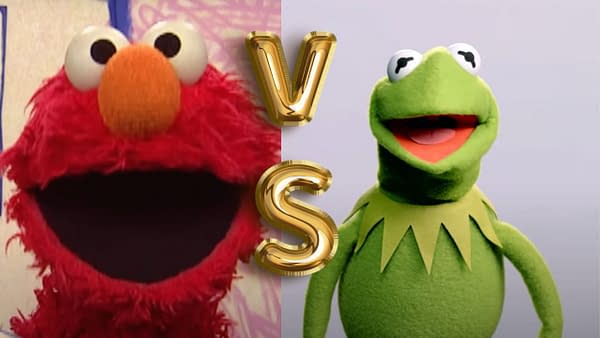 As Elmo readies himself to lunge at Kermit, the flexible frog dodges out of the way and allows Elmo to trip himself and fall onto the floor. Quickly the hairy red Muppet regains his composure and taunts Kermit near the door. As Kermit approaches, Elmo quickly opens the door and jumps through into the dark void. Kermit has only one choice…he must follow Elmo. Both find themselves on Sesame Street, and Elmo seems to be the only one confused by the environment. Elmo wasn't aiming for this location, but instead, it followed Kermit's will. The banjo starts to be played by our frog, and before he begins any recognizable song, he looks directly at Elmo and, in a mocking tone, says, "You forgot who the original Muppet was, didn't you?".
The angry red pick-me Muppet runs at our frog with all the speed his little legs can gather. Before he reaches close enough to hit his opponent, Elmo is met with a surprise. Kermit has taken apart his banjo, revealing the handle to belong to a short yet sharp sword hidden within the instrument. Before our frog can truly take aim at Elmo with the weapon, he is met with a sharp pain in his rear. Elmo has managed to slide between Kermit's legs and take a large red crayon, and shoved it up the ass of the beloved puppet. Elmo seems sure he's taken down Kermit's power a notch, but as he turns around, he sees the red crayon be quickly retrieved and thrown to the ground. Elmo's last-second plan fails him as our frog continues forward with his banjo sword. Taking the other part of the banjo, Kermit quickly smacks Elmo in the head, causing him to fall back. Bending down, Kermit takes one hand and grabs Elmo's head by the red scruffy hair on top. Before slicing his banjo sword through the felt and red waves of hair, Kermit whispers to Elmo, "Rocco says 'Hello.'"
Britt's Nonsense Battle Winner: Kermit the Frog!