The Last of Us: Pascal Offers "Hot Ones" Hot Take on NYC Mexican Food
Along with a preview of The Last of Us season finale, Pedro Pascal offered some "tough love" on Hot Ones when asked about NYC's Mexican food.
---
With only hours to go until the season finale of HBO, Neil Druckmann & Craig Mazin's Pedro Pascal (Joel) & Bella Ramsey (Ellie)-starring The Last of Us, we thought now might be a good time to have a little fun considering we're expecting things to get very dark and tense later on today. Thankfully, this was also the week that Pascal decided to join host Sean Evans for a round of First We Feast's Hot Ones. But if you're living in New York City and either own a Mexican restaurant or love NYC's Mexican food selection, you might want to avoid what Pascal has to say beginning at around the 17:40 mark. Because after suffering a second wave from the hot sauce onslaught that he was putting himself through, Pascal makes it clear that after hearing how great NYC's Mexican food is for 20 years, he doesn't mince words: "There's no good Mexican food in New York." And even though he cringes while saying that last part, Pascal doubles down with "come for me."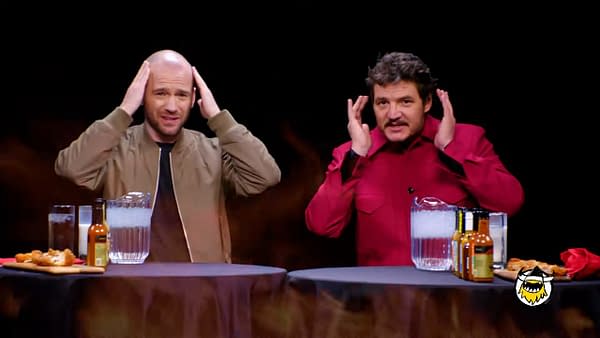 As he continues down a journey to totally destroy his digestive system, Pascal and Evans cover a wide range of topics, from epic on-screen deaths (like in HBO's Game of Thrones), what it's like working with Grogu & Nicolas Cage, how he handles major roles in major franchises, and much more. Following that, we have a look back at a preview for tonight's season finale of HBO's The Last of Us:
Looking Ahead to S01E09 "Look for the Light" / Looking Back at S01E08 "When We Are in Need"
First up, we have a look at what's to come this weekend with S01E09 "Look for the Light" (directed by Ali Abbasi and written by Druckmann & Mazin):
In this look behind the scenes of "When We Are in Need," Ramsey, Pascal, Mazin & Druckmann offer insight and new details into how they brought that key moment between Joel & Ellie to life. Following that, the latest episode of the podcast finds host Troy Baker (who appears in this episode) and Mazin & Druckmann discussing the character of David and how the narcissistic predator attempts to manipulate Ellie, one of the darkest moments of the series so far, and more: They discuss one of the darkest moments of the show so far, and Neil says why it was so important to a subvert typical narrative.
HBO's The Last of Us: What You Need to Know
Based on the critically acclaimed video game developed by Naughty Dog exclusively for the PlayStation platforms, the story takes place twenty years after modern civilization has been destroyed. Joel (Pascal), a hardened survivor, is hired to smuggle Ellie (Ramsey), a 14-year-old girl, out of an oppressive quarantine zone to the Fireflies, a cure-searching organization. What starts as a small job soon becomes a brutal, heartbreaking journey as they both traverse across the U.S. & depend on each other for survival.
Joining Pascal and Ramsey are Gabriel Luna (Tommy, Joel's younger brother), Nico Parker (Sarah), Merle Dandridge (resistance leader Marlene), Jeffrey Pierce (Perry), Anna Torv (Tess), Nick Offerman (Bill), Murray Bartlett (Frank), and Storm Reid (Riley Abel). Lamar Johnson & Keivonn Woodard have also joined the cast, with Graham Greene & Elaine Miles set to guest star as characters original to the series (and not the video game). In addition, video game franchise voice actors Ashley Johnson & Troy Baker (Ellie & Joel in The Last of Us and The Last of Us Part II video games) will also be appearing in the series.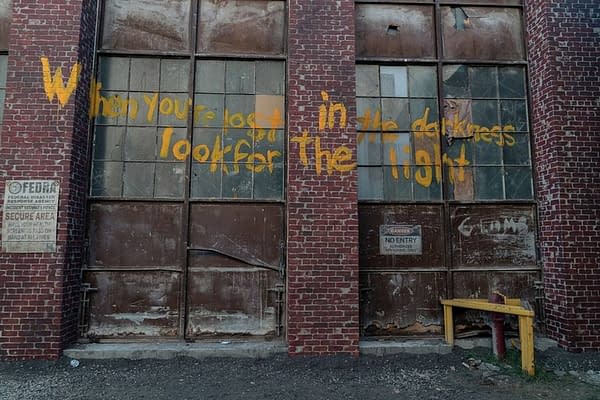 Written by Mazin and Druckmann with Kantemir Balagov (Beanpole, Closeness) directing the pilot, the series is set to be executive produced by Carolyn Strauss (Chernobyl, Game of Thrones), Naughty Dog's Evan Wells, PlayStation Productions' Asad Qizilbash & Carter Swan, Mazin, and Druckmann. The series is a co-production with Sony Pictures Television, with PlayStation Productions, Word Games, and Naughty Dog producing. Academy Award nominee Jasmila Žbanić (Quo vadis, Aida) and Ali Abbasi (Border) join pilot-director Balagov in the director's chair.