"The Magicians" Season 5: A Personal SDCC 2019 Panel Perspective ("MST3K"-Style Edition)
I have never watched The Magicians on SYFY. I share this not as a point of pride, but because I want you to be aware of where I am coming from for this panel write-up. It doesn't mean I don't care about the show or have no interest, or that I am being intentionally obtuse in my writing about it, it is just that I am a busy parent who is behind on plenty of shows I've already started watching, and The Magicians just hasn't had its turn yet. It actually shares some similarities with Game of Thrones for me: both are shows I have never watched, but I have read all the books, (and if George R.R. Martin ever finishes the final two novels in the series – and I am still physically capable of reading those books – I will then definitely watch Game of Thrones).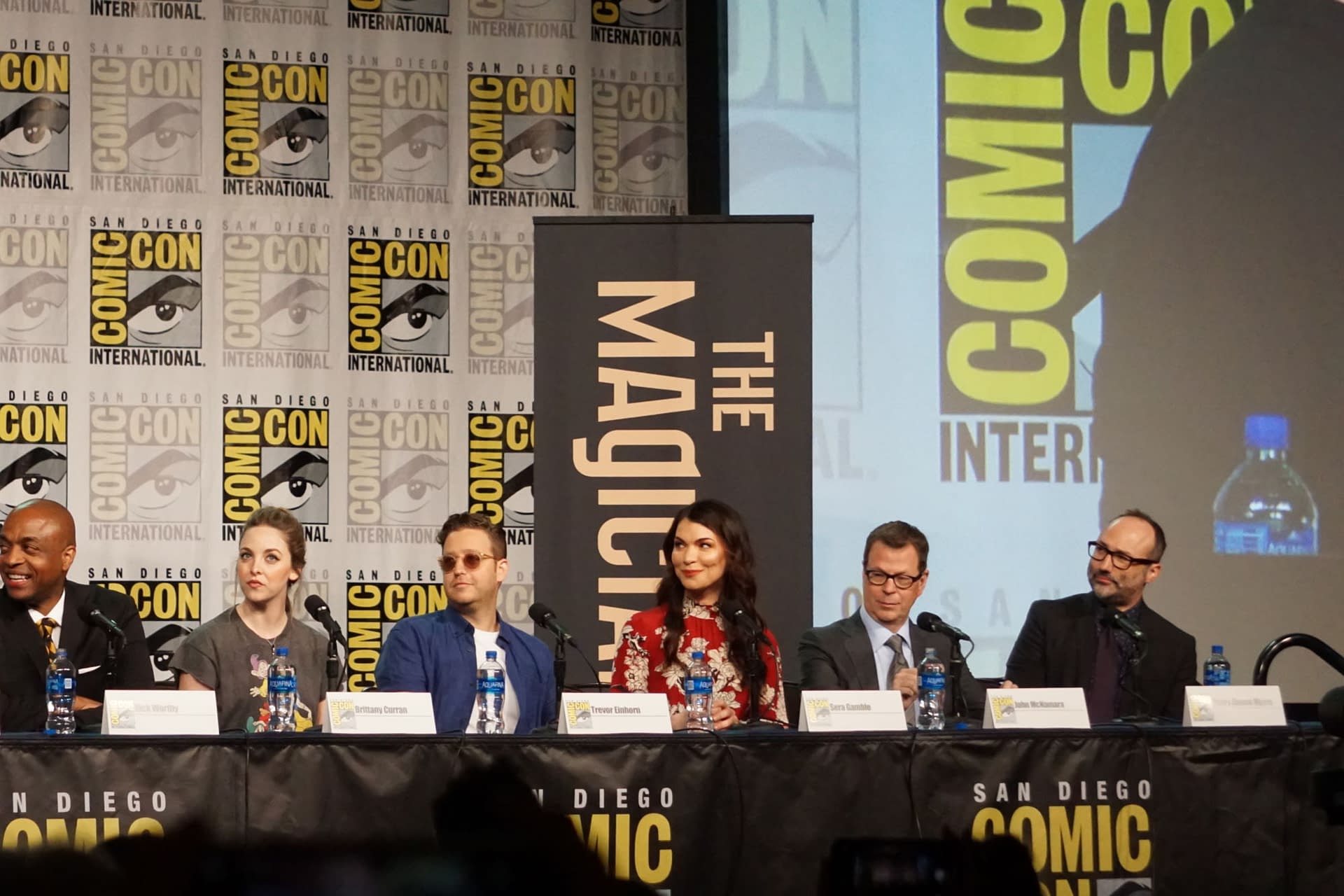 Based on what I saw at The Magicians panel at San Diego Comic-Con (SDCC) this year, the show and its fandom seem to be doing just fine without me for now. So what you will get from this article are my thoughts and notes of what struck me from the panel, as someone who is not familiar with the show. Additionally, I wasn't the only Bleeding Cool writer in the room for this panel who also knew nothing about the show. Erin Wilhelm and I were messaging with each other while the panel was happening, trying to figure out what was going on. Erin agreed to let me publish that chat – along with my other ramblings – in a MST3K style commentary.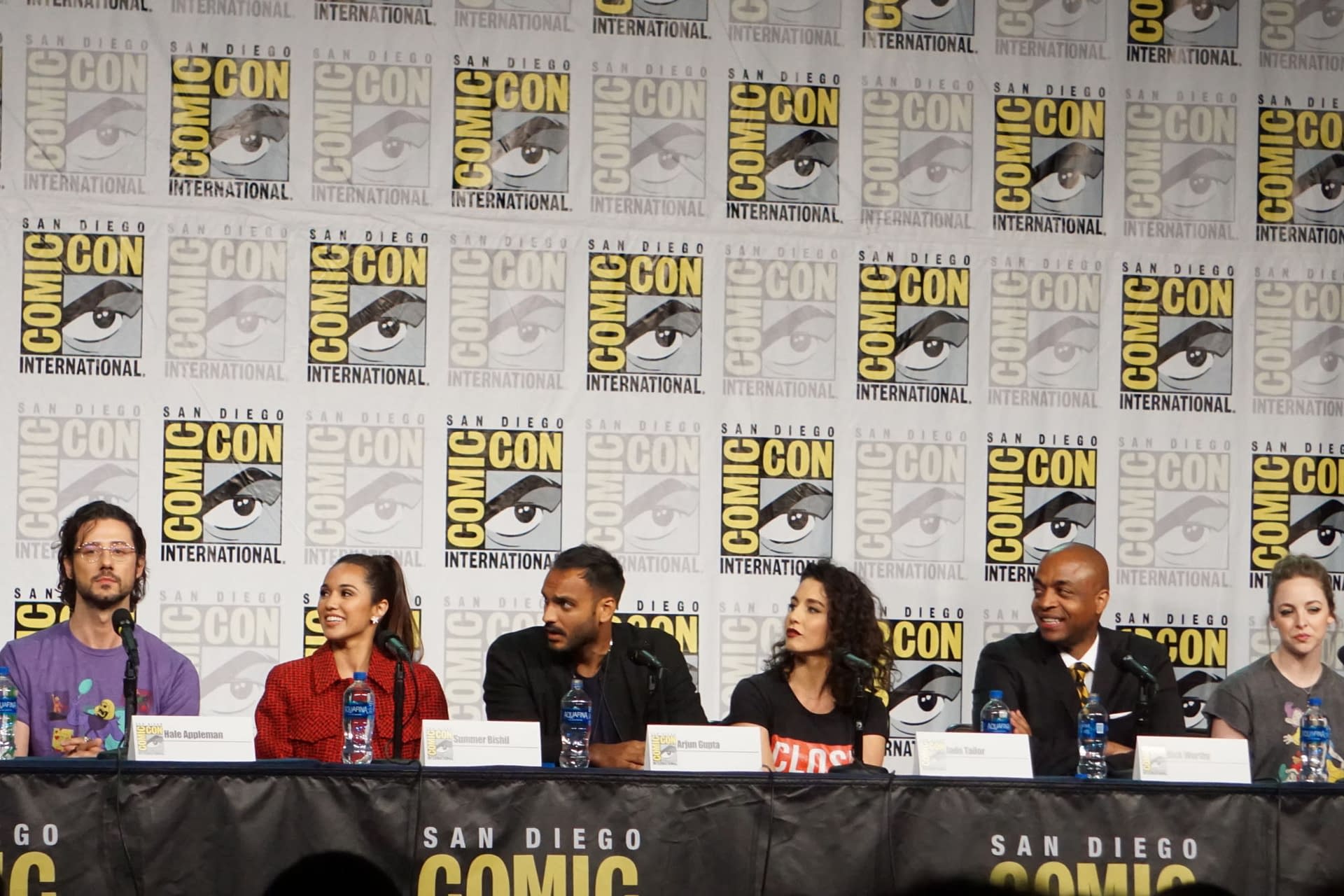 I hope you enjoy this, and for those people who are fans of the show understand that nothing written here is to make fun of the show, and like most genre shows with huge and wonderful fandoms, when people unfamiliar with the show are looking in from the outside that often things are very confusing.
Before the panel officially started with cast and crew coming to the stage, the moderator introduced a video that showed the cast of the show expressing their love and appreciation for the show's fandom. This reminded me a lot of Wynonna Earp and its fandom ("The Earpers" – which I consider myself to be one of).
The moderator invited cast and crew to the stage: a massive turnout of 12 people on the dais – I guess they will each get a minute or two to talk for the whole panel: stars Stella Maeve, Olivia Taylor Dudley, Hale Appleman, Arjun Gupta, Summer Bishil, Rick Worthy, Jade Tailor, Brittany Curran, and Trevor Einhorn – alongside executive producers Sera Gamble, John McNamara, and Henry Alonso Myers.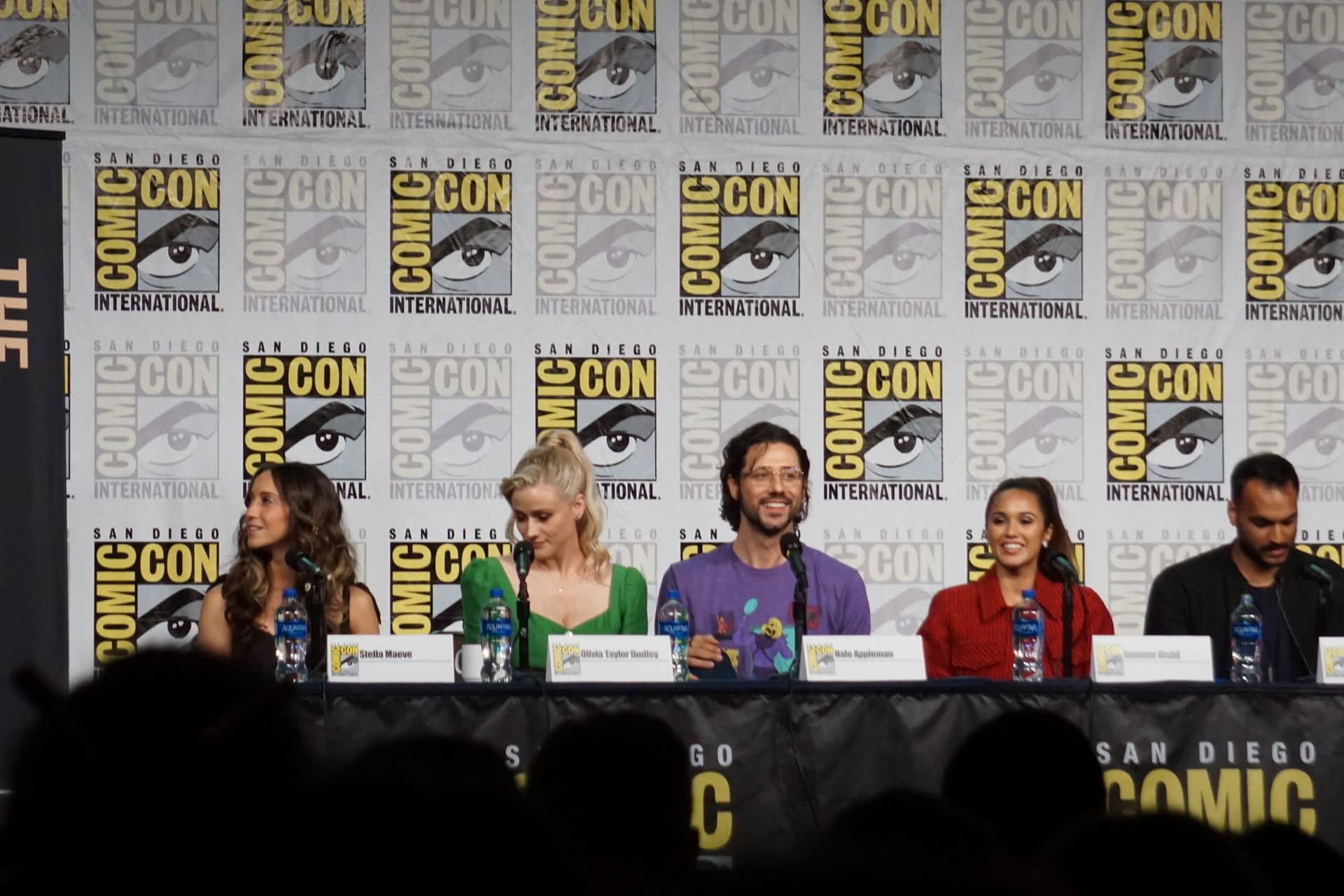 The cast is starting to talk about the show's fandom as well as individual character fandoms. Wow, Santa Claus was on the show, now I'm trying to remember if that was in the book. I remember something about the North Pole – but not Santa. They are now talking about one of the actresses having had a live cockroach in her mouth. Many people in the crowd are grossed out by this, but I don't think enough of them are. They are talking about how the female power of the show has been recognized by mainstream media this past year, another thing in common with Wynonna Earp.
They are going to discuss the previous season finale, and the crowd is moaning in grief. Now they are showing a clip from the first episode of the next season. Ok, why is pig Ben Franklin (he has a pig snout for a nose) in her fridge? Oh, and he's sexist, too. I guess he is the spot-on male chauvinistic pig. Ooh, he's upset because he came in search of Quentin, and he is sadly disappointed. He has requested medicinal cocaine. How does a pig snort cocaine through its snout? It can't really close one nostril to get a good suction going. That last sentence is not from personal experience – I just watched a lot of Miami Vice back in the day.
American Gods' Yetide Badaki and Sean McGuire (The 100) are set to guest star this season – and one of the writers said there will be a musical episode. Based on the suprised expression on the showrunner's face, that might've been a joke though…
Ok, that was my vantage point on this panel. So for the rest of the article, I hope you can enjoy the confused comedy ramblings of myself and fellow Bleeding Cool writer Wilhelm (original wording posted "as is"):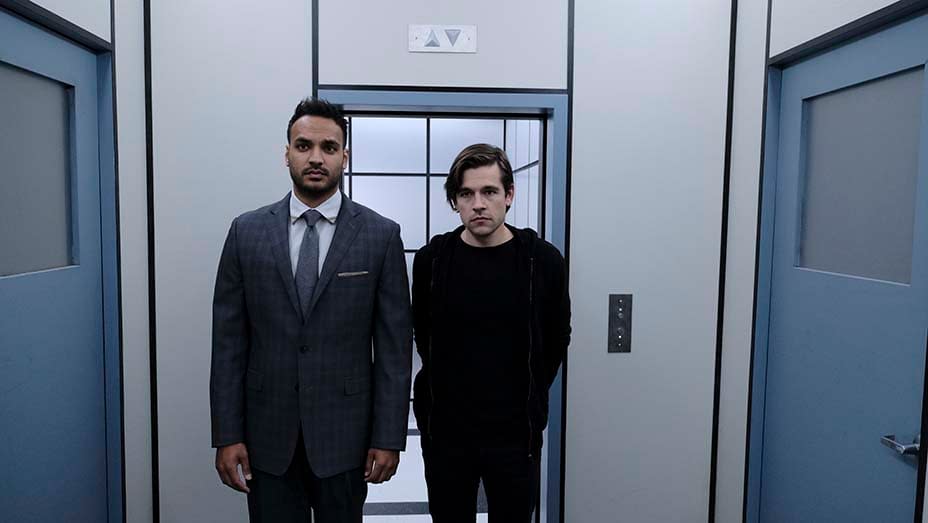 jmstone: It's strange to have that many people on a panel and I don't know who they are or who their characters are.
Erin Wilhelm: Someone once told me the magicians is Harry Potter meets 90210
jmstone: That makes sense since they just compared 2 characters to Donna Martin and David Silver.
Erin Wilhelm: How did we get from gay joke to an hour closer to death in 30 seconds?
jmstone: IDK, but I need a drink now
jmstone: I think our conversation should be in the article. Two people watching a panel they don't know anything about.
jmstone: Why was a sexist pig Ben Franklin in her fridge? And how does a pig snort cocaine?
Erin Wilhelm: Oink oink? It seems like cocaine would be bad for a pig
Erin Wilhelm: Also, musical episode? Buffy does it so now everyone does?
jmstone: Yes. But I do want Wynonna Earp to do one, but that show is very Buffy like.
jmstone: I think they need a therapist on set.
Erin Wilhelm: That show runner sounds like a therapist
Erin Wilhelm: But yeah, a lot of people are starting to cry up there
jmstone: The panel before this one also had tears, but they were because the love and happiness the show brought to the actors.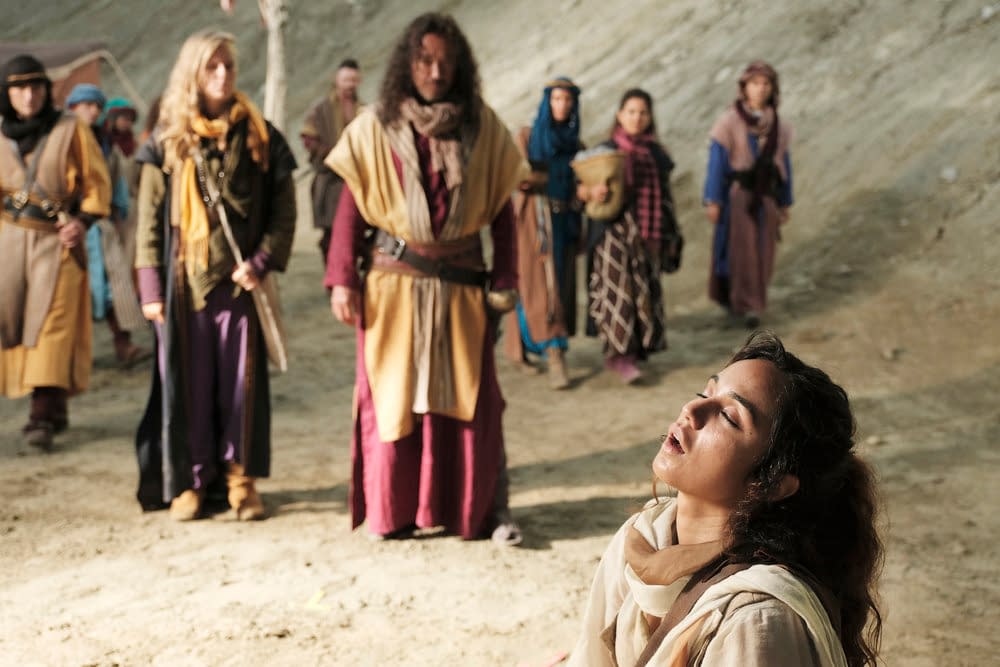 jmstone: Damn, the switch flipped like that.
jmstone: From tears to pick up lines.
Erin Wilhelm: Wow, this guy has some guts
jmstone: No guts, no glory.
jmstone: And shot down
Erin Wilhelm: This cast must order meds in bulk
Erin Wilhelm: Is this guy will smith in disguise?
jmstone: I hope they get good medical for their mental health care.
jmstone: He might be cosplaying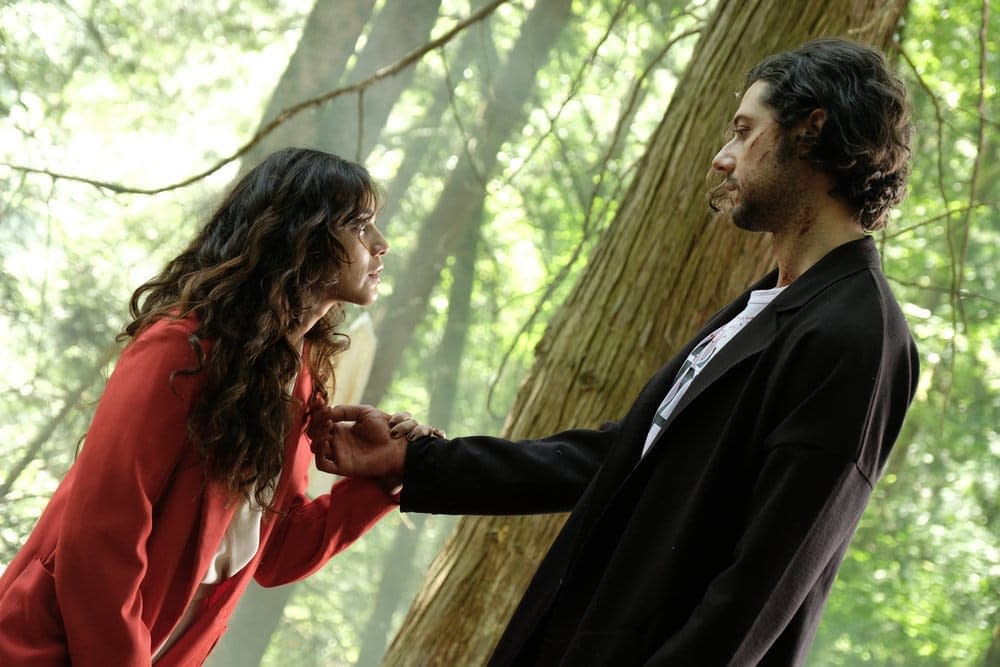 jmstone: They checked my bag before I came in, how come they didn't catch her knives
Erin Wilhelm: WTF why is someone juggling knives
Erin Wilhelm: Did he mean punish Draco or "punish Draco"
jmstone: It was definitely sexual in nature
Erin Wilhelm: That's what I thought
Erin Wilhelm: What was this question? I missed it and I'm confused
jmstone: There characters theme song
jmstone: But I think they're in trouble for violating copyright law now.
Erin Wilhelm: This panel is like 3 different panels at once.
SYFY's The Magicians returns for a fifth season some time in 2020.