I'm not going to put on any airs here, DO NOT READ FURTHER if you don't want spoilers for the fourth season finale of SYFY's The Magicians. Here's a picture of Lizard King Eliot (Hale Appleman) and a giant stop sign to show you how serious I am.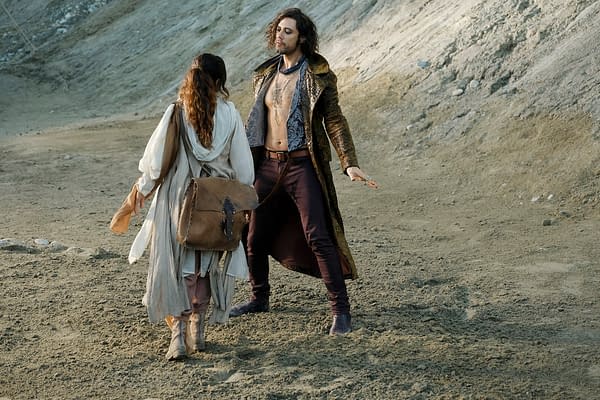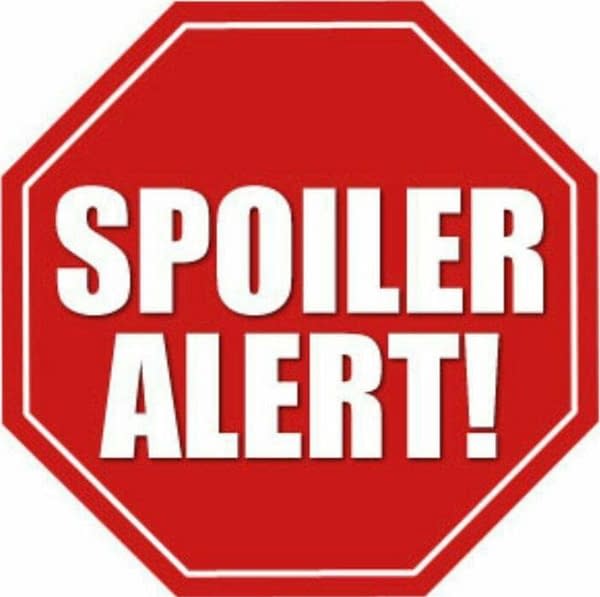 Okay, you stuck around. So I'm posting ONE LAST WARNING. If that's too much of a spoiler for you, leave this article immediately. Here's a nice distraction piece to help you work through the temptation.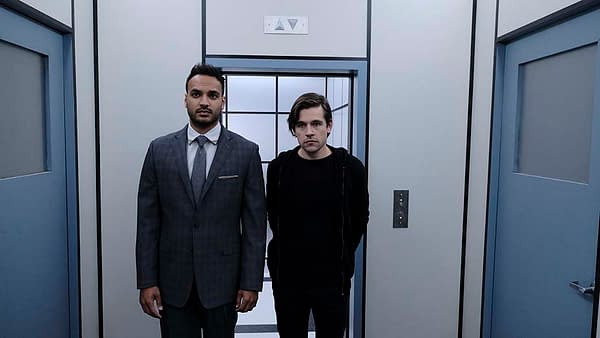 Let's get to business.
In "No Better to Be Safe than Sorry" we get something pretty rare for The Magicians.
A happy (ish) ending.
Eliot and Julia (Stella Maeve) have been saved from possession by their friends. Margo (Summer Bishil) knows without a doubt that she loves Josh (Trevor Einhorn) with all her heart. Kady (Jade Tailor) has helped calm the prejudice against Hedge Witches. Penny 23 (Arjun Gupta) gets to spend more time with Julia. Alice (Olivia Taylor Dudley) finally knows how much Quintin (Jason Ralph) means to her.
Sure, Fen (Brittany Curran) and Fresh Prince Josh (Trevor Einhorn) have slipped into Fillorian history.
And then there's Quintin, who sacrificed himself to save his friends. It's one of the most unexpected scenes I have watched in a long time, and it was a nuclear gut-punch to the soul.
As the episode ended, and Quintin made his way through the Underworld after witnessing his own funeral, I thought that maybe he would be back. He was, after all, led through the Underworld by another character that died a while back.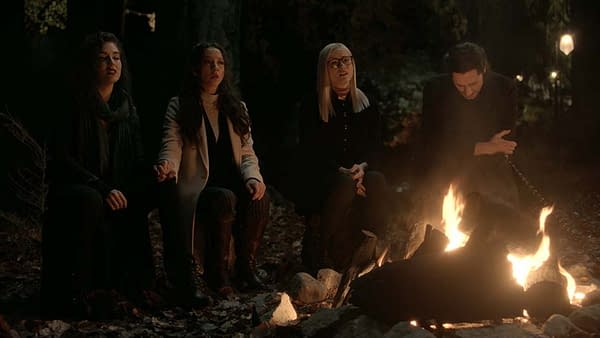 But that's not happening. Quintin's story is done, and Jason Ralph has left the series.
In an interview with Entertainment Weekly, showrunners John McNamara, Sera Gamble, and Henry Alonso Myers discuss Quintin's fate, as well as the rest of the Brakebill's crew. It's a great read, and I'll just borrow this bit… the rest you should read for yourself:
MCNAMARA: It started with a conversation between Sera, Jason, and me just talking about where the show's going to go and where the characters are going to go. All three of us mutually came to this idea that Quentin's journey felt like it was coming to an end before the other character's journeys were coming to an end, in terms of everything he was going to learn about himself, in terms of magic. It's just sort of an instinct the three of us separately had and hashed it out on a phone call.

When we decided that was going to be the end of his journey, we immediately called [author] Lev Grossman and said to him, "What do you think if Quentin dies for real at the end of season 4?" [laughs] Long pause. He said, "I think that's a really great idea. First of all, I would never see that twist coming. Secondly, it leans into what the books are about." The books are fantasies about reality, and one of the real things we deal with in life is how do we handle death, how do we handle tragedy. Certainly, we've dealt with that on the show but never with the kind of depth that we do in this episode, and it's going to carry over and resonate throughout season 5 and probably the whole series.
Quintin's death came out of nowhere, but looking back on it, I should have seen it coming. No-one is ever truly safe, not even the main character. Here's the official statement about Quintin's passing from the showrunners:
The Magicians has always been a fantastical show about real life—with a generous dose of magic to keep it all feeling less like bitter medicine and more like raiding a weirdly delicious pantry at 2 am, probably while a bit drunk. That has been our approach to Season 4, knowing that we want to explore the most confounding, harsh and messy aspects of adulthood in our story. At the top of that list: facing your own mortality, and experiencing the death of someone you love.

Before we began this season, we entered into a creative conversation that included the writers, executive producer and director Chris Fisher, Lev Grossman, our partners at UCP and SYFY, and Jason Ralph. The choice for Jason to leave the show was arrived at mutually, with much respect for the story, fans of the show, and a shared sense of deliberate, essential creative risk. We want The Magicians to visit strange and fascinating new places, and we know we can't get there by treading the same garden path others have before us. So, we did the thing you're not supposed to do—we killed the character who's supposed to be "safe." In real life, none of us are safe.

When we first met Quentin Coldwater, he was in a mental hospital, contending with painful questions of life and death. This season, we saw the rare opportunity to complete his arc, bringing him to a real understanding of the incalculable value of his own life. Quentin, and we, got to see the truth: There is no such thing as a Minor Mending. The smallest action can ripple out in powerful ways we may never fully know.
'No Better to be Safe than Sorry" was an exceptionally poignant and emotional episode of The Magicians, and I'm really impressed with the gravitas the writers handled the episode with, especially the care they took with depicting a character with a history of mental health issues.
The Magicians has been renewed for a 5th season by SYFY.
Enjoyed this article? Share it!