The Midwich Cuckoos: "Village of the Damned" Novel Set for TV Series
The Night Manager and Hanna writer David Farr is teaming up with Comcast-owned European broadcaster Sky for an eight-part series adaptation of John Wyndham's (The Day Of The Triffids) sci-fi novel The Midwich Cuckoos. For those not familiar with the title, you might remember it better from the two movies it inspired (and the creepy kids contained in each version): the 1960 and 1995 sci-fi/horror films Village of the Damned (with Halloween director John Carpenter, and stars Christopher Reeve and Kirstie Alley). ITV Studios-supported Route 24 will produce, alongside Snowed-In Productions.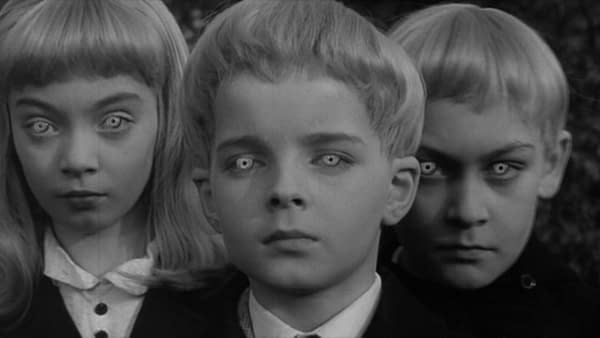 Written by Wyndham and originally published in the UK in 1957 by Michael Joseph, the story focuses on the sleepy English village of Midwich, where a strange sequence of events culminates in the community's women falling pregnant with alien children with glowing eyes and otherworldly powers. Here's a sample of an audio recording for The Midwich Cuckoos, followed by an overview/description of the original novel:
In the sleepy English village of Midwich, a mysterious silver object appears and all the inhabitants fall unconscious. A day later the object is gone and everyone awakens unharmed – except that all the women in the village are discovered to be pregnant. The resultant children of Midwich do not belong to their parents: all are blonde, all are golden eyed. They grow up too fast and their minds exhibit frightening abilities that give them control over others and brings them into conflict with the villagers just as a chilling realisation dawns on the world outside . . . The Midwich Cuckoos is the classic tale of aliens in our midst, exploring how we respond when confronted by those who are innately superior to us in every conceivable way.