"The Politician": Meet Jessica Lange's Dusty Jackson & The Hobart Twins [PREVIEW]
Coming at a time when the world needs a smart, sharp political satire, Ryan Murphy and actor Ben Platt are hoping viewers comes out to vote with their eyeballs when political comedy The Politician premieres on Netflix on September 27. Now, the streaming service is offering us a look at those who will either help – or hinder – our "hero"(???) Payton Hobart's (Platt) political future.
First up, we have Jessica Lange's Dusty Jackson – who looks to be on "Team Payton" and has an appreciation for the "finer-ish" things in life…
Which brings us to The Hobart Twins – Martin (Trevor Eason) and Luther (Trey Eason). While instinct might drive some to assume that shared last name means "family loyalty" – but we're getting a "Patrick Bateman's clones" vibe from these two so Payton should probably tread carefully:
Previously, we were introduced to Lucy Boynton's Astrid – who clearly doesn't have Payton's best interest at heart and is definitely not his biggest fan. That Jay-Z move at the end where she brushes her shoulder off of him kinds seals the deal – and lets us know how much she respects the possible future POTUS:
Here's a look at the first official trailer for the buzz-building series, which focuses on the beginnings of Payton's path to the presidency… even if that means doing what he has to do to navigate the deadly social and political waters of… high school!
Payton Hobart (Ben Platt), a wealthy student from Santa Barbara, California, has known since age seven that he's going to be President of the United States. But first he'll have to navigate the most treacherous political landscape of all: Saint Sebastian High School.

To get elected Student Body President, secure a spot at Harvard, and stay on his singular path to success, Payton will have to outsmart his ruthless classmates without sacrificing his own morality and carefully crafted image. Full of dark comedy and sly satire, Ryan Murphy's The Politician offers a rare glimpse into just what it takes to make a politician.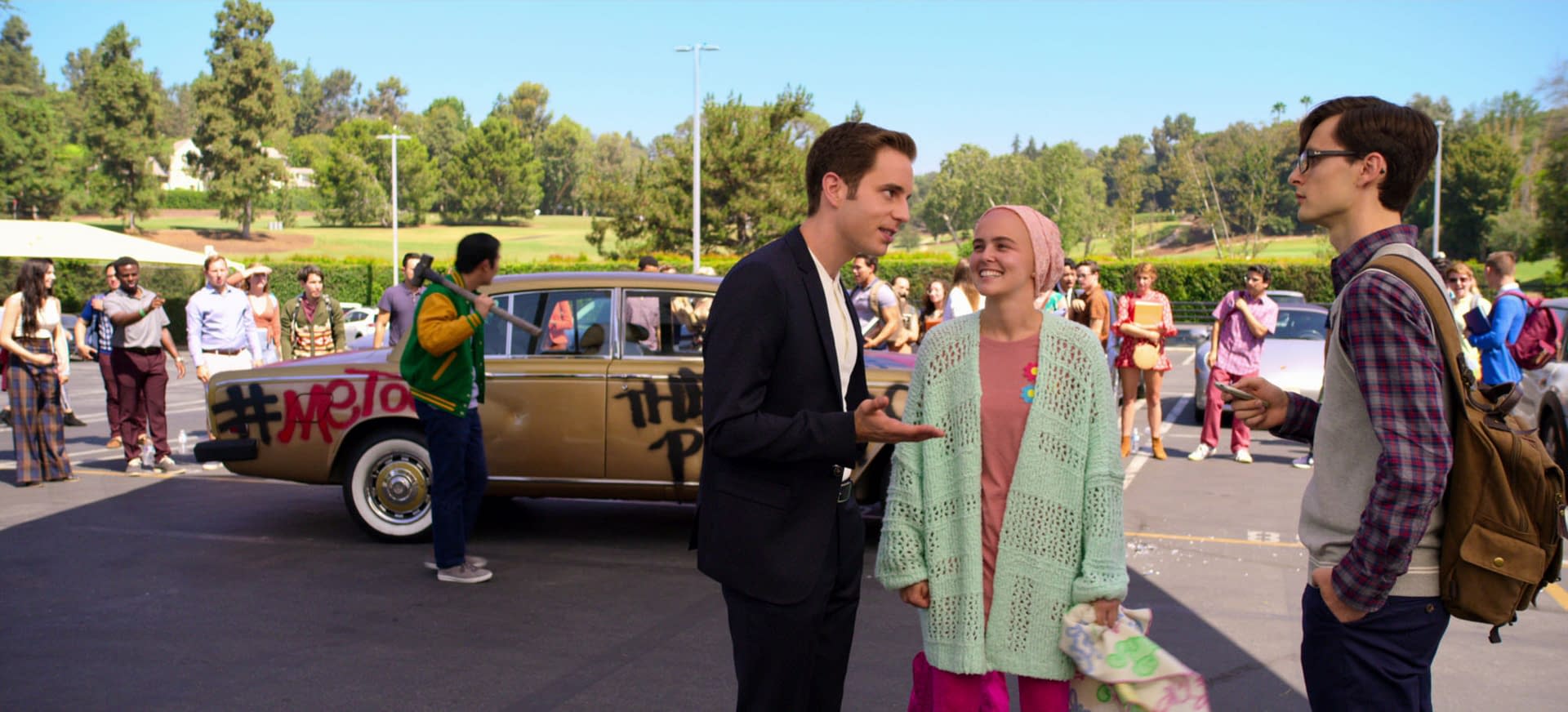 The American Horror Story co-creator writes, showruns, and executive produces the one-hour social commentary comedy, with a cast that includes Ben Platt (Payton Hobart), Gwyneth Paltrow (Georgina Hobart), Jessica Lange (Dusty Jackson), Zoey Deutch (Infinity Jackson), Lucy Boynton (Astrid), Bob Balaban, David Corenswet (River), Julia Schlaepfer (Alice), Laura Dreyfuss, Theo Germaine, Rahne Jones (Skye), Benjamin Barrett, Trevor Eason (Martin), and Trey Eason (Luther). The series also guest stars Bette Midler, Judith Light, Dylan McDermott, and January Jones.
Murphy also announced that Pose writer/director Janet Mock will helm an episode. Brad Falchuk and Ian Brennan are also on board to write and serve as executive producers.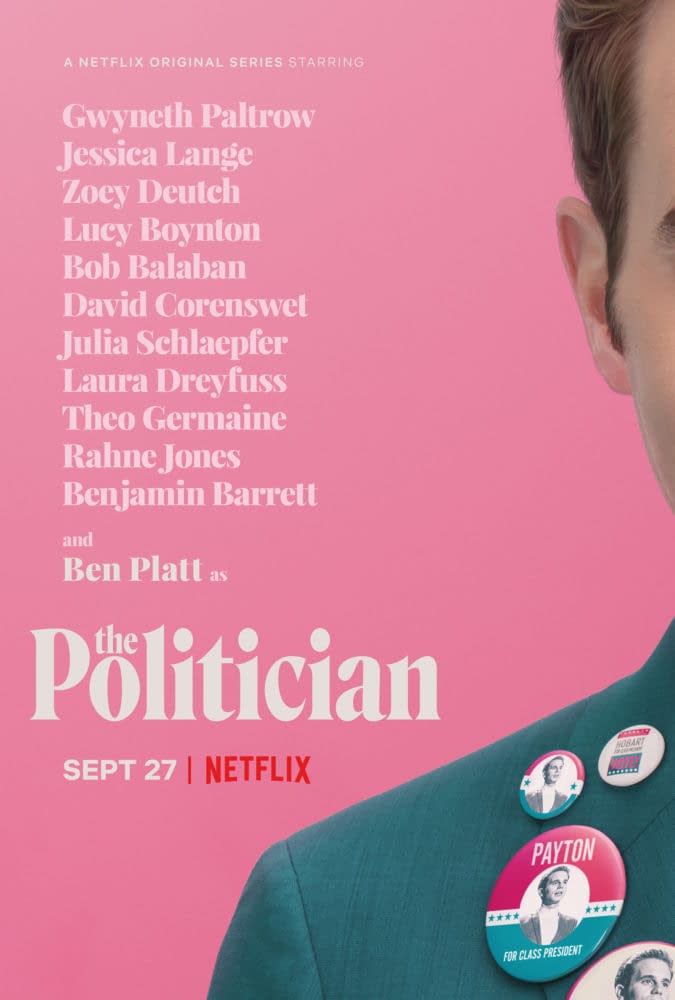 To get viewers ready, the streaming service has released a number of preview images (placed throughout the article); while series stars Platt, Lange (Rose), Deutch (Infinity), and Boynton (Astrid) were given 30 seconds by EW to explain the series:

Murphy's The Politician first received a go-ahead from the streaming service in February 2018, part of Murphy's overall deal at 20th Century Fox TV. This series is the first in a series of projects viewers can expect from Murphy via Netflix: One Flew Over the Cuckoo's Nest prequel series Ratched with Sarah Paulson; Hollywood, which Murphy calls his "love letter to the Golden Age of Tinseltown;" and film adaptations of stage productions The Boys in the Band and The Prom. Though he has an exclusive creative contract with the streaming service, Murphy will remain actively involved in his current projects (American Horror Story: 1984, Impeachment: American Crime Story, 9-1-1, Pose, etc.).